Investigators believe the gunman who ambushed and fatally shot two New York City Police Department officers Saturday boasted on social media that "I'm putting wings on pigs today" before the killings. The Instagram post also references Michael Brown and Eric Garner, two unarmed black men who died in confrontations with police.
Police said Ismaaiyl Brinsley, 28, walked up to a police car in the Bedford-Stuyvesant section of Brooklyn at 2:47 p.m. and shot officers Wenjian Liu and Rafael Ramos through the passenger side window, fatally striking both in the head. Brinsley then ran to a nearby subway station where he turned the gun on himself, police said.
"Today two of New York's finest were shot and killed, with no warning, no provocation. They were, quite simply, assassinated," Police Commissioner William Bratton said. "Targeted for their uniform and for the responsibility they embraced to keep the people of this city safe."
Police said Brinsley — who has an extensive rap sheet, with more than 15 arrests in the past 10 years — is suspected of shooting and wounding an ex-girlfriend in a Baltimore suburb earlier Saturday before he traveled to New York and ambushed the officers. While Baltimore County Police sent a fax warning that Brinsley was a suspect in that shooting and might be in New York, that message came in just as Brinsley was carrying out the attack, according to Bratton.
Bratton did not release a motive in the murders, but said police were looking at social media posts and examining whether Brinsley was involved in demonstrations after grand juries declined to indict the officers involved in the deaths of Brown and Garner.
In one Instagram post that investigators are investigating, a message reads: "I'm putting wings on pigs today. They take 1 of ours … let's take 2 of theirs." That post is accompanied by hashtags referring to Brown and Garner.
Garner died in New York on July 17 after a police officer placed him in what the medical examiner called a "chokehold." Large protests erupted there and nationwide this month after a grand jury declined to indict the officer in Garner's death.
That followed on nationwide protests and outrage after a Missouri grand jury also declined to indict a white police officer in the fatal shooting of Brown in Ferguson, Missouri. Brinsley was black. The slain officers were Hispanic and Asian.
The Rev. Al Sharpton, who has led protests over the deaths of Brown and Garner, denounced the officers' killings.
"I have spoken to the Garner family and we are outraged by the early reports of the police killed in Brooklyn today," Sharpton said in a statement. "Any use of the names of Eric Garner and Michael Brown, in connection with any violence or killing of police, is reprehensible and against the pursuit of justice in both cases."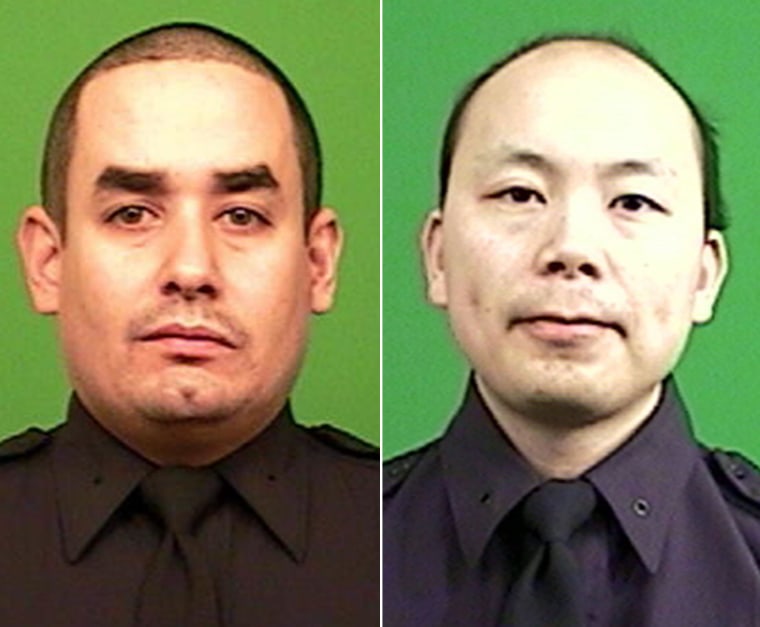 Brown's family released a statement Saturday saying it "condemns today's senseless killing of two NYPD officers."
"We reject any kind of violence directed toward members of law enforcement," the statement said. "It cannot be tolerated. We must work together to bring peace to our communities."
President Barack Obama also condemned the killings, saying that "two brave men won't be going home to their loved ones tonight, and for that, there is no justification."
"The officers who serve and protect our communities risk their own safety for ours every single day — and they deserve our respect and gratitude every single day," Obama added.
But the head of a major New York City police union struck out Saturday at the mayor and those who have "incited violence under the guise of protest," blaming them for the officers' deaths.
"There's blood on many hands tonight — those that incited violence on the street under the guise of protest, that tried to tear down what New York City police officers did every day," Patrick Lynch, president of the Patrolmen's Benevolent Association, said. "That blood on the hands starts on the steps of city hall in the office of the mayor."
New York City Mayor Bill de Blasio called it "unfortunate that in a time of great tragedy, some would resort to irresponsible, overheated rhetoric that angers and divides people."
Prior to Saturday's attacks, it appeared that Brinsley had several brushes with the law — with a slew of charges in different states, mostly related to theft but including a firearms offense in 2011.
New York City Councilman Robert E. Cornegy, who represents Bedford-Stuyvesant, told reporters that despite frustration in the community over the Garner decision, "I don't think anybody in their right mind would call for the death of an officer." He said both officers killed Saturday were stationed in the neighborhood as part of a months-long crime-reduction initiative.
"We're all as a community stunned," he said. "They were not overpolicing, they were just a presence...This could not be any worse."
Ramos, 40, leaves behind a 13-year-old son. Liu, 32, was recently married, according to the NYPD.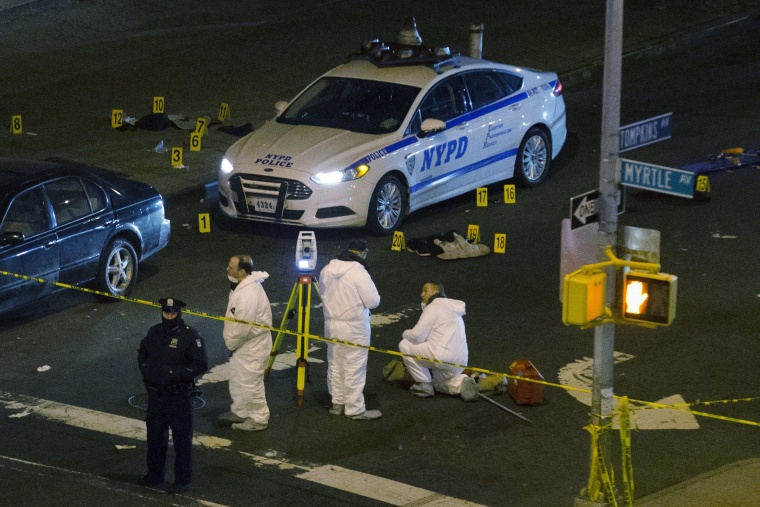 Meanwhile, protests over the deaths of Garner and Brown continued Saturday with demonstrations in the nation's two largest shopping malls, on the busiest shopping day of the year. Twelve people were arrested after crowds briefly shut down parts of the massive Mall of America in Bloomington, Minnesota, and protesters staged a die-in at the King of Prussia Mall in suburban Philadelphia.