A Detroit mother pleaded guilty Monday to killing two of her children and placing their bodies in a deep freezer in her home.
Mitchelle Blair, 36, has openly admitted to killing her daughter, 13-year-old Stoni Blair, and son, 9-year-old Stephen Berry. She was arrested in March after deputies who evicted her from her apartment found the children's bodies.
"I don't regret none of this," Blair told the judge Monday, reported the Associated Press. "I don't feel no remorse for the death of those demons."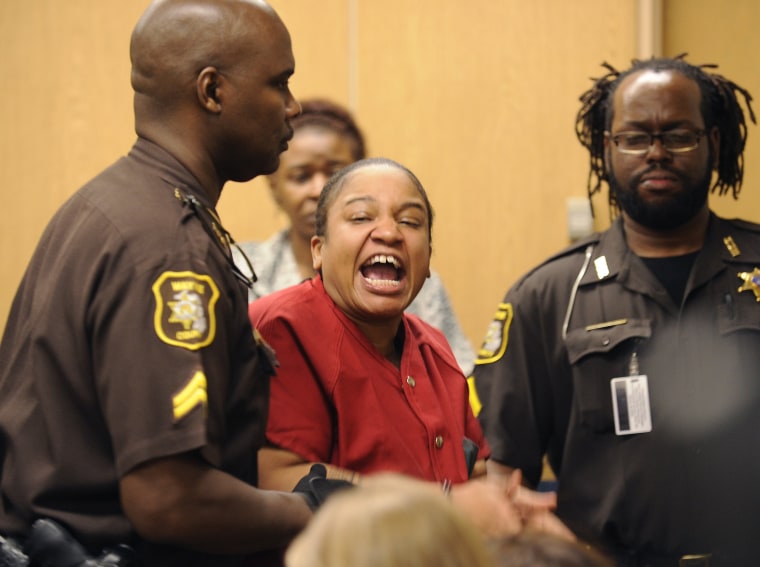 The kids were sexually assaulting her 8-year-old son, she added.
Blair said she abused the two kids, beating them and suffocating them. She had set out to kill Stoni, but didn't think what she was doing to Stephen would kill him. Police believe one child was killed in 2012, and one was killed in 2013.
RELATED: Detroit Mother Mitchelle Blair: I Want to Plead Guilty to Killing Kids
Blair faces life in prison without parole and will be sentenced July 17. She has said that if Michigan had the death penalty, she would accept it.
Mental health experts found her competent to stand trial. She was charged with murder, torture and child abuse.
Separately, authorities are seeking to cut off Blair's parental rights to her 8-year-old son and her 17-year-old daughter. They also are trying to end the parental rights of their fathers, who they say owe thousands in child support.
Related: Mom Who Alleged Put Dead Kids in Freezer Flips Off Court
In a videotape played during a hearing in those cases, her surviving son told a social worker that he was whipped with a cord and that his sister was hit with a hammer.