A new front in the Jeffrey Epstein case opened Wednesday morning, as his accuser Jennifer Araoz filed a lawsuit against his estate, his longtime associate Ghislaine Maxwell and three unnamed female household staff members.
Araoz alleges she was repeatedly sexually assaulted by Epstein at his New York City townhouse when she was 14 and 15 years old, including a forcible rape in 2002. She first disclosed her alleged abuse publicly in an exclusive "Today" show interview with Savannah Guthrie of NBC News on July 10, the same day she filed papers in New York state court saying she intended to sue Epstein.
The complaint Araoz filed Wednesday alleges Maxwell and the staffers "conspired with each other to make possible and otherwise facilitate the sexual abuse and rape of Plaintiff."
"Today is my first step towards reclaiming my power," Araoz said during a call with reporters Wednesday after the suit was filed. "Jeffrey Epstein and his network of enablers stole from me. They robbed me of my youth, my identity, my innocence, my self-worth. For too long, they escaped accountability. I am here today because I intend to change that."
Araoz also published an opinion piece in The New York Times on Wednesday explaining her decision to file suit.
"The pursuit of justice doesn't end. It begins now," Araoz's civil attorney, Dan Kaiser, said.
He said the "adult enablers" around Epstein made his client's abuse possible.
"Adults closely within Epstein's orbit — they are all culpable. … They shared with each other connections and resources to keep these crimes concealed."
Kaiser also said that if any powerful men participated in Epstein's alleged sex trafficking, they are also enablers, and he would consider adding names to the suit as facts dictate.
"Our nation should not tolerate this kind of abuse at the hands of the elite and the plutocrats," he said.
Kaiser said it would be important to get a deposition from Maxwell, and any other information in terms of testimony and documents that can help identify an unnamed alleged "recruiter."
The suit is among the first to be filed against Epstein's estate following his death by apparent suicide Saturday. It amends a suit Araoz intended to file against him to name his estate as a defendant.
It is also one of the first lawsuits filed under New York state's new Child Victims Act, which goes into effect Wednesday. The landmark law enables victims of child sex abuse to bring civil cases against alleged abusers for the next 12 months, regardless of when the abuse took place. After the year, victims will still have up until age 55 to file civil suits.
Araoz's case was not cited in the sex-trafficking indictment filed against Epstein in July. After his indictment and after she went public with her allegations, she was interviewed by both the FBI and federal prosecutors for the Southern District of New York as part of their investigation of Epstein. Araoz is continuing to cooperate as the criminal focus turns to any potential Epstein co-conspirators, her attorneys told NBC News. Araoz attorney Kimberly Lerner said Araoz has been assigned a victim number by the FBI, and has also been in touch with the Manhattan district attorney's office.
Multiple young women have accused Maxwell, now 57, the youngest daughter of the late British publishing magnate Robert Maxwell, of complicity in Epstein's alleged sex trafficking ring. They say she either recruited them directly or provided logistical support, like scheduling visits to Epstein's home.
Maxwell's alleged role came into sharper focus last week in newly unsealed court filings that include depositions from Epstein's former masseuses, staffers and associates. They paint a portrait of Maxwell as the accused sexual predator's chief enabler.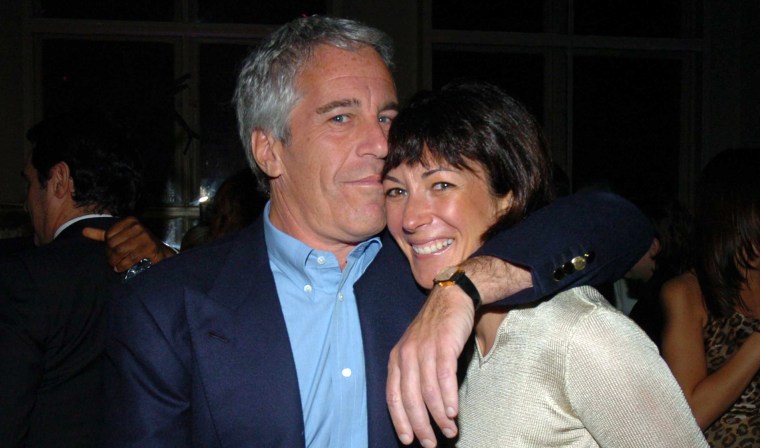 The filings are related to a 2015 defamation lawsuit that alleged Epstein victim Virginia Roberts Giuffre filed against Maxwell. That suit was settled out of court in 2017.
Maxwell has not been criminally charged and has repeatedly denied the accusations against her. In Epstein's 2007 plea agreement, prosecutors agreed not to bring any criminal charges against other potential co-conspirators identified in the course of the investigation. Maxwell was not named in the agreement as a potential co-conspirator. Epstein pleaded guilty to two state prostitution felonies, served 13 months in a county jail — with daytime work release — and registered as a sex offender. The deal has been widely criticized by legal experts.
Download the NBC News app for full coverage of the investigation into Jeffrey Epstein's death
Araoz's case represents a new legal liability for Maxwell and the household staff — a secretary, a maid and a "recruiter" whom Araoz says she encountered outside her high school a few blocks from Epstein's home in the fall of 2001.
The suit alleges Maxwell "participated with and assisted Epstein in maintaining and protecting Defendant Epstein's sex trafficking ring" by ensuring a steady stream of young women by identifying and hiring "recruiters," scheduling appointments with Epstein, as well as intimidating potential witnesses and ensuring the scheme remained secret.
Though Araoz says she never met Maxwell personally, her suit draws a direct line between Maxwell's alleged administrative support of Epstein's sex trafficking ring and the abuse she experienced. "Upon information and belief," the complaint says, "Maxwell conspired with Epstein in the implementation and maintenance of his criminal enterprise which, in turn, victimized Ms. Araoz."
Maxwell's attorneys did not immediately respond to a request for comment or a question regarding her whereabouts. Araoz attorney Kaiser said Maxwell's attorneys were "briefly in contact with us. They were dismissive of the allegations." He said they didn't deny any specific factual assertion.
"The powerful and wealthy enabled Epstein," Kaiser told NBC News. "The well-connected both participated in the sex-trafficking ring and aided in its concealment and perpetuation. They will now be held accountable."
On her call with reporters, Araoz said: "While I am angry that Mr. Epstein's death means he will never personally answer to me in the court of law, my resolve to pursue justice is only strengthened. My story and my experiences — those who enabled and facilitated his criminal behavior — none of that is diminished or immunized simply because he apparently chose to take his own life."
Lerner said the Araoz legal team is considering legal action against the federal jail where Epstein was found unresponsive Saturday. "They had one duty, to keep that inmate safe. ... There needs to be accountability."
Epstein's lawyers did not respond to requests for comment. In prior discussions with Araoz's attorneys, Epstein's attorneys had questioned her credibility.
New York's new Child Victims Act also pertains to criminal cases — the statute of limitations has increased five years, so that victims will now have until age 28 to press felony charges for sexual abuse and age 25 for misdemeanors.
As NBC News has previously reported, Araoz never contacted the authorities to tell her story, but she says she did tell at least four people — her mother, her old boyfriend and two close friends — about the Epstein encounters several years after they occurred. Reached by NBC News, all four confirmed that she told them years ago that she had been sexually assaulted by Epstein.