The police chief of Mesa, Arizona, called videos of the police beating of an unarmed man and the arrest of a teenage boy last month "disturbing" and is vowing an independent investigation into the use of force by officers.
"Over the last few days, we've seen several videos showing situations involving our officers," Police Chief Ramon Batista said at a news conference Friday. "They are disturbing, and they will not be tolerated."
Seven officers in all have been placed on administrative leave following the police beating of Robert Johnson, 35, who was repeatedly punched during an encounter on a domestic disturbance call involving another man on May 23, and the arrest of a 15-year-old armed robbery suspect on May 17.
Police this week released surveillance and body camera video from the encounters, which have raised questions about the use of police force.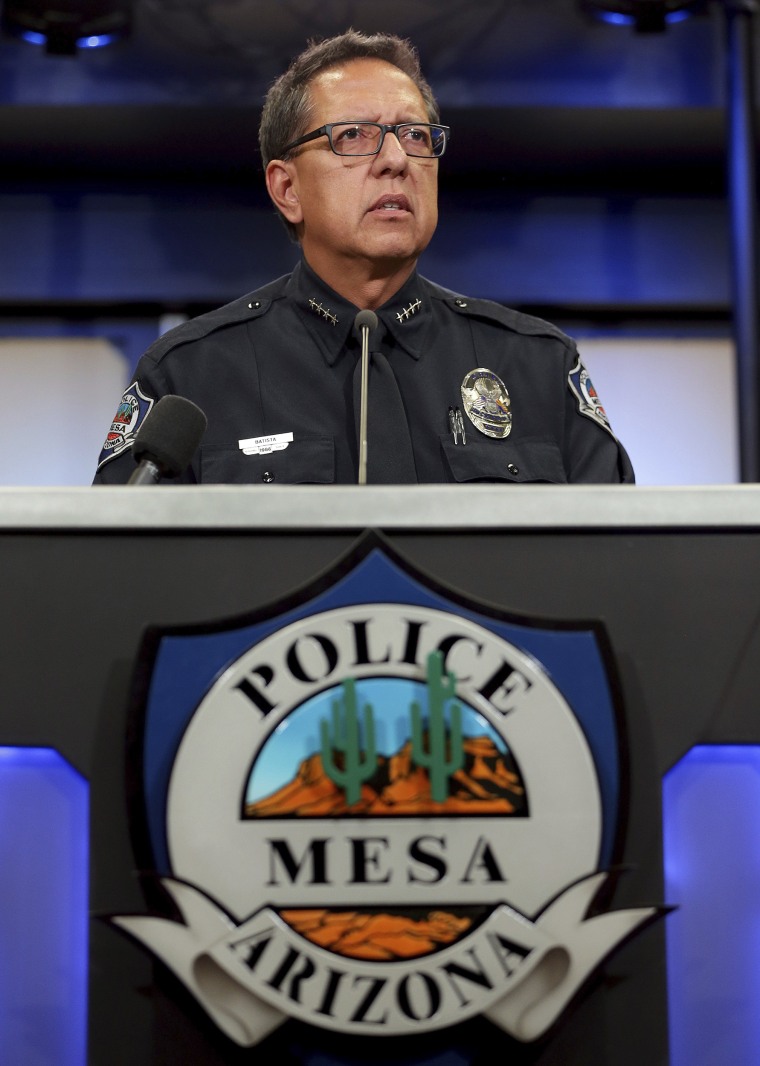 Officials said the neighboring Scottsdale Police Department will conduct a criminal probe, which will be referred to prosecutors.
Batista said Friday that he's asked a national organization, the Police Executive Research Forum in Washington, to conduct "a comprehensive and fully independent investigation" into the department's use of force events over the last three years as well as department policies. He also said a former Maricopa County prosecutor has been brought in to ensure that an internal probe into the incidents is thorough and objective.
"Let me be crystal clear: I'm angry, and I'm deeply disappointed by what I saw in those videos," Batista said. "It's unacceptable, and it needs to stop immediately."
The video of the encounter with Johnson shows him leaning against a wall while police question him after being called to a domestic dispute involving another man who had allegedly tried to force his way into an ex-girlfriend's apartment.
The video shows Johnson being struck several times and collapsing to the floor. An officer wrote in an arrest report that Johnson refused a request to sit down, and that the officer believed that his "body language was projecting he was preparing for a physical altercation."
Johnson's attorneys have said there was no justification for the force used. Five officers have been placed on leave pending an investigation into that incident.
Police said Thursday that two additional officers have been placed on leave after a review of the May 17 arrest of a 15-year-old boy who was charged with armed robbery and aggravated assault with a deadly weapon.
Batista did not go into the details of the officers' conduct in that arrest on Friday, or what actions may have violated policy.
The department released body camera video Thursday that shows officers cursing at the boy, and him cursing at officers. At one point an officer warns: "Try to move on me one more time I'm gonna f--- you up, you understand that?"
At one point it appears that a foot is placed near the back of his neck while he is on the ground, when it appears that he is handcuffed.
An officer wrote in an arrest report that at one point he was controlling the robbery suspect by applying pressure to his jawline, and that a foot was placed on his shoulders to keep him from getting up. Police said a gun was found in a backpack near the scene.
Johnson's attorney, Benjamin Taylor, said Friday of the steps outlined by the police chief: "We're one step closer to hopefully cleaning up the Mesa Police Department's culture."
He said that he wants charges against Johnson dropped, and that they are exploring all legal options, including a lawsuit. Taylor said "we support police officers and police officers have a hard job," but that after an investigation the officers found to have struck Johnson should be fired, and any found to have allowed it to happen should be punished as well.
The Mesa Police Association, the union that represents officers, did not immediately return a request for comment, but the union said after video of Johnson's encounter with police was released that "any use of force, when viewed, is difficult to watch and never looks 'good.'"
Batista said Friday that he is committed to restoring the public's trust. "The actions shown on that video, and all these recent videos, do not reflect the vast majority of the men and women of the Mesa Police Department," Batista said.
"From the bottom of my heart, I promise you: We will fix this," he said.
CORRECTION (June 15, 2018, 7:09 p.m. ET): An earlier version of this article misstated Robert Johnson's age. He is 35, not 33.