SAN DIEGO, Calif. – One Sunday in August, the normally sleepy parking lot of South Bay Community Services was abuzz with activity. Balloons adorned a dozen or so booths, each providing information about different health issues: immunizations, nutrition, exercise. Visitors were weighed at one station, had their blood pressure taken at another, then their blood sugar at another—all free of charge. Nearby, kids could play hopscotch, jump rope, or Frisbee.
Although there were a few doctors milling around, most of the health fair volunteers were teenagers. They're part of Medical Pathways, a job-training program based at San Ysidro High School, whose chain link fence frames the outskirts of Tijuana less than two miles away. More than four out of five students at the border school live in poverty, with median family income less than $28,000 a year. Much of the student population is transient and seasonal, and almost all of the students are bilingual. Health-wise, San Ysidro is hurting; there are high rates of obesity, diabetes, dental disease, and teen pregnancy.
Sheila Krotz, a former nurse who started working as an administrator at San Ysidro High School nearly a decade ago, saw a way to help fill that gap by creating a pipeline to the medical field for her students.
"It's a pretty simple concept, really," she said. "This community needs more bilingual health care workers, so we create the local workforce."
When a biology teacher quit unexpectedly, Krotz stepped in to pinch-hit, and realized "there wasn't any direction" in the science curriculum or anybody "looking at long-term outcomes at how to improve [the health of the] community." So Krotz created the Medical Pathways program, a multi-pronged approach to encourage students to take four years of science and seek out medical training. This fall, Krotz became dean of a San Diego charter school but has maintained an advisory role at Medical Pathways, which lives on through several science teachers divvying up the work of fundraising, recruitment, curriculum, and internship placements.
The program recruits students in local middle schools then guides students through four years of medically-focused science classes, beginning with anatomy and physiology. Funded by grants from University of California-San Diego and other sources, the classrooms are well-supplied with model skeletons, plastic dummies, and intricate diagrams. Since the program's inception nine years ago, Medical Pathways has grown to include an extracurricular group called Medics Club for younger students; internship programs at the local clinics and recently at UC-San Diego's renowned medical center; and the new summer program at the nearby Kaiser Permanente hospital, which culminates in a student-run community health fair.
"This community needs more bilingual health care workers, so we create the local workforce."
"Most of the people in my community don't know how to take care of themselves," said Riki Broadway, a recently graduated Medical Pathways student who came to the United States from Mexico in 5th grade. "[At the fair] we tell them what healthy eating means, what does their blood pressure mean. We give them care since they don't have money or medical insurance."
Medical Pathways is full of motivated, high-achieving students; Krotz said in the history of the program, none of the students have dropped out. But the point of the program isn't to pluck the students from poverty and ship them off to elite schools; it's to give them real-world training to help their neighbors after graduation. In addition to the science classes, the internships allow the students to clock enough hours for a medical assistant certificate—rather than enrolling in a pricy certification program like the local Pima Medical Institute, which costs almost $13,000.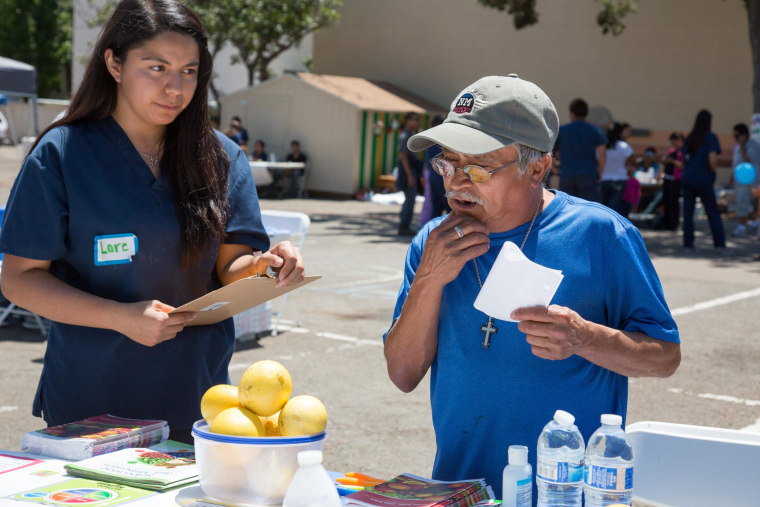 "This isn't just something they can put on their [college] application," said Krotz. "This will help them get a job and prevent them from going into debt."
Not that Krotz is opposed to students who'd want to leave home. It's just that many of them feel a pull to stay in their own communities, close to their families. A medical assistant job can help kids balance both school and home life after graduation.
"A lot of our parents don't want their kids to go to college because they need them physically working," said Krotz. Sometimes, those parents can be convinced to compromise: "We'll say, 'okay, let's keep them in this program so that they can have a job and also go to school if they choose.'"
Some of Krotz's former students work as medical assistants while they attend local colleges, and for others, she says, college "just doesn't happen." But when it comes to jobs that don't require a college degree, medical assisting is a good option; the average medical assistant makes around $5,000 more annually than the typical worker with only a high school diploma.
Other students have bigger plans to become doctors; Broadway, for instance, wants to be a trauma surgeon. The summer internship at Kaiser, which pairs San Ysidro students with medical students, provides the high schoolers with concrete role models, who dole out advice about career paths and college.
Derek DeLeon, a doctor at Kaiser who called up Krotz after seeing her photo in the newspaper and suggested a summer partnership, has seen how these "big-sib" relationships have affected the high schoolers' outlooks. In the beginning of the program, he said, the students took surveys asking them if they think they can become a doctor, and many of them said "No" or "I don't know."
"By the end, they all said yes," said DeLeon. "It's about having people who have been through the pipeline, who know the obstacles you face."
Medical Pathways isn't only about minting doctors and medical assistants; it also stresses a preventive public health dimension.
Lorenia Gutierrez, who started UC-San Diego this fall after completing Medical Pathways, said the medical student she worked with last summer walked her through her college applications.
"It might not seem like that big a deal, but just having them on Facebook Message helped a lot," she said.
Medical Pathways isn't only about minting doctors and medical assistants; it also stresses a preventive public health dimension. During the school year, students can intern at the San Ysidro Health Center or its offshoot, the Teen Clinic, which opened as a result of partnering with San Ysidro High School teens and realizing their need for sexual education. A few years ago, San Diego State University conducted a study on how how parents in the area communicated with their children about sex. They found that 80 percent of Hispanic mothers did not want to have that conversation with their kids—although they didn't mind if they had sex ed in schools.
Those findings motivated Ilana Brongiel, manager of the San Ysidro Health Center, to start the Peer Health Advocacy Program, which trains teens to educate their peers about reproductive health, substance abuse, and healthy relationships.
"Our goal is to teach public speaking skills but also fill an education gap in the community," said Brongiel.
Medical Pathways volunteers give presentations in health classes at San Ysidro and other local high schools. And sometimes, they get hired the next year. Erica Lopez, now 21, went through the Medical Pathways program and now works as a medical assistant at the Teen Clinic, a tiny, cheerful office dotted with cheeky stickers like "Sex Geek" and "Keep Calm and Carry Condoms."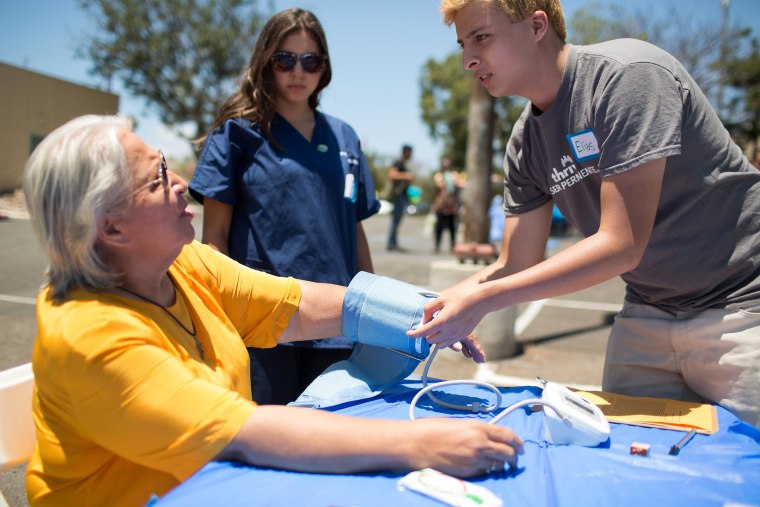 She remembers when a volunteer from the Teen Clinic came into her sophomore class and talked about condoms and safe sex—something she'd never discussed with her "overprotective" Mexican parents.
"I got more information from there than from pretty much anywhere else," she said.
Two years later, Lopez was the one interning at the clinic and giving the presentation. After graduation three years ago, she got hired. She also goes to community college part-time and wants to be a social worker in a hospital. For now, she loves working with her peers, who usually come to the health center for pregnancy tests or information about safe sex. They often express trepidation about going to more traditional centers like Planned Parenthood.
"Our patients tell me people at Planned Parenthood are older, and they don't know Spanish, so they feel judged in a way," said Lopez. "They feel more comfortable [here] because we're around their age and they think, 'she knows what I'm going through because she probably went through it, too."
Lopez's original plan was to move out of her parents' house as soon as she graduated and move to Los Angeles. But now she's set on staying here for a while. "I feel like I'd make more of a difference here," she said.
Education coverage for NBCNews.com is supported by a grant from the Bill & Melinda Gates Foundation. NBC News retains sole editorial control over the content of this coverage.