This article about certificate schools was produced by The Hechinger Report, a nonprofit, independent news organization focused on inequality and innovation in education, in partnership with NBC Nightly News and NBCNews.com.
OAKHAM, Mass. — The timing seemed fortuitous. The five people Jessica Evers lived with had left for work and school, leaving her alone to care for her infant daughter and browse the internet for schools. Back then, in 2010, she was 22 and her plan was to find a good job and move out of that small three-bedroom house in Hudson, Massachusetts.
And then, almost as if it were speaking directly to her, a television commercial caught her attention.
With upbeat music and promises of a new career, the advertisement introduced Evers to Salter College. The school had a campus a half hour away and offered certificate programs, which would get her into a career faster than an associate's degree program.
She immediately visited the website, which described financial aid she could get and, crucially, promised career placement services to help "students and alumni in all aspects of their job search."
It looked perfect. Just like it was supposed to. Evers, who was unemployed, called the next day to make an appointment with the admissions office.
"My dream was to have a job, to better myself and my life for my child," she said.
Certificate programs are often aimed at people like Evers, who have tried to survive with just a high school diploma but have found only low-wage jobs, making it impossible to support themselves. Certificates typically take less time to earn than a degree and train students to be cosmetologists, truck drivers and medical assistants, among other jobs.
For-profit schools, such as Salter and others owned by its parent company, Premier Education Group, have zeroed in on this market. Each student can bring thousands of dollars in federal grants and loans. With millions of potential customers and a guaranteed stream of funding, it's a business model that can pay significant dividends.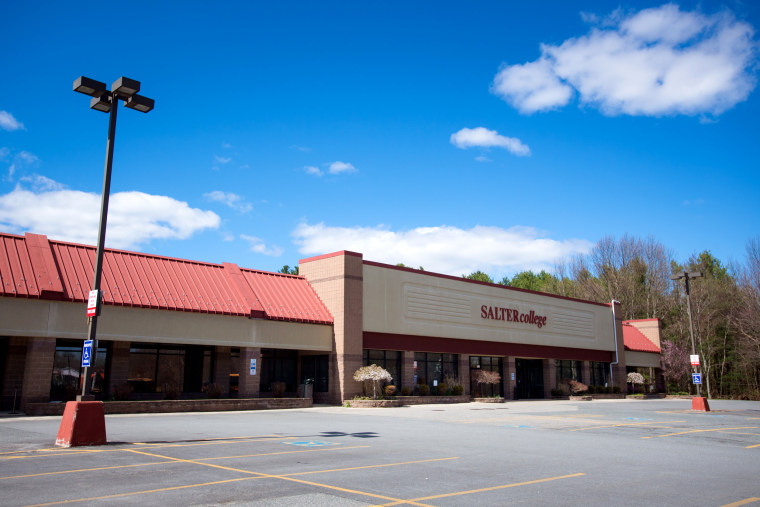 For-profit schools award nearly a third of all certificates, but the promised launch to the middle class often doesn't pan out. At the vast majority of for-profits that focus on certificates, most students who take on debt to attend end up earning less than the typical high school graduate, according to federal data posted by the Department of Education and analyzed by The Hechinger Report.
Some certificate programs send students into meaningful, well-paying careers, but the for-profit sector's outcomes are worse than those in the public sphere. For-profit graduates are less likely to find work than comparable graduates of public certificate programs, and if they are able to get jobs, they earn less, according to research published last year by the Brookings Institution.
Premier fits this pattern. A joint investigation by The Hechinger Report and NBC News, involving the review of hundreds of pages of documents — including court filings, records of investigations and complaints made to state agencies — as well as interviews with 42 former Premier students, forms a case study showing the magnitude of a problem facing higher education: how shortfalls in oversight enable companies with questionable track records to continue to recruit vulnerable students and profit off taxpayer money.
In 2016-17 alone, Premier schools enrolled more than 10,000 students across nine states along the East Coast who brought with them $65 million in federal funding, according to federal data. The company posted more than $175 million in profits between 2004 and 2014, according to a 2016 lawsuit filed by a former company CEO who alleged that he was owed bonus pay. (The lawsuit was later dismissed.) Yet Premier schools have been accused by a state agency in Massachusetts and whistleblowers in New Jersey and Delaware of falsifying job placement rates, student grades and attendance records. In recent years, default rates at several campuses have exceeded 20 percent, in some cases reaching above 30 percent, while most students earn less than $25,000 six years after enrolling, according to federal data.
On the day this article was published, the Massachusetts attorney general announced that Premier will not be allowed to operate in Massachusetts as of 2020 and must provide $1.6 million in student debt relief. The punishment came as part of a settlement with Premier over allegations that the company did not provide "critical information" on job placement and graduation rates to students.
Only eight of the 42 students interviewed for this article said they'd had a positive experience at Premier campuses. More than 20 others described going into debt and unsuccessfully searching for jobs in the field or finding low-paying positions that make it difficult to repay their loans.
Despite their dismal outcomes, for-profits like Premier have taken advantage of a spotty system of oversight to largely fly under the enforcement radar. Although state agencies can investigate the programs, the decision to do so depends on the priorities of officials. Nonprofit accrediting agencies monitor the quality and outcomes of these campuses, but critics say they often fail to respond in a meaningful way when problems are uncovered, giving schools significant time to keep operating.
Secretary of Education Betsy DeVos, who has vowed to repeal Obama-era regulations intended to increase accountability and student protections, on July 1 rescinded a key measure of schools' success in helping students get gainful employment. She has argued that the federal government's role should be to promote transparency rather than punish low-performing schools, and students should have a full range of choices available to them. Education advocates who have been critical of DeVos' attempts to roll back regulations say for-profit schools are already taking advantage of students and that it will be worse without existing protections.
Premier declined to respond to specific student complaints, citing federal privacy laws, but said the school is transparent with students about what to expect from the program and supports graduates in finding jobs.
"We continue to work with our students, the community and our accreditors to improve outcomes," Premier Vice President Wade Charlton wrote in an email.
The sales pitch
When Jessica Evers went to see Salter College, she listened as an admissions staff member explained that with a medical office administration certificate, she could get hired in a doctor's office, as a receptionist perhaps, or doing data entry and filing. He said that 97 percent of Salter graduates got jobs and the school would help her find one too, Evers recalled. He also told her she could expect to make at least $14 an hour.
The price tag of $15,000 seemed worth it given the school's assurances that she would find work; she decided to enroll that day.
"You're promised a job, so eventually, I'm like, 'OK, I'm going to be able to pay this back,'" she said.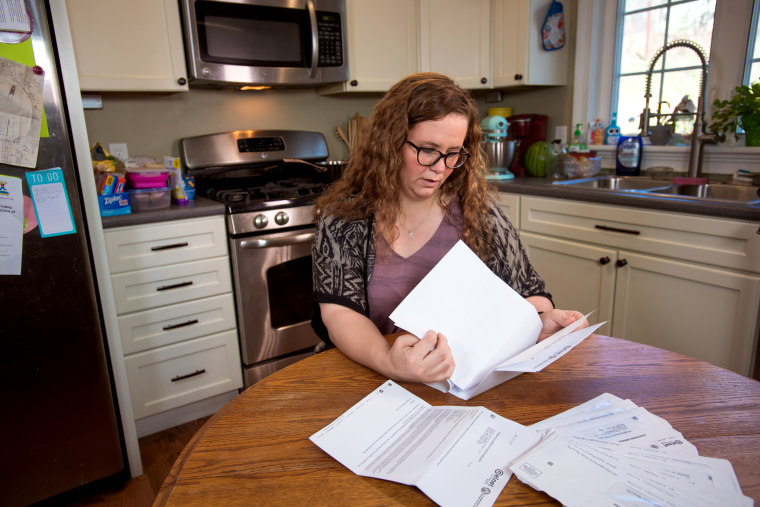 Premier said the disclosure forms that all students sign state that the school does not guarantee employment.
Evers' chances of repaying the loan would have been higher if she had enrolled at a community college. Graduates of public-college certificate programs on average earn almost $9,000 more than graduates of for-profits, according to federal data, in part because the programs they complete train them for better paying jobs.
In 2014, the Massachusetts attorney general, who had made it a priority to investigate for-profit schools, accused Premier Education Group of inflating job placement rates for years and promising job help that never materialized. Premier denied all allegations of wrongdoing. The company agreed to a total settlement of $3.74 million and to make disclosures on the websites of its Massachusetts schools and in state advertising, including that the school does not guarantee employment. Premier was also required to give students these disclosures 72 hours before they could enroll.
Two years later, a new investigation in the state alleged similar practices. Premier denied wrongdoing but settled with the Division of Professional Licensure for $150,000. The company said it made settlements in both cases to "avoid the uncertainty and costs associated with future litigation."
Students who have attended Premier schools in other states in recent years described similar sales pitches as the one Evers received. Some said they were told specific salaries they could expect to make, which they later realized were exaggerated.
Premier said that staff do not discuss salaries with students upon enrollment. If students ask about salaries, they are directed to the Bureau of Labor Statistics, Premier said.
Mariah Hayes, who attended Branford Hall's Albany, New York, campus in 2016, said she was told by staff in the advisement center that medical assistants started at $14 or more an hour, or about $28,000 annually. Most of Branford's 2011 and 2012 graduates of the medical assistant program made less than $21,000 in 2015, according to federal data.
"They talk a lot about 'You can make this,' and then in reality, you don't," Hayes said.
A disorganized education
Evers soon fell into a manageable routine, studying while her daughter napped during the day and heading to school at night. But problems began to crop up. For instance, rather than answering her questions, one of her teachers told her to just read the textbook, she said.
Evers also said the school was disorganized. More than a dozen other students across several Premier schools agreed, saying that it sometimes took weeks to get books for classes and that teachers were constantly quitting or being fired.
"We do not believe the allegations are accurate or reflective of the experience of our students," Charlton, the Premier vice president, said in an email.
And then there were incidents that went beyond chaotic operations. Shannon Huey, who graduated last year from the medical assistant program at another Premier chain campus, Harris School of Business, in Dover, Delaware, said that she witnessed administrators changing grades and forging attendance records for students who were behind or failing. Charlton said Premier could not substantiate the claim but "a very limited number of individuals at any campus have the ability to enter grades or attendance."
A whistleblower lawsuit against Premier, filed by seven former employees in Delaware and New Jersey in 2011, alleged the same practice at other Harris campuses. These employees said that the schools had encouraged them to change student records for financial reasons; the school would stop getting federal dollars for any student who failed and was dropped from the program.
The suit also alleged that Premier had misled potential students about job placement rates and pressured staff to "renounce all academic standards."
Premier agreed to a $3.4 million settlement in July. The company admitted no wrongdoing and, as with its previous two agreements, said it settled to avoid the uncertainty and costs of continued litigation.
As proof that it offers a quality education, Premier notes that all its campuses are accredited. But some accrediting agencies are less stringent than others about enforcing standards.
For years, the bulk of Premier's schools were monitored by the Accrediting Council for Independent Colleges and Schools, an agency that presided over schools with such poor outcomes that in late 2016, the Obama administration revoked the federal recognition that allowed it to operate.
The council appealed and was reinstated in 2018. Over the past several years, it began taking more actions against schools, including several of the Premier campuses it oversaw. In December 2016, Premier was notified that its Branford Hall campuses would have their accreditation withdrawn following three straight years of job placement rates at its main campus below 60 percent, the lowest the agency allows. (Yet just a year and a half earlier, the agency had granted accreditation to a new Branford campus.)
Premier objected to the action, arguing that it was "arbitrary and capricious." In August 2017, the agency decided to officially withdraw accreditation from the campus with lowest job placement rates; an appeal by Premier was unsuccessful.
National accrediting agencies use job placement rates to evaluate the educational quality of certificate schools. According to Premier's disclosures published in 2018, about a third of its programs had job placement rates below 60 percent. Just a quarter of Salter College's massage therapy graduates got jobs in the field; the same was true for a third of students from Harris School of Business' dental assisting program in Wilmington, Delaware. The job placement rate for Jersey City's Branford Hall computer networking and security evening program was zero.
Premier says that it continually works to improve student outcomes.
The job search
In the summer of 2012, Evers graduated from Salter, and it seemed like everything was working out as planned. Or almost as planned. Evers had accepted a full-time job at the medical office where she'd done her externship — a weekslong experience required for graduation. They'd offered her $12 an hour, Evers said, less than the $15 she'd been told she could expect, but more than she'd ever made in retail jobs at Lowes or Target.
Then she got her first paycheck: $11 an hour. She quit shortly after that, because she said the environment was abusive, assuming she'd easily find another job.
She has lost track of how many jobs she applied for — sometimes 15 a week — without hearing back.
At first, she called the school for help at least once a week. Each time, they told her to send in her resume, which she did. "I never got any response," she said. A couple times, she drove to the school to ask for help in person. Nothing worked.
Premier said it cannot comment on individual students' complaints because of privacy laws but that in Evers' case, Salter College "has been in touch with her on several occasions for employment assistance."
Whether schools should be held accountable for problems like those Evers has faced is a matter that federal regulators have debated for years. In 2015, the Obama administration announced a new rule that tied federal financial aid to the amount graduates earn. Career training programs whose graduates owed 12 percent or more of their total annual income in debt payments and 30 percent or more of their discretionary income would fail. Failing twice within three years would render a program ineligible for federal aid.
When the first results were published in 2017, more than 800 programs failed; almost all were at for-profit institutions. Premier's programs passed the overall ratings, but most failed half of the evaluation — their students had debt loads exceeding 30 percent of their discretionary income.
Charlton, the Premier vice president, said in an email that the company had made changes since then.
"The institution has worked tirelessly over the past several years to reduce both program cost and program length," Charlton wrote. "As a result, most of the programs listed on the gainful employment data released in 2017 that failed the single category … are no longer offered by the company."
Almost two-thirds of programs that failed to lead to gainful employment had stopped enrolling students by August 2018, according to data compiled by New America, a left-leaning think tank.
Under DeVos, however, the Department of Education first stopped producing this data — essentially eliminating consequences for any failing programs — and then issued a repeal of the rule this month. The change will go into effect in July 2020, although schools are allowed to implement it immediately. As part of the decision, the department also did away with a requirement for schools to post debt load and job placement disclosures on their websites and — after twice extending the deadline — got rid of a mandate for schools to provide this information directly to prospective students.
"Institutions will save considerable time and money by eliminating burdensome disclosure requirements," the department wrote in the final rule. It decided that putting the data online in a centralized consumer tool, rather than requiring schools to post it individually or give it to students directly, is "the right way to share information."
Drowning in debt
Evers is now unemployed – she says any job she could get wouldn't cover what she'd have to pay for care for her three children, who are 9, 3 and 1. Her husband, Jonathan, has a good job as a welder, but right before Christmas in 2016 he was diagnosed with multiple sclerosis, a debilitating disease that gets worse over time.
"I'm scared I'll get my house taken away. I'm scared my kids may not have a bed to sleep in some days," Evers said.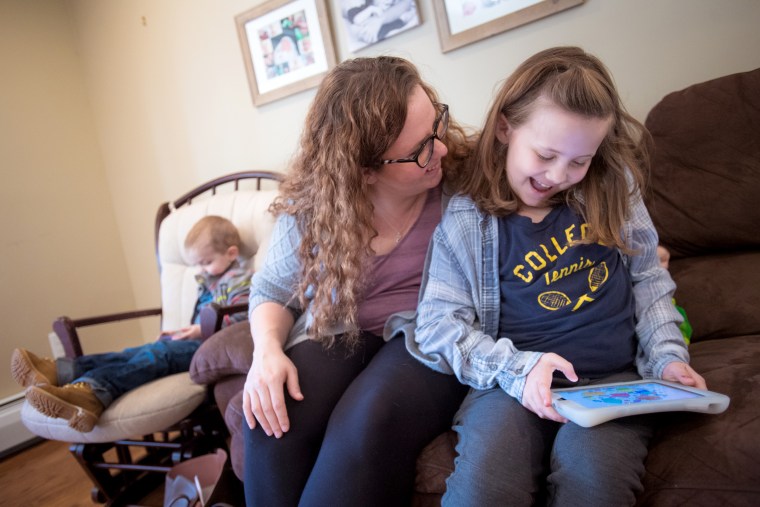 Evers has been able to defer her loan payments while she isn't earning any money, but that just increases the ultimate financial burden as interest accumulates. She now owes $24,000, up a third from the $18,000 she originally borrowed, and doesn't know where to turn for help. She is not alone — people who can't pay off student loan debt have few options, even if, like Evers, they believe they didn't get the education they paid for.
In 2016, the Obama administration updated regulations to enable students to have their loans forgiven if they prove to the federal government that their schools illegally misled them. But before the new rules could take effect, DeVos announced that the Department of Education would rewrite them.
Nearly a decade — and tens of thousands of students — after Evers first visited Salter, there are some signs that Premier is beginning to feel the heat. The company says it will operate 15 schools in September, down from 22 in 2018. Evers' alma mater is no longer accepting new students. Premier said it makes school closure decisions based on consumer demand. But the company is also expanding. This spring, it opened a new school in Philadelphia.
Looking back, Evers believes she would have been better off never having enrolled.
"They didn't care that I was a person," she said. "They just saw me as a dollar sign as I walked in the door."