The federal prison population has declined for the first time in 34 years as a result of the U.S. Justice Department's effort to become less dependent on incarceration as the primary approach to reducing crime, Attorney General Eric Holder said Tuesday.
Speaking at a criminal justice conference hosted by New York University's Brennan Center for Justice, Holder said the total federal prison population had dipped by about 4,800 prisoners from last year, to a total of 215,000. That is the first annual decline in the number of federal inmates since 1980, according to Justice Department statistics, about the time when longer mandatory sentences, particularly for drug offenses, began increasing the incarceration rate.
He said new projections from the federal Bureau of Prisons indicate the trend will continue, with decreases of 2,000 inmates projected for 2015 and 10,000 – the equivalent of six fully filled federal prisons – the following year.
"Statistics have shown – and all of us have seen – that high incarceration rates and longer-than-necessary prison terms have not played a significant role in materially improving public safety, reducing crime or strengthening communities," said Holder. "In fact, the opposite is often true."
The soaring U.S. inmate population has led both Democratic and Republican lawmakers to call for reforms to reduce the number of people in prison or jail – an estimated 1.6 million inmates in 2013.
Over the past several years, Holder and the Obama administration have enacted a number of measures aimed at reducing federal prison populations, eliminating long sentences for nonviolent crimes and reshaping criminal justice policy.
In 2013, the DOJ announced a "Smart on Crime Initiative" to shift focus to more serious crimes and to move away from heavy-handed prosecution and sentencing for lower-level offenses. Holder also announced a policy change last year under which federal prosecutors would no longer seek mandatory minimum sentences for certain low-level drug offenders.
Many viewed that as a turning point in the decades-long "war on drugs," during which the federal prison population ballooned about 800 percent.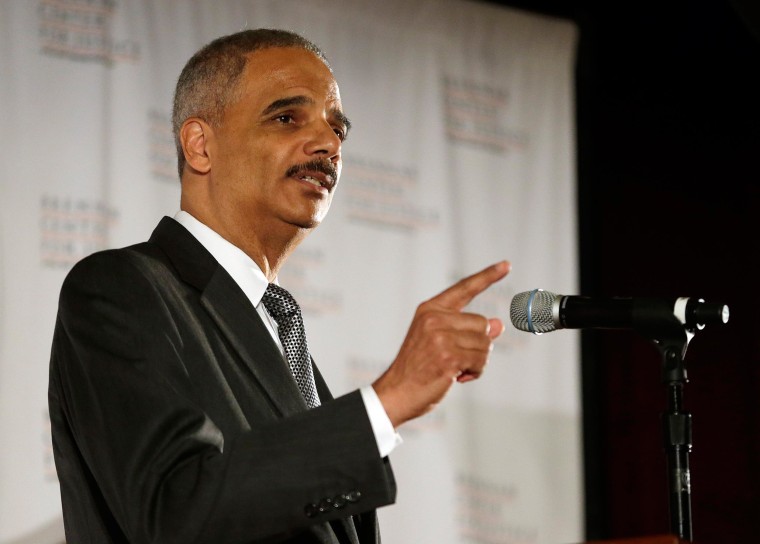 NYU's Brennan Center for Justice, which hosted the conference at which Holder spoke, also released a report Tuesday calling for federal prosecutors to play a new role to reduce both crime and U.S. incarceration rates, the highest in the world.
Follow NBC News Investigations on Twitter and Facebook.
The report recommended that the nation's 94 U.S. Attorneys' Offices shift from a sole focus on convictions to embrace other measures to reduce violence and serious crime, shrink prison populations and improve recidivism rates.
New priorities could be pushed through "success-oriented funding," the report suggests, by linking budgets, salaries and financial compensation to progress toward these goals.
Holder agreed that the government should seek out new ways to measure success beyond convictions and sentences, saying that such data that could help pave the way for that sort of funding.
"Criminal justice reform is an idea whose time has come," he said.