After days of tense negotiations involving U.S., Israeli and Qatari officials, Hamas has expressed a willingness to release women and children it holds captive. But the group acknowledged that it does not have custody of all the hostages seized in the attack on Israel 10 days ago, a diplomat with knowledge of the talks and a former U.S. official briefed on the matter said.
Some of the hostages are held by Palestinian Islamic Jihad, another group based in Gaza, the officials said, and others are held by "random Gaza citizen opportunists," the former U.S. official said. Hamas, which controls Gaza, is trying to gain custody of all of the captives but says it cannot amid continued bombing, the sources said.
The sources spoke shortly after a senior Hamas official told NBC News' Richard Engel that the group is willing to immediately release all civilian hostages — foreign and Israeli — if Israel stops its airstrikes on Gaza.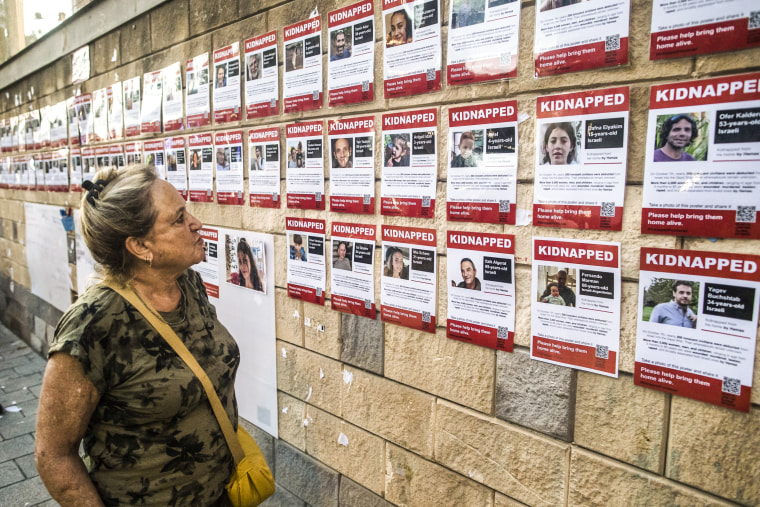 The Hamas official said the hostages could be released within the hour as long as Israel meets its terms. He claimed that there is no safe place to release them now.
Gershon Baskin, an Israeli activist who helped secure the release of captured Israeli soldier Gilad Shalit in 2011, noted that it is essentially the same message the Iranian Foreign Affairs Ministry put out Monday. "I think this is a false message, psychological warfare. It means nothing," Baskin told NBC News.
He said he sees it as unrealistic, because "there are no guarantees that Israel will give that it won't renew the fighting, and Hamas knows that." Baskin said he thinks the only way an agreement could be reached would be if Hamas released women, children, the elderly and the sick in exchange for Palestinian women and minors held in Israel.
The U.S. has sent a team of intelligence specialists to help locate the hostages, Biden administration officials have said, but the chances of a successful military rescue are seen as remote. 
"We have 22 years of experience hunting people, and we're really good at it," said Christopher O'Leary, a former FBI official who retired this year after having run a multiagency U.S. government hostage recovery unit. But, he said, "there has not been a complex hostage situation like this in the modern era. It's an active war zone filled with tunnels."
Talks on the fate of the hostages have been ongoing "since day one," said the diplomat, who asked not to be named because of the sensitivity of the issue. "In the early days, Hamas was pushing for an exchange of prisoners," the diplomat said, "but they have finally accepted that wasn't going to be the case."
Hamas insists on keeping any member of the Israeli military captive, but it "appears to have understood that civilians will have to be released without a trade," the diplomat added. "Discussions are ongoing and have been more positive recently, but no breakthrough yet."
The former U.S. official said Hamas had not decided whether to release male civilians who are Israeli citizens and not dual passport holders.
Israel, which is preparing for a possible ground invasion of Gaza, steadfastly refuses to exchange prisoners for hostages, the sources said. 
A third source, a senior Western diplomat, portrayed the talks as tenuous.  "It's clear there is a dialog between Hamas, Qatar and Israel, but 'negotiations' is probably an overstatement," the diplomat said. "It's a channel. Qatar has more leverage than anyone else but not as much as they'd like."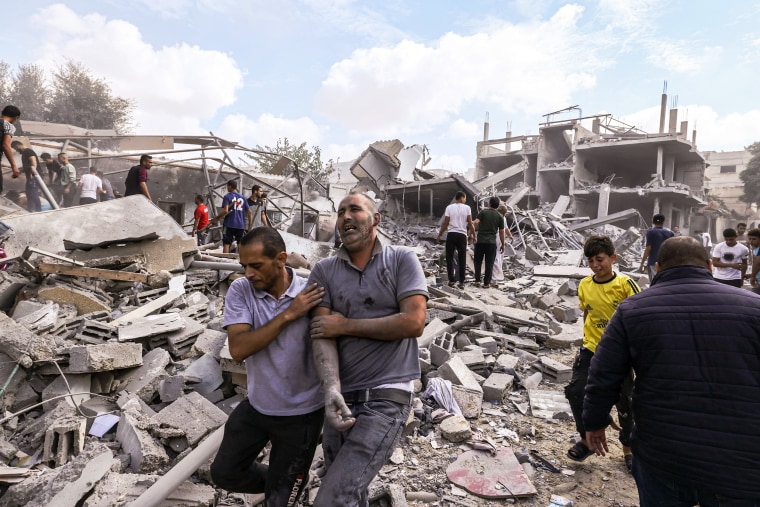 Underscoring the complexity of the situation, Hamas' chief hostage negotiator, Osama Mazini, was killed in an Israeli airstrike this week, the Israel Defense Forces said in a statement. And hundreds of Palestinians were reported killed after an explosion at a Gaza hospital.
President Joe Biden will be the first world leader with citizens among the hostages to visit Israel on Wednesday. Others, including German Chancellor Olaf Scholz and British Prime Minister Rishi Sunak, are set to follow. 
A British official confirmed Sunak has asked the emir of Qatar, Sheik Tamim bin Hamad al-Thani, to help secure the hostages' release.
Since the crisis began, "Qatari officials have been in touch with Hamas almost every day at varying levels," said the diplomat with knowledge of the talks.
For many years, Qatar has played interlocutor with Hamas, allowing its political wing to set up an office in the capital, Doha. Under an agreement among Qatar, Israel and Hamas, millions of dollars in humanitarian aid are sent to Gaza.
But even the Qataris failed to predict the Hamas attack on Israel 10 days ago, a Western diplomat said.
"The Qataris have been pretty burnt by this whole thing," the diplomat said. "They were invested in their role being able to talk to everyone and in Hamas becoming a more moderate organization."