This is an abridged version of a story published by The Center for Public Integrity, a nonprofit, nonpartisan investigative news organization in Washington, D.C.
Afghanistan has a rich culinary tradition, but soybeans are not part of it. American agricultural experts who consider soybeans a superfood found this dismaying, and so over the past four years, they've invested tens of millions of taxpayer dollars to try to change the way Afghans eat – and failed miserably.
According to interviews and government documents obtained by the Center for Public Integrity, the effort to make Afghans eat soy has been marked by mismanagement, poor government oversight and financial waste. Warnings by agronomists that the $34 million program was unwise were ignored, as was a simple fact: Afghans don't like the taste of soy.
The project's problems model the larger shortcomings of the estimated $120 billion U.S. reconstruction effort in Afghanistan, including what many experts depict as ignorance of Afghan traditions, mismanagement and poor spending controls.
No one has calculated precisely how much the United States wasted or misspent in Afghanistan, but a congressionally-chartered group estimated in 2011 that it could be nearly a third of the total. A special auditor appointed by President Obama the following year said he discovered nearly $7 billion worth of Afghanistan-related waste in just his first year on the job.
"We didn't have a reconstruction effort, we just spent a lot of money," mostly to get the Afghan military working and keep its government afloat, commented Anthony H. Cordesman, a Middle East specialist and former defense intelligence analyst who is now at the Center for Strategic and International Studies, a nonprofit group in Washington. The funds allocated to rebuild the country, said Cordesman, mostly went to "short-term aid projects, without an assessment of the overall economy, with reliance on contractors.
Click here to read the Center for Public Integrity's full version of the story.
The Afghan diet reform effort, formally known as the Soybeans for Agricultural Renewal in Afghanistan Initiative, was a "risky but honorable endeavor," according to one of the project's managers. It was meant to address malnutrition by raising the level of protein in Afghan diets.
But the project, overseen by the Agriculture Department (USDA) and implemented by the main trade association for the industry, the American Soybean Association, encountered problems from the start.
The first crop failed, and subsequent harvests didn't produce enough soybeans to operate a special factory in Mazar-e-Sharif that was constructed and managed at a cost of at least $1.5 million to create a local soybean economy. Afghan farmers participating in the project, discouraged by crop failures, largely abandoned their growing efforts.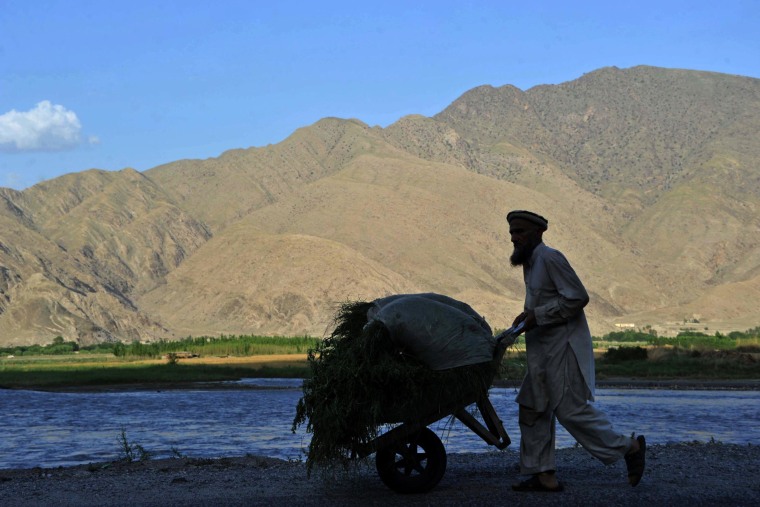 As a result, the factory has instead been forced to use at least 4,000 metric tons of soybeans imported from America at a cost of more than $2 million. But its operation has been so hobbled by shortages that those involved in the project worry its equipment could soon be dismantled and sold by its local owner.
In March, Special Inspector General for Afghanistan Reconstruction John Sopko met with project and government employees in the country who told him there is no "significant demand for soybean products in Afghanistan," as he wrote in a letter the following month to Secretary of Agriculture Tom Vilsack. "This should have been expected, since Afghans apparently have never grown or eaten soybeans before," Sopko wrote.
Moreover, those running the program told him that "Afghans don't like the taste of bread made with soybean flour," Sopko wrote. He requested that the department turn over all of its internal documents on the program.
Then, after reviewing the documents, Sopko wrote Vilsack again in June, expressing alarm that a feasibility study was not performed before the department started spending tens of millions of dollars on the idea, and that it was not halted when problems were flagged in a USDA-financed review this February.
"What is troubling about this particular project is that it appears that many of these problems could have been foreseen and, therefore, possibly avoided," Sopko said.
Asked for comment, the Agriculture Department called Sopko's criticisms "premature." Spokeswoman Gwen Sparks said, "The project has produced positive results in the direct distribution of soybean products, renovation of irrigation systems and rehabilitation of farm-to-market roads." She also said the effort, slated to end in five months, was modified after the special expert review and would be reexamined before it is extended.
Sowing but not reaping
The first planting took place in spring 2011. The program ran into early trouble when its new planting managers, who had prior experience in the northern Afghan province of Takhar, decided to plant a soybean seed variety there that required four months to reach maturity. A major snowfall occurred in late September, before the harvest, and most of the crop was lost.
"The season in Takhar," a February 2014 independent evaluation noted, "is just too short." The evaluation, paid for by USDA, was conducted by EnCompass LLC, based in Rockville, Maryland.
As it turns out, a feasibility study conducted three years earlier by a British group, Joint Development Associates International, for the principal British foreign aid organization highlighted the special challenges posed by Afghanistan's weather patterns. It concluded that "the crop production cycle and available water means that soybeans do not fit profitably into the Afghan farming system."
The group's report, obtained by the Center, said it "strongly advise[d] against any further encouragement of farmers growing soybeans in Afghanistan." It bluntly noted that while many government agencies "have been approached by people wanting to promote soybean production," agreeing to do so would result in "the waste of development funding."
Jim Hershey of the American Soybean Association, the trade group that helped launch the project, said he was unfamiliar with the British report until 2013. "Had we known about the report," he said, "we might have approached things a little bit differently."
According to the Encompass independent evaluation for USDA, the Afghans recruited into the U.S.-led effort were predominantly illiterate, small subsistence farmers, who resisted planting soybean seeds as densely as they should have, sharply reducing crop yields. They also had no crop insurance, so the early crop failure due to weather killed their family income.
It "put the program in total jeopardy because farmers are told this is going to work, we've got your market, and then the crops fail because you don't have the varieties right," said Don Dwyer, a private agricultural consultant who has worked on crop substitution in Afghanistan with the U.S. Agency for International Development and the Department of Defense.
The independent evaluation said that while thousands of farmers received training and planted soybeans in 2011 and 2012, less than 100 of those farmers replanted in 2013.
The project's first country director left in November 2012, and the second left the project on Oct. 15, 2013. The third was the association's former regional office director in Istanbul; he was teamed with an Afghan spokesperson to serve as a liason to the Afghan government, part of what Hershey called the "Afghanization" of the project.
The program also cycled through five chief agronomists over a three-year period, according to the EnCompass report. "It was a revolving door," one of the project's members told EnCompass, which concluded that staffing gaps "seem to have undermined implementation." The report added that those with a stake in the project's success concluded that "leadership in-country did not have the requisite experience in agriculture or rural development to oversee the project."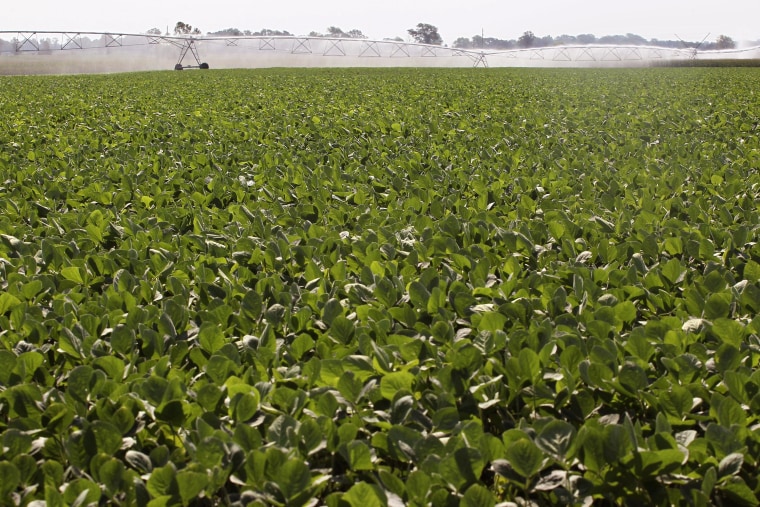 In 2013, indigenous farmers produced less than 3 percent of the 4,500 metric tons per year needed for the factory to operate at full capacity.
The soybean association responded to the evaluators' blunt critique that success would take more time — at least five to seven years "to introduce a new crop," according to the report.
But the signs are not good. As of this spring, the report said, the program's managers still had not figured out a "mechanical" planting method and the best cultivation techniques to increase yields. And data show that soy is not "more profitable than alternative crops," giving farmers in the program little incentive to keep going.
The largest challenge, however, may be the most fundamental one — namely, how to make Afghans appreciate the product's taste and want to buy it.
The soybean association, in its formal response to the Encompass evaluation, said it was "in the process of conducting a baking study to determine the optimum amount of low fat soy flour that can be incorporated into Afghan naan [bread] while maintaining total acceptability to local Afghan people."
In the interview, Hershey said that "most of our acceptability work" suggests that making naan with four to five percent soy flour will extend its shelf life without greatly changing its traditional flavor. But many Afghans, he added, still "aren't ready to pay a little more" for what's being sold under the label "Strong Naan."
Copyright 2014 The Center for Public Integrity