Texas-born alleged drug lord Edgar "La Barbie" Valdez was extradited to the United States from Mexico, U.S. officials said on Wednesday.
Valdez, who earned his nickname due to his fair complexion, was among 13 defendants wanted for a variety of violent crimes and drug trafficking-related offenses to be handed over to U.S. Marshals late Wednesday, according to the Justice Department.
He headed the Beltran Leyva cartel until being arrested in August 2010, according to Mexican and U.S. officials.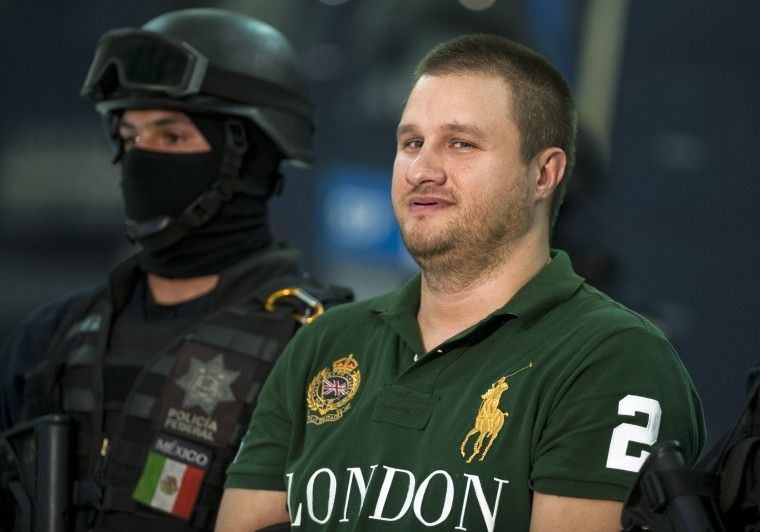 The 13 defendants were wanted on an array of charges, including the murders of a U.S. Consulate employee, other violent crimes and drug-trafficking related crimes, according to a Justice Department statement.
Valdez and another defendant, Carlos Montemayor, are charged in the Northern District of Georgia with conspiring to important distribute cocaine and launder money on June 11, 2010, in Georgia. Valdez also faces narcotics-related charges in Louisiana.
Valdez became one of the most powerful figures in the Beltran Leyva cartel after Mexican soldiers killed former boss Arturo Beltran Leyva in December 2009, authorities said, triggering a power struggle within the gang.
According to Reuters, Valdez grew up selling marijuana in the United States and developed a taste for luxury cars, nightclubs and designer clothes.
Mexican officials also extradited Jorge Costilla, known as "El Coss," a longstanding leader of Mexico's Gulf Cartel, who was captured by the Mexican Navy in September 2012.
Others being extraditing include Julio Cesar Valenzuela-Elizalde, known as "The Pilot," and Jorge Costilla-Sanchez, aka "El Cos."
U.S. officials named 12 of the defendants handed over to the U.S., and said the identity of 13th would be revealed on Thursday.
The extraditions came about three months after Sinaloa Cartel leader Joaquin "El Chapo" Guzman escaped from a high-security prison in central Mexico, which proved a huge embarrassment to the government of President Enrique Pena Nieto.
Following the jailbreak — the cartel chief's second — the Mexican government revealed it had received a U.S. extradition request for the Sinaloa boss, who was the most wanted drug lord in the world before his capture in February 2014.