TEGUCIGALPA, Honduras — He took a long, deep breath and covered his face with his hands as he recalled the day his friend was killed a month ago — a day that should have been the happiest day of his friend's life.
"What hurts me the most is that he was going to be a father for the first time, but he did not get to see the birth of his baby girl," said the 23-year-old bricklayer and father of a toddler who asked not to be identified to protect his safety.
"Security here is a complicated issue, violence is everywhere, and you really can't trust anyone," he told several journalists who attended a meeting organized by the United Nations High Commissioner for Refugees, the agency charged with protecting refugees and forcibly displaced communities around the world.
The meeting took place at a park considered a neutral zone — meaning not a gang area — and community members like the bricklayer spoke at the meeting on the condition of anonymity because of the fear of gang retaliation.
His friend was presumably shot and killed by gang members. The suspects remain at large, and the police never investigated, because "the police don't go into these neighborhoods," said the bricklayer, who had planned on taking his friend to groups that try to help young people avoid being recruited by gangs such as MS-13 and Barrio 18.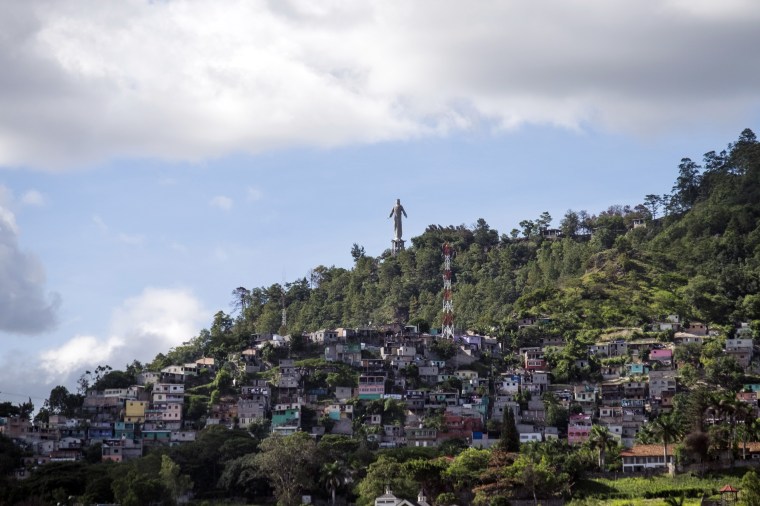 Survival has become a top priority for people in poverty-stricken colonias, or communities. People hurry home before 9 p.m. or stay with friends and family elsewhere, to avoid being caught in the crossfire between rival gangs.
According to a State Department report last year, there are up to 10,000 gang members in Honduras, a country with roughly 8 million people.
Gangs control areas within the same communities, creating "invisible borders" sometimes marked by "moto-taxis" and gang-owned vehicles. One foot in the wrong place can lead to brutal murders.
The bricklayer and human rights activists say extortion, carjackings and murders are commonplace, and so is forcibly taking teen girls as "jainas," a slang term for girlfriends, and forcing them into small-time drug trafficking.
Just as countries control their borders, so, too, the gangs control theirs, by hiring children as young as 10 as "informants" to spy on people and activities in the communities, or to infiltrate meetings to draw out snitches.
On a media tour of one community, organized under tight security by the U.N. refugee agency, residents and activists alike spoke in hushed tones about the crime spree and how general distrust, even of neighbors, has become a game of survival. Their message was always the same: "We want to live in peace," and have a chance at a dignified life.
The climate of terror is such that "gang" is now a forbidden word among community dwellers, who only refer to gang members as "the boys."
Gang violence's toll on schools, education
The bricklayer and his friend had dropped out of high school. Surviving gang violence was the priority, and schools are not safe.
Classrooms are no longer off-limits as gangs threaten and sometimes kill teachers who don't yield to their demands to give their children passing grades. Government figures show 83 teachers were murdered from 2009 to 2014, and security forces were deployed to 52 schools in 2017.
Recently, a classroom was ransacked by gang members, and later several assault weapons were found hidden in a school bathroom. Nearby shootings put an early end to recess in tiny schoolyards across many schools.
Violence here is the new normal, creating a culture of remaining silent instead of reporting crimes. Parents keep their children home, so school absences run high.
"One of our great challenges is to keep students in schools, because crowded classrooms, insecurity, poverty and personal situations are keeping them away. We have had a lot of people leaving to the United States, and so students are leaving our classrooms," said a school principal in a neighborhood grappling with gang violence; he's not being identified for his protection.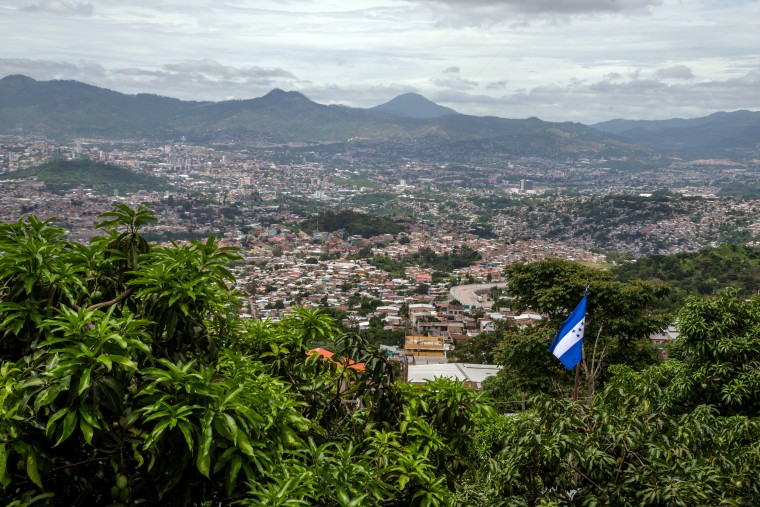 "We have almost one million students who should be in school but they're not, for many reasons. As teachers, we try to provide adequate conditions to encourage them to stay in school, but there are issues that can only be addressed by improving the social infrastructure," the principal said.
Despite the death threats and lack of resources, teachers show up to work, because "if we throw in the towel, things will spiral out of control" and children need help, said the educator.
There are approximately 850,000 children who don't work or go to school, creating an incentive to flee the country or risk being recruited by gangs.
Ivania López, a lawyer and human rights activist, said that for many poor families in Tegus, as the capital is popularly called, education is not the top priority.
"In Honduras, there are no opportunities to get an education. The education system is terribly lacking," she said. "For many families the main concern is to put food on the table, to survive, not to study — the top priority is to protect life."
According to the National Institute of Statistics, only 30 percent of youth 15 to 17 have access to education, and there are roughly 60,000 teachers for a student population of 2 million.
Over 1500 students killed in last eight years
López pushed back against government officials promoting a drop in homicide rates — to 40 per 100,000 people in 2018, from a high of 85.5 per 100,000 in 2011 — since there are many types of gender-based violence "that are not visible," and the government does not include casualties in military operations and crime goes underreported.
Andrés Celis, the U.N. refugee chief in Honduras, told a group of journalists that government security forces are able to enter crime-stricken areas and carry out operatives, but they clearly face the challenge of rooting out gang-related violence without increasing the risks for local residents.
In a recent agency report, Celis warned that the school system is unable to work in "adverse scenarios" and falls short when addressing the worsening violence in schools.
According to that assessment, more than 200,000 children stopped going to school from 2014 to 2017 due to insecurity and the economic crisis, and 1,522 students were killed from January 2010 to March 2018. Teachers were the third-largest group of internally displaced people from 2016 to 2017.
Part of the answer is reaching out to criminal gangs and creating options for at-risk youth, said the principal.
"Militarizing schools is not a solution, because the military can stay in a school for, say, 10 days, and then they leave. But the problem comes back the 11th day, and even worsens," the principal said. "Repression is not the answer; I think you have to address the true structural causes of the problem."
Even as the Trump administration and area governments have put in place measures to stop illegal migration, the worsening crime and violence in Central America continue to push people to attempt a dangerous journey to the United States.
According to the U.N. refugee agency, there are around 387,000 refugees and asylum-seekers worldwide from the Northern Triangle countries — Guatemala, Honduras and El Salvador. There were over 62,000 asylum-seekers in Mexico since January 2019, while the number of internally displaced people in Honduras and El Salvador now total over 318,000.
Follow NBC Latino on Facebook, Twitter and Instagram.