Amid all the Beltway frenzy over the defeat of House Majority Leader Eric Cantor, a Democratic senator issued this reminder: 99.9 percent of Americans don't know who Cantor is.
"What they do know is that by now those 11.5 million (immigrants) who live in the shadows are visible to them. They go to school with their children, they see them under the highway … these people are part of the community," Connecticut Sen. Richard Blumenthal told a room of Latino reporters.
Blumenthal and other Democrats and immigration advocates were working quickly Wednesday to douse pronouncements of Cantor's defeat as the death knell for immigration reform.
"Eric Cantor has never been a proponent of immigration reform," insisted Sen. Bob Menendez, D-N.J.
"No one knew where he stood on the issue," added Senate Majority Leader Harry Reid, D Nev. "He would tell some of us, yeah I'm going to do it. People could see through that."
Cantor's loss is the result of him failing to pay attention to his district and his involvement with national party politics, the senators said. They cited a PPP poll of voters Tuesday night in Cantor's district that showed 72 percent back immigration reform. The poll of 488 registered voters in the district was done for Americans United for Change, a liberal group. It has a margin of error of plus or minus 4.4 percent.
Brat said Cantor's defeat had everything to do with his support for "amnesty." "Amnesty, at the end, was a clear differentiator between myself and Eric Cantor
Cantor had initially helped draft a Republican version of a bill to address young immigrants here illegally, also known as DREAMers. But he moved away from it as his primary became competitive and worked to block action on any immigration legislation.
"Eric Cantor has never been a proponent of immigration reform," insisted Sen. Bob Menendez, D-N.J.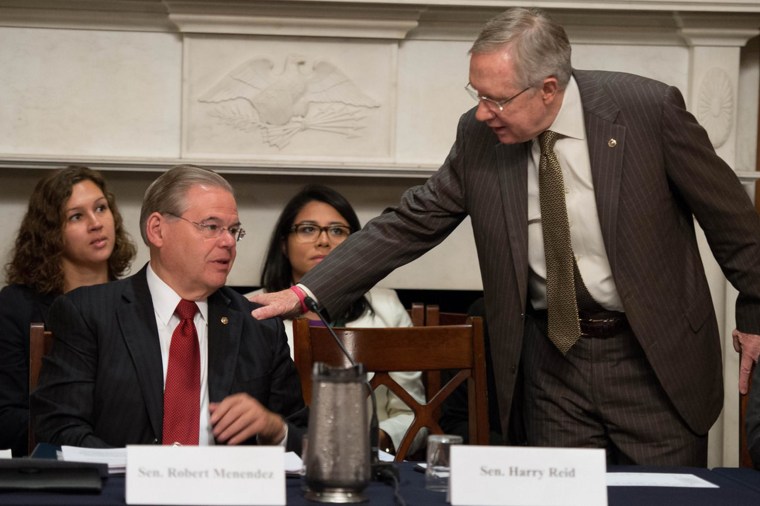 His defeat contrasted with the statewide win by Sen. Lindsey Graham, R-S.C., who the senators said has not wavered in his support for immigration reform. Graham helped broker the bipartisan comprehensive immigration bill passed by the Senate last June.
Graham's victory "shows that clear and convincing support for comprehensive immigration reform can carry the day, even in one of our most conservative states, when that support is combined with other conservative principles," the Illinois Business Immigration Coalition said in a statement.
"Cantor's defeat doesn't sink immigration reform this year. It was already dead."
As NBC reported, Graham faced six other candidates in his race, while Cantor had one. Graham also is considered to have run a better campaign.
Menendez said immigration reform supporters "defeat themselves" by declaring immigration reform dead as a result of Cantor's defeat.
The Democratic senators set the end of July as when they could call an end to immigration reform.
Republican Alfonso Aguilar urged his party members to ignore "the anti-immigration lobby's argument that immigration is a losing issue for them."
Polls show the majority of Americans, even members of the Tea Party, support addressing immigration reform, said Aguilar, executive director of the American Principles Project's Latino Partnership, a conservative group. But he differed from the Democrats that there still is a chance for immigration reform.
"Cantor's defeat doesn't sink immigration reform this year. It was already dead," he said.
Immigration advocates seized on Cantor's defeat Wednesday, refusing to let up pressure on House Speaker John Boehner to move on immigration reform, as well as further urging President Barack Obama to take executive action to stem deportations.
"Tonight's primary results are another reminder why leadership and action on immigration are desperately needed and why President Obama must deliver relief for our families now," said Cristina Jimenez, managing director of United We Dream, a group that advocates for legal status for young immigrants here illegally.
Some immigration reform activists said Cantor's defeat means he'll be replaced by a far more conservative Republican with more strident views against immigration reform. Ben Monterroso, executive director of Mi Familia Voto, called Brat's win in the Republican primary a real "danger" for the GOP. Brat has a Democratic challenger in November's general elections.
"The (Republican primary victory) of an extremist solidifies the GOP as an extremist, out-of-touch party. They will never have a chance to reclaim the White House as long as they remain hostile to member of the Latino and immigrant communities," Monterroso said.
In addition to urging Republicans to step up on immigration reform now that Cantor is defeated, Illinois Sen. Dick Durbin said Latinos who are advocating for immigration legislation have an important role to play at the ballot box.
"It isn't enough to lament (that immigration reform has not passed) … We have to say to our friends in the Hispanic community in America 'you have a problem and the problem is this: 40 percent of eligible Hispanics eligible to vote are not registered. 40 percent.' "