SANTIAGO, Chile — Chile's Palestinian community, the largest outside the Middle East, is a strong force in the Andean nation, involved in local politics, culture and soccer. Now it's making Chile one of the loudest regional voices criticizing Israel over its military action in Gaza.
Chile's President Gabriel Boric, a moderate figure in the Latin American left, recalled the country's ambassador in Tel Aviv last week and said Israel was not abiding by international law.
On a post on X, formerly known as Twitter, Boric added that the Israeli military operation "at this stage acts as a collective punishment to the civilian population in Gaza." He brought up the issue with President Joe Biden during a bilateral meeting last Thursday in Washington.
"There's no doubt we can say the response has been disproportionate and is violating international humanitarian law," Boric told reporters after the meeting at the White House.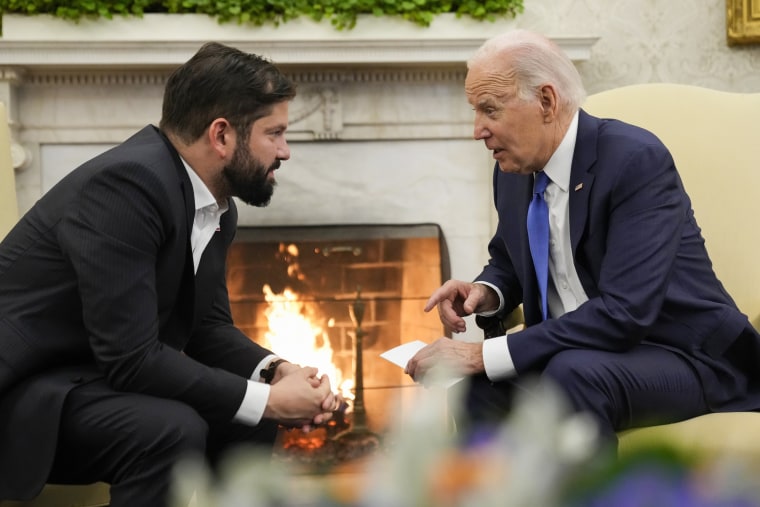 The Israeli embassy in Santiago said it would not comment on its relationship with Boric's government.
The Palestinian community's roots run deep in Chile, with immigration starting in the late 19th century when Christians fled the faltering Ottoman Empire.
Chile is now estimated to have more than half a million Palestinians, many third, fourth or even fifth generation, a substantial minority in a country of under 20 million people.
The community has been galvanized, holding rallies outside the presidential palace, organizing charity concerts, clamoring for a ceasefire and pushing for boycotts. Members of the community have met with the minister of foreign affairs to lobby the government to push for a ceasefire from Israel.
"The Palestinian community here is as diverse as any other community, we live in every city and territory in Chile," said Claudia Yarur, who says her great-grandparents carried passports from the Ottoman Empire when they immigrated to Chile.
Yarur supports a boycott of Israel and wants the Chilean government to sever diplomatic ties with the country.
"We want the persecution of the Palestinian people to end," Yarur said. "What we have to do is focus on pressuring Israel to stop these crimes of persecution, and Chile's government has that responsibility, like all the governments around the world."
There's a vibrant Palestinian Social Club in a wealthy sector of Santiago with state-of-the-art facilities, a Chilean-Palestinian group in congress and a century-old first division soccer team, Palestino FC.
"Our community lives peacefully here," said Georges Abed, the Syrian-born parish priest of San Jorge Cathedral in the Patronato neighborhood in central Santiago, the original landing zone for Palestinians in Chile.
"They're in the right, the left, the government, universities, industry, commerce, banks, the army and the Carabineros (police force)."
In a recent mass, Abed invited members from Chile's Muslim community and the Palestinian ambassador; keffiyehs, hijabs and Palestinian flags were sprinkled throughout the pews.
"Though we are completely separated geographically, you feel their presence, their connection to the land," said Vera Baboun, Palestinian ambassador to Chile and former mayor of Bethlehem, who attended Abed's mass.
On Oct. 7, Hamas militants in Gaza breached the barrier to Israel, killing civilians at a music festival and in nearby communities and taking hostages back to Gaza. Israel said Hamas killed 1,400 people and captured more than 240. Israel responded with a bombardment of Gaza it said was meant to wipe out Hamas, which is designated a terrorist movement by the U.S. and the EU.
Palestinian health authorities in Gaza say more than 10,000 people have been killed. Israel accuses Hamas of using civilians as human shields and has rebuffed mounting international pressure for a ceasefire, saying the hostages should be released first.
While much smaller in size, Chile's Jewish community numbers about 16,000, the third largest in South America, after Argentina and Brazil. In a press release, the Jewish community said it rejected Boric's decision to recall the ambassador and said the Chilean government's actions "end up validating the actions of the terrorist group Hamas."
Despite widespread support, many Palestinian community members and business owners did not wish to speak to Reuters out of fear of reprisal or not being allowed back into the West Bank or Gaza.
Many said they didn't condone the October Hamas attack that was recorded in gruesome detail on videos posted to social media, but said it was important to see the wider context.
The prominence of the Palestinian community has sparked strong support from other groups in Chile. Rafael Torres, a member of Chile's indigenous Mapuche community, is an avid Palestino FC fan who was at a recent rally in support of Gaza.
"I'm proud of this jersey and happy that it's in Chile and not any other country," said Torres, who said the club's mere existence has become a political statement. "These are strong symbols that even without wanting to, make Palestino a political club at the global level."
Felipe Barria says his grandparents came from Bethlehem and he has several family members there. His aunt, a dentist, travels there often to help children in the West Bank.
"There are lots of family ties even though a lot of years have gone by," Barria said at a recent pro-Palestinian rally. "The Palestinian community (here) activates whenever there's aggressions."
Since the military offensive began in October, the community has organized protests, a charity concert and fundraising events to raise awareness and funds to send humanitarian supplies to Gaza.
The state of Israel was formed with the backing of major world powers in 1948 after the Nazi Holocaust, but Arab states refused to accept the displacement of some 700,000 Palestinians — an event Palestinians lament as the Nakba, or catastrophe.
Parish priest Abed said Gaza has suffered nearly a century of injustice and the Oct. 7 attack needs to be seen in that context.
"If you want to ask me about Gaza and ask about the (Hamas) massacre, the blood, the killings, it's like looking at a painting from a few inches away," Abed said.
"You need to look at it from further back to see the full picture. We're talking about an issue that's more than 75 years old."
Countries across Latin America have ramped up condemnations of Israel's attack on Gaza, with Mexico, Brazil, Peru, Argentina and Colombia lambasting the attacks. Bolivia took the most dramatic step, severing diplomatic ties with Israel.
Chile is one of at least 138 countries that recognize a Palestinian state.