When Antonio Tizapa's 20-year-old son Jorge disappeared with 42 other teacher's college students in Iguala, Mexico, he did not think that they would still be missing five years later.
"We still don't know what happened. We are overwhelmed, stuck," Tizapa told NBC News in New York, where he lives. "And after five years of demanding justice, five years fighting to keep the case open, it's unreal that we still can't find them."
The Mexican government initially concluded that 43 students from a teacher's college in Ayotzinapa were arrested by local authorities in southwest Mexico on Sept. 26, 2014, and turned over to drug traffickers who then murdered and incinerated them at a garbage dump.
But parents maintained at the time that their sons were still alive and took to the streets with thousands of protestors to demand justice.
A group of independent investigators would later present evidence that rejected the Mexican government's official account, and exposed how authorities used torture to strong-arm suspects into confessing.
Now, 77 out of 142 detainees from the case have been released after a judge determined that evidence had been obtained illegally.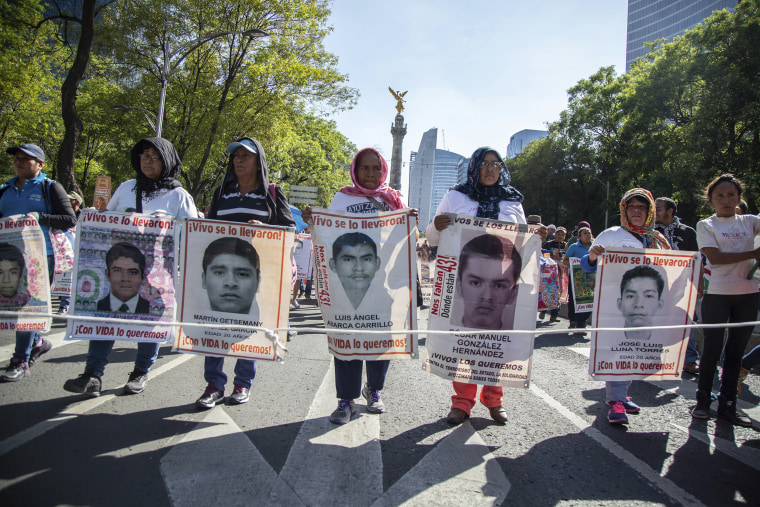 Those acquitted include Gilardo López Astudillo — leader of the drug trafficking gang Guerreros Unidos — and 24 municipal police officers that were identified as key suspects in the disappearance of the students.
"Even after a commission was set up to help us find the truth, the Mexican government still does not tell us where our children are," Jorge's father said. "And they have not convicted anyone either after so many arrests."
Tizapa said the parents took to the streets because they knew that they could not get justice alone. And today he knows with a heavy heart that the only chance he has to find his son depends on the support of many people inside and outside of Mexico.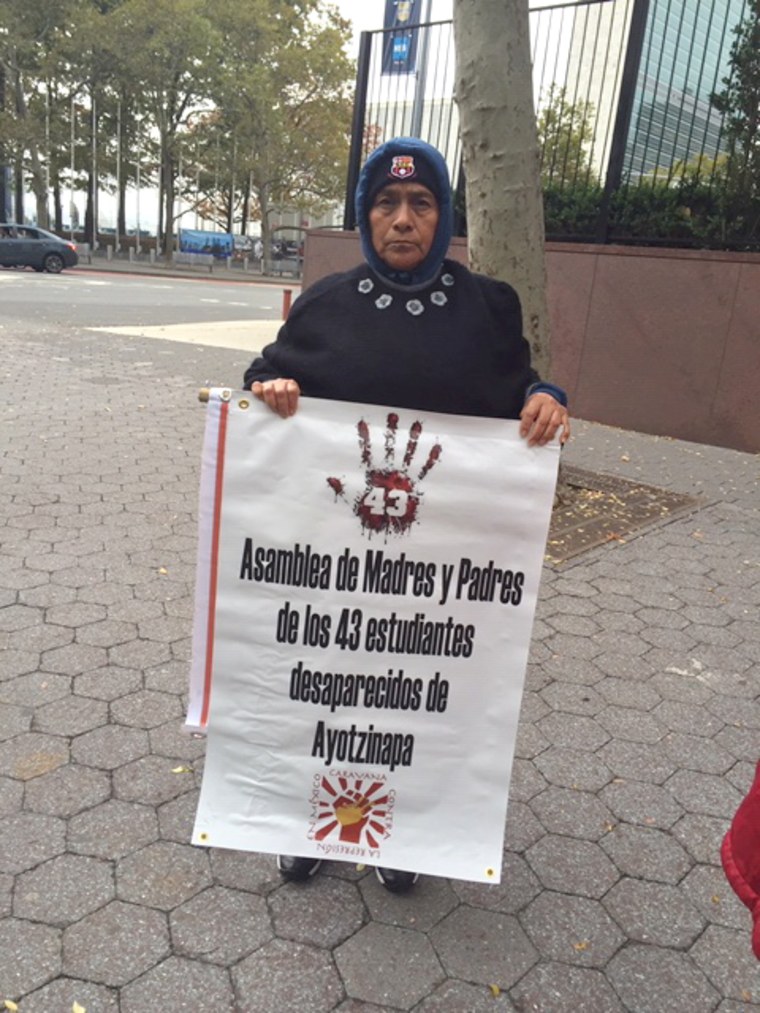 One of the ways Tizapa keeps pressure on the case is by running in New York races with a printed jersey that says, "Your son is my son and my son is your son."
And five years later, he runs with the pain and urgency of a father who is desperately trying to find his son.
"If I stop running, if others stop running for Ayotzinapa, we won't make it," he said. "People will not know the stories of our missing sons."
Many people have helped Mr. Tizapa in New York simply because they are mothers and fathers. And this basic parent-child connection has made him aware that Mexico and the U.S. share a bigger reality.
"Politics affects us on both sides of the border," he said. "But what happened to my son is happening to many other children in Mexico and the United States."
A focus on the missing
Experts on U.S.-Mexico policy similarly see Ayotzinapa as a breakthrough case that has given other families with missing loved ones greater visibility.
"There are over 47,000 people who have disappeared in the last 12 years. And this case is not the only one where you have families doing everything possible to find out what happened to their sons, daughters and loved ones," said Maureen Meyer, director for Mexico and migrant rights at the Washington-based advocacy and research organization WOLA.
"So I really think Ayotzinapa is a case that helps to show how many victims there really are in Mexico," said Meyer.
For some U.S. legislators, the Ayotzinapa case has made them think about how the drug war and gun violence affect people on both sides of the border.
"When I visited with some government officials in Mexico, they said that this is all related to drugs," Rep. Alan Lowenthal, D-Calif., told NBC News, referring to a 2017 trip.
"They told me that they are buying guns in the U.S. right at the border," Lowenthal said of the cartels.
"And they asked why aren't we doing more to cut down on the demand for drugs?" he said. "So I think that this is all part of a larger picture."
Experts believe that the 43 missing Ayotzinapa students mistakenly commandeered a bus that was specially outfitted to smuggle heroin to the U.S. And this could have been one of the motives for their detention and disappearance.
Lowenthal teamed up with 16 other members of Congress in 2018 to apply pressure on then-President Enrique Peña Nieto's government to move the Ayotzinapa investigation forward.
He said that Mexico's recently-elected president, Andrés Manuel López Obrador, is trying to ensure there are answers not just for the Ayotzinapa families but for so many others who are missing loved ones.
In New York City, Tizapa thinks of his missing son.
"I remember one time when Jorge entered a 5K race, and two-thirds of the way he sat down," he said. "Even though he did not like to run, he did it to support other friends who were running. He was simply motivated to do things for others."
Jorge's drive for others motivates Mr. Tizapa to keep running and seeking answers.
Follow NBC Latino on Facebook, Twitter and Instagram.