WASHINGTON, D.C. -- Despite escalating political tensions in the United States and abroad, there are still many people and organizations working quietly behind the scenes to foster greater international understanding and create lasting relationships that will stand the test of time and the current political climate.

One such group is the Washington-based Partners of the Americas, founded in 1964 as part of the Alliance for Progress, initiated by President Kennedy in 1961 to establish economic cooperation between the United States and Latin America and improve relations between the two regions.
For the past 15 years, Partners of the Americas has run a unique program of "youth ambassadors," sending U.S. high school students ages 15-17 for stints of several weeks in Latin America, with their counterparts in Latin America coming to the states as part of a cultural exchange experience. It is only the third program the U.S. State Department has ever funded for minors to participate in an international initiative.
The idea, say organizers, is to expose young people as soon as possible so that they start early on an educational and professional track of community involvement and international experience and cooperation.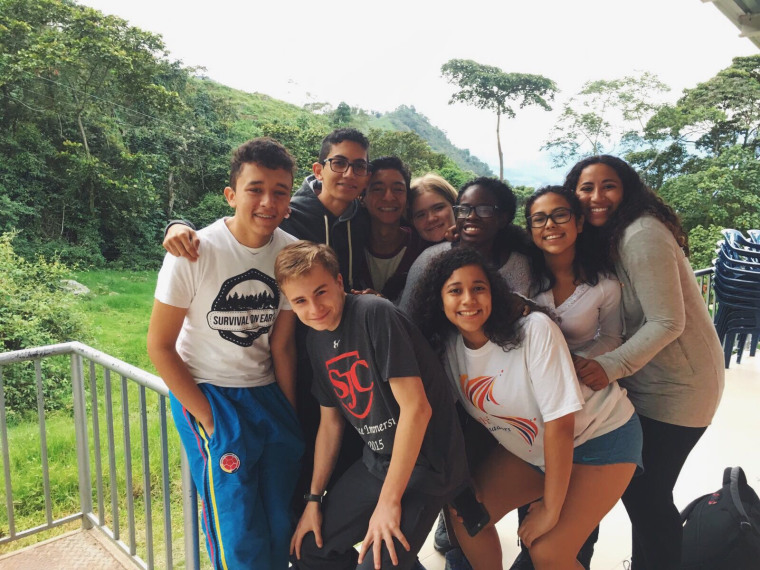 The ten U.S. students picked for this year's program just recently returned from a stint in Colombia, and it is the third year the program has involved travel there. Students work on a variety of projects and also spend time living with a host family. The Latin American students arrive in the States in the fall.
"It's an important opportunity that so many people, especially teens, don't get to go to if they don't have connections to that country. It's an opportunity to travel to a country that just ended the longest civil war in the Western Hemisphere and they get to meet with leaders and representatives in all sectors," says Abraham Cisne, the program's assistant director.
"There's a focus on service and they learn about initiatives and challenges, such as how is Colombia integrating people back into society coming out of conflict zones. Students come back and work on projects in their own community and learn how to handle different aspects of work and communities that are divided and don't always get along," said Cisne.
He added that it fosters connections between young people who are going to be influential and future decision makers. It's also an opportunity for Colombia to present itself and change perceptions of what people think about the country. Part of the trip, said Cisne, involves visits to local universities in Colombia that are interested in having students from the U.S. come and study.
Olivia Martínez, 16, was one of the participants.
"This is a great opportunity to get me started on studying abroad because I want to do that when I go to college. It's dipping my foot in it and it's a chance to experience something new because I had never been to Latin America before," said Martínez, who starts her Senior year of high school in the fall. "My mother's family is from South America and it's a good chance to explore those roots."
Martínez said it was important for her to experience other cultures and understand the problems people face in other countries.
She is also aware that she is representing her community.
"There's also a stigma and stereotype about Hispanic youth here in the States that we don't care, but this is a great opportunity to show that there indeed are teens who love education and want to help and help other countries, and knowing what's going on in other countries is obviously important for us, and to be aware and not live in a bubble," said Martínez.
For 16-year-old Louise Zeng, an incoming high school senior in Houston, it was an opportunity for her to further explore her interest in Latin America. Born in Canada to Chinese parents and raised in Texas, this was for her an eye-opening experience.
"I got a lot of questions about being Chinese and I spoke some Chinese for them, and for some I was the first Chinese person they had ever seen. For me, I was able to show them how diverse the United States is and that we aren't all the same," said Zeng, who is interested in studying international business and Spanish, and also looking at going into the Peace Corps.
"I would love to study abroad in Latin America because I want to become fluent in Spanish. I really want to become a global citizen and know people from all over the world," she said.
Ajiri Uzere, 16, lives in Bentonville, Arkansas and her parents are originally from Nigeria. She tells NBC News that going to Colombia was an opportunity for her to become more familiar with Latino culture because she doesn't have too much exposure where she lives, but that the trip surprised her in a most unexpected way.
"I was walking down the street in Colombia and people thought I was Colombian because they said I looked like the people from a certain part of the country where there is a high concentration of Afro-Latinos. It really blew my mind. I was thinking, wow, there are a lot of black people here and I was so happy to see that and see the diversity," said Uzere, who has decided to pursue learning Spanish so she can be bilingual one day.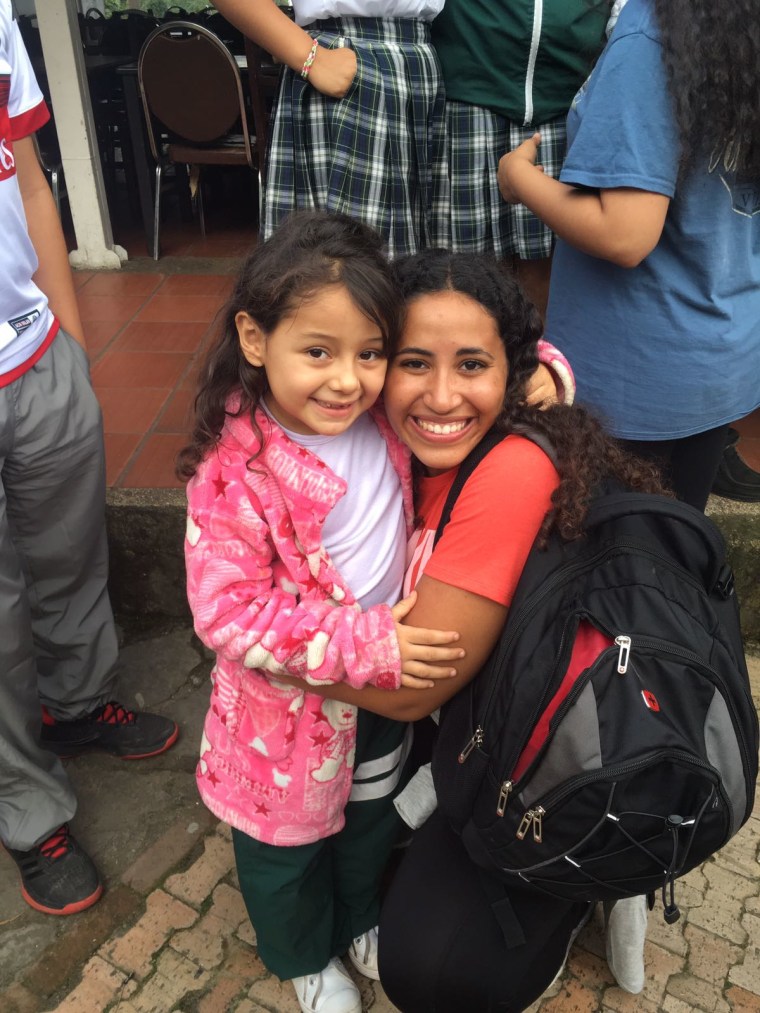 Partners of the Americas recruited a diverse class of student participants, including teens from rural and remote areas. One such teen is Marisa Padilla, a 16-year-old who lives in Cassville, Missouri, population: 3,400. Padilla, whose father is from Honduras, said the trip was an opportunity for her to reconnect with her Latino roots.
"I really don't have that Hispanic culture prevalent in my life and learning Spanish is very important to me. I want to be a foreign exchange student in a Spanish-speaking country and possibly go into the Peace Corps and have a career as an international aid worker," Padilla said.
Nadia Duskin from Virginia is Peruvian American. She said that the trip helped her focus on her interests in both international work and engineering. "I see that I can do both and have both skill sets to work on community service projects in the future."
Riley Place is a Maryland 17-year-old who was inspired by the trip to start his own political action committee, Generation E, "a PAC Of The Youth, By The Youth, For The Youth." Place said he was interested in the environment. "The young generation is going to inherit this I want to find a way for young people like me to participate in politics and be heard."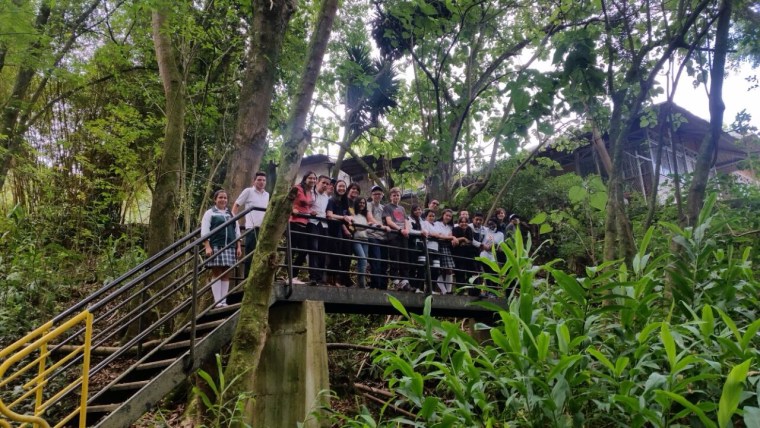 Aldo Ceniceros of El Paso and Amie Tuberville of San Antonio are both Mexican-American Texans who said they used the experience to further cement their plans for the future. Ceniceros is on a Teen Advisory Board to help troubled youth and wants to continue being involved with that, at the same time he is interested in pursuing a technical engineering degree in the future and work in the international arena, "to be able to use more of our culture to show who we really are."
Tuberville, 15, is the first in her family to be born in the U.S. and wants to work on immigrant rights issues.
"I know what it's like to be afraid that your family is not going to be there anymore. This trip helped me listen to what people need, and find out what people want for themselves. Latinos don't get as many opportunities or they don't go for it. I want to be a source for others to do the things that I did," said the San Antonio teen.
Partner's Cisne explained that the selection process includes not just looking at school grades and extracurricular activities, but also volunteer work and commitment to community engagement.
"We also reach out to young people who don't necessarily have the opportunity to go abroad and want that opportunity for international travel. We want all types of backgrounds and be geographically and ethnically diverse, just like the United States is."
Cisne said it's also a good experience for minority students who may not necessarily be aware the program exists or think they can't afford to do it.
"Students of color are very underrepresented in international opportunities, even in college, so we want them to get a head start and motivate them to continue to have international experience and continue to study foreign languages, which are largely not featured in low-income schools where most youth of color study," said Cisne. "All expenses are paid so everyone has the opportunity, because so few programs are available like this."