PHOENIX, Arizona - Hector Barajas, an Army veteran deported to Mexico, and others like him have been working multiple political fronts to bring an end to the deportation of certain immigrant veterans, including taking their case to the 2016 presidential candidates and urging the president to take action.
A legal U.S. resident who served more than five years in the military and was honorably discharged, Barajas runs the Deported Veterans House, also known as "The Bunker," in Tijuana, Mexico, to assist other deported veterans.
He also is part of the coalition Honorably Discharged, Dishonorably Deported that launched in September. Made up of veterans, immigration advocates and elected officials, the coalition met with Hillary Clinton and solicited a meeting with Donald Trump to get their support for ending deportations of veterans who don't commit serious crimes.
"We talk a lot about honoring our veterans," Barajas said. "But I feel that we should honor our veterans by taking care of them, not deporting them. No veteran should be deported."
Barajas left the Army with an honorable discharge in 2001, but struggled to adjust to life after the military. A few months after leaving the military, he was arrested and charged with discharging a firearm from a vehicle. No one was hurt, but the crime made him deportable. Barajas pleaded guilty and after two years in jail, Barajas was deported to Mexico.
Veterans who serve the military as green card holders, not citizens, can be deported after committing certain crimes – including some minor offenses such as possession of marijuana and some more serious crimes such as murder and rape.
The Honorably Discharged, Dishonorably Deported coalition has had multiple conversations with the Clinton campaign staff, which has been supportive of protecting veterans from deportation. The coalition has had one conversation with the Trump campaign, which members of the coalition say showed less interest and for the most part, was unresponsive.
The deportation of veterans is not specifically discussed by either candidate on their websites and the issue has not come up at the previous two debates.
Nathan Fletcher, a veteran who previously served in the California State Assembly and now chairs the coalition, said he ultimately wants the two presidential nominees to publicly take a stance.
Fletcher and others from the coalition have asked the Commission on Presidential Debates to include two questions about deported veterans in Wednesday's debate. So far, the commission and others with influence in choosing the debate questions have not said if either question will come up, but members of the coalition say there's interest in making it happen.
"We want the candidates to take a firm position on an issue that we believe is so important," Fletcher said, adding that having the candidates talk about deported veterans would help elevate the national conversation around the issue.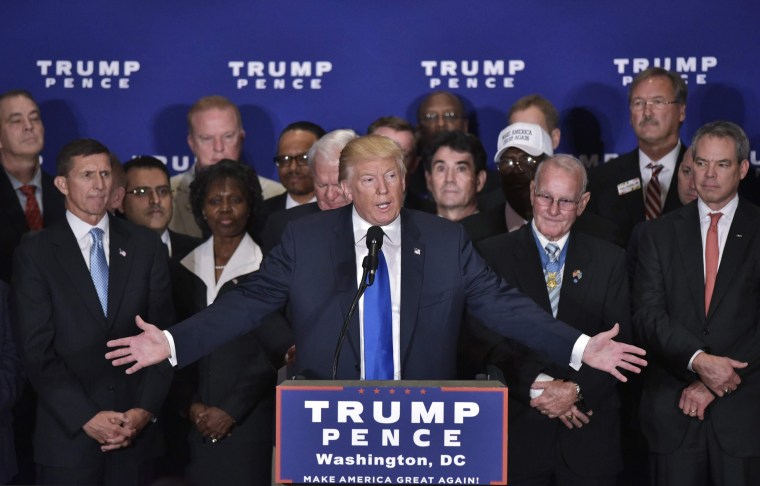 Related: Latino Lawmakers, Others Push to Stop Veterans' Deportations
One of the questions members of the coalition want Clinton and Trump to answer is what they would do to ensure honorably discharged veterans are not deported.
They also want to know what the candidates would do to ensure deported veterans receive the quality medical care they earn through their military service.
All who serve honorably in the U.S. military, regardless of immigration status, are entitled to treatment at Department of Veterans Affairs medical facilities. But according to a July 2016 report by the American Civil Liberties Union, "few deported veterans are granted the necessary waivers to access that care either in the states or abroad."
Fletcher explained that veterans who live in countries like Germany do have access to their health care benefits. "But if you're deported to the streets of Tijuana, for example, you do not because there aren't VA facilities there."
He said the problem could be solved by having the State Department work with foreign consular offices to ensure deported veterans get medical care wherever they live. But in order for that to happen, Congress needs to pass legislation.
There's another route: executive action.
Members of the coalition want Obama to take executive action before he leaves office in January. In a meeting with White House officials last month, they called for the president to halt the deportation proceedings of veterans and pave a path for deported veterans to come back.
They also want the president to make permanent a discretionary program run by U.S. Customs and Immigration Service that helps green card holders serving in the military apply for citizenship.
Fletcher said often green card holders, who are legal residents, erroneously believe they automatically become citizens when they enlist in the military. When they get in trouble with the law, sometimes as a result of untreated post-traumatic stress, they are surprised when they are placed into deportation proceedings.
If deported, the only legal way for many veterans to return is in a casket. Honorably discharged veterans, even those who have been deported, are entitled to burial at a U.S. military cemetery. They also get an American flag laid over their casket and an engraved headstone.
"When they die, we bring their dead bodies back across the border and give them full military honors," Fletcher said. "It's absurd that we don't allow them to come back alive."
Members of the coalition also want an executive action to require Immigration and Customs Enforcement officials to ask people placed into deportation proceedings if they're veterans. Currently, ICE doesn't keep track of that information, so it's difficult to know exactly how many veterans have been deported.
Coalition members have also held separate meetings with immigration officials, including some from the U.S. Department of Homeland Security, to discuss what can be done to prevent more veterans from getting deported and to help current service members with green cards apply for citizenship.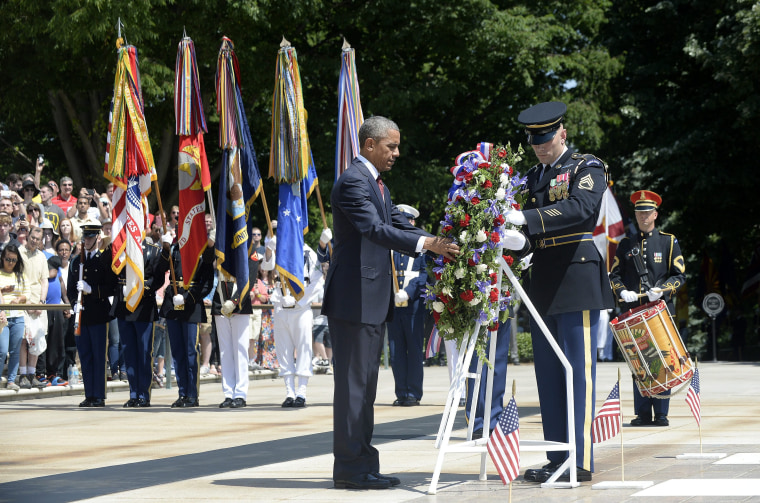 "Everyone's supportive but the question is what can be done and when and who has the political will to make it happen?" said Jennie Pasquarella, an ACLU attorney who helped put together the list of executive action recommendations recently presented to White House officials.
She noted that a number of bills to help deported veterans and those in deportation proceedings have been introduced, but none have made it past their assigned subcommittees.
"Congress right now is not passing any bills, so it's really up to the administration to do something," Pasquarella said.
She believes that in the absence of legislation, executive action would help alleviate the problems faced by deported veterans and those in deportation proceedings – such as the lack of legal representation for veterans facing deportation.
According to the ACLU report, 73 percent of 59 veterans interviewed indicated they had no immigration attorney representing them in their removal proceedings often because they could not afford to hire one. As a result, many were deported to countries where they were born but have no ties.
"Most of them have nothing in their home countries because their entire families immigrated here, and they're all legally here," Pasquarellae said. "They're being sent back to places that they have no connections to at all."
Regardless of whether it's through executive action or legislation or a new administration, Barajas said he hopes something will be done so that he can return home to his 11-year-old daughter in California.
"It's very hard to be there for her when she needs me – for school, helping with homework," he said. "It's not just my daughter. I'd also like to help her mother financially."