Hip-Hop's newest generation of urban rappers and Latin Trap Reggaetoneros are teaming up in an upcoming concert that showcases the diversity of urban music that is embraced by so many young Latinos.
The Soulfrito Urban Latin Music Festival will take place on June 9th in New York, the first showing of its kind in the area, on the same weekend as the popular National Puerto Rican Day Parade. Organizers hope a new generation of Latinos and Urban Latino cultural enthusiasts will celebrate along with concertgoers from different backgrounds from around the world to kick off the start of summer.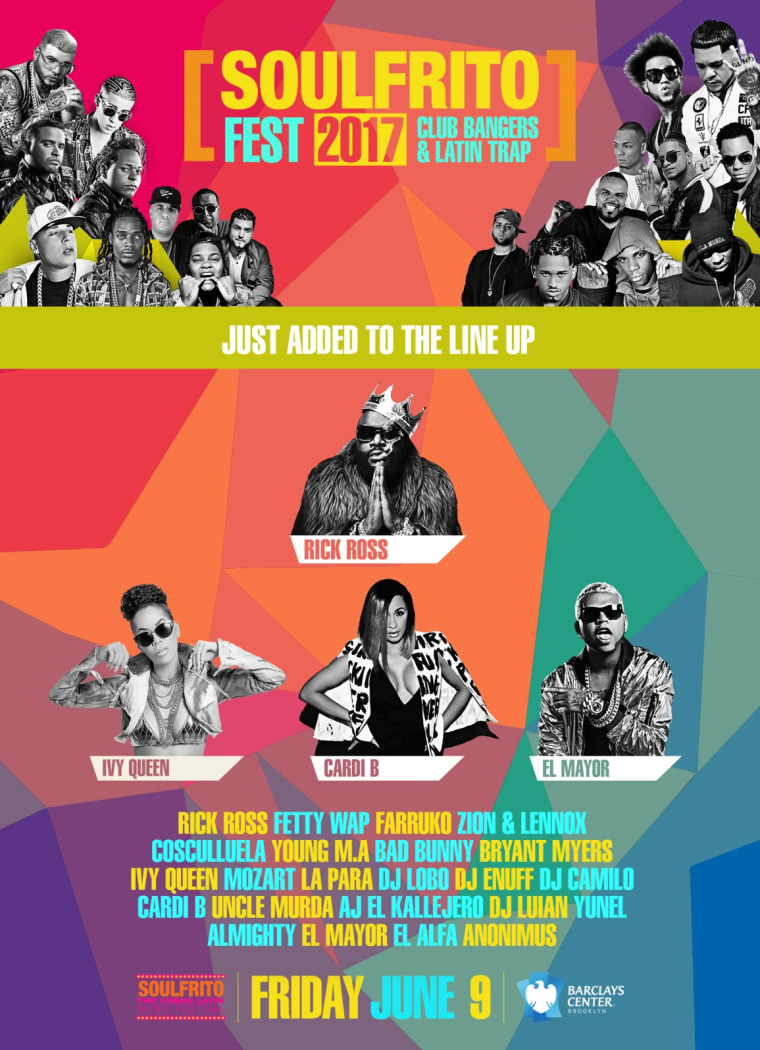 Soulfrito, a play on the word sofrito - a staple of Caribbean cooking - first started in Miami in 2002, and it was aimed at young multicultural Latinos. Pitbull, Don Omar, Busta Rhymes, Gangstarr and Nas, among others, have all performed at the concert.
RELATED: Despacito: The Unbeliebable Explosion of a Bilingual Song
Headlining the New York concert's lineup is Miami rapper Rick Ross, who will perform his 45th career hit "Trap Trap Trap" from his latest album "Rather You Than Me." The dynamic duo known as Zion y Lennox, from Puerto Rico, will join Ross and will perform their hit song "Otra Vez", which features Latin Grammy Award winner J. Balvin.
Zion y Lennox performed at the 28th annual Billboard Latin Music Awards where they were sent off in a celebratory fashion.
RELATED: Immigration, Crisis in Venezuela and Music All Took Center Stage at Latin Billboards Awards SFellow Puerto Rican native Farruko, who has had multiple hits on Billboard's Hot 100, will define diversity as he knows best; through his music. Some of his top songs, "6AM", "Sunset", "Chillax", and "Passion Whine", all feature artists from all different backgrounds.
New Jersey Rapper Fetty Wap, who emerged on the scene in 2015 after his hit single "Trap Queen," will be joined by the 'Queen of Reggaeton'; Ivy Queen. The Puerto Rican native who came on the scene in 1993 has been creating hits for over a decade.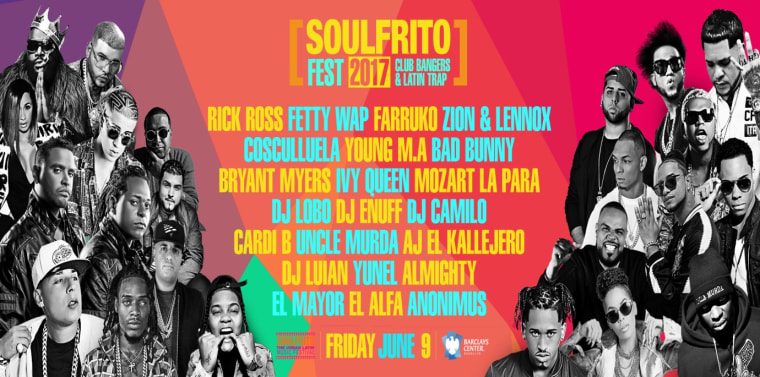 .Melissa Giles, founder of Soulfrito the Urban Latin Music Festival, said that New York is the birthplace of Urban Latin culture, so "it's a natural fit for the music festival that continues to break barriers in catering to the diverse progressive musical tastes of today's Latino millennial generation."
The artists will take over the stage on Friday, June 9th at Barclays Center in Brooklyn, New York.