Democratic Caucus Chair Xavier Becerra advised undocumented immigrants who may qualify for executive action to look past the ongoing debate in Congress and do one thing: "Prepárense" (Get Ready).
The Congress is at loggerheads over President Barack Obama's executive action and that is holding up renewed funding of the very agency whose workers will accept and process applications for those wanting protection from deportation. That agency's funding runs out Feb. 27. But ignore the Washington noise, said Becerra, D-Calif., and other Congressional Hispanic Caucus members, and get ready.
Lawmakers advised immigrants to get their documentation together and find out what it takes to be eligible for the expanded Deferred Action for Childhood Arrivals, or DACA, and for Deferred Action for Parents of Americans and Lawful Residents, DAPA.
The two programs, made possible through executive action, shield certain immigrants here illegally from deportation for three years and allows them to work or study.
"Prepárense, prepárense (Get ready, get ready) because the opportunity that the president of the U.S. made possible is coming," Becerra said.
That direction was dispensed even though there is some fear that people won't apply because they are afraid to reveal they are in the country illegally, as well as worries that the protection from deportation provided by Obama's executive action may disappear.
Rep. Luis Gutierrez, D-Illinois, looking haggard from crisscrossing the country to help stage training and preparation events, brushed off the possibility that the GOP's attempt to block the executive actions from going into effect would keep people from applying.
"Our community is used to a Congress of the United States that's always stonewalled progress toward their inclusion in the American Dream," Gutierrez said.
Gutierrez held up a packet released by the office of Rep. Steny Hoyer, the House minority whip, encouraging members to hold community events and prepare constituents to apply for expanded DACA and DAPA during next week's "district work period," when Congress will be in recess, as well as during future district work periods in March and May. The federal government is expected to begin accepting applications for DAPA in mid-May.
In the memo, House Democrats are encouraged to train "family defenders" who will help applicants and answer their questions about eligibility and the process. They also are provided sample press releases, talking points and fact sheets in English and Spanish.
Gutierrez said the Hoyer memo marks the first time he has seen such a packet on immigration issued by the Democratic leadership in the 23 years he's been in Congress.
"You know that many times I would put these events together and you would see a group of Democrats and maybe some Republicans with me. But you would never see the full faith and energy of the Democratic Caucus behind us," Gutierrez said. "I think you see" such support for this.
A memo from House Minority Whip Steny Hoyer encourages Democrats to train "family defenders" to help immigrant families apply for DACA and DAPA and answer questions on eligibility.
So far, it appears only a handful of members and most of them Latino, black or Asian American House Democrats, have held events, according to a list obtained by NBC Latino. The list showed less than half a dozen events held and another 15 planned. The list was not comprehensive and did not include appearances by members at events held or organized by nonprofit groups.
"Our office has provided the district work period packet to all House Democratic offices and encourages all members to hold an event if they are able to in the coming months," said Mariel Saez, a spokeswoman for Hoyer, D-Md. She said Hoyer plans to hold a session in his district, but has not set a date.
House Minority Leader Nancy Pelosi, D-Calif., accused Republicans in a news conference Friday of "anti-immigrant" grandstanding and called on the GOP to pass a Department of Homeland Security funding bill without amendments blocking Obama's executive action.
"Leader Pelosi and the House Democratic leadership are encouraging members to do events," said Jorge Aguilar, a spokesman for Pelosi. He said Pelosi plans an event in San Francisco and is working with the mayor's office on that.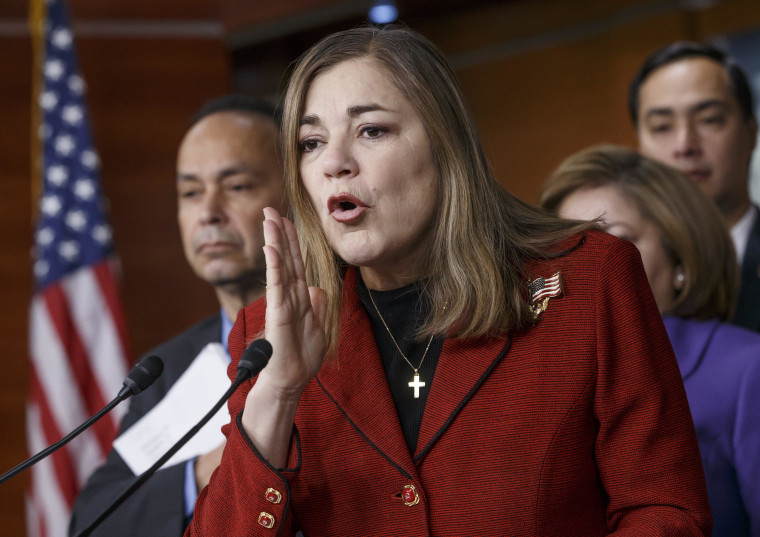 Rep. Loretta Sanchez, D-Calif., said she was approached on the House floor daily by members asking how to hold sessions. She said a good 90 percent have personally talked to her about how to hold forums.
She emphasized the importance of such assistance going beyond the Congressional Hispanic Caucus because the executive actions affect more than Latino immigrants.
Her own southern California district is not only home to many Latino immigrants, but also has the largest Vietnamese population outside of Vietnam and includes Ukranians and Russians.
On the Republican side, Rep. Carlos Curbelo of Florida, who is not a member of the Congressional Hispanic Caucus, has been handing out a pamphlet with dates and locations of informational sessions being held by Citizenship and Immigration Services, said spokesman Alex Cisneros.
Spokesman Keith Fernandez said Rep. Ileana Ros-Lehtinen, R-Fla., has not held an event to assist immigrants and does not plan one.
A press aide for Rep. Mario Diaz-Balart did not respond to requests for comment Friday.