Latinos could achieve several firsts this election year, with Nevada's Catherine Cortez Masto possibly becoming the first Latina in the U.S. Senate and Florida's Darren Soto and New York's Adriano Espaillat the first Puerto Rican from his state and first Dominican American in Congress.
The three are among a cadre of Latinos who are running for top political offices in 38 states, according to a report compiled by the National Associated of Elected and Appointed Officials Educational Fund.
Voters could send seven more Latinos to Congress to raise the number serving to 36, from 29. At the state level, five Latinos are running for statewide executive offices. Some gains also could be made in state legislatures.
Many of the gains will be made by Latinos who are Democrats, the party which traditionally has fielded more Hispanics for office - although Latinos hold higher offices in the Republican Party, such as Gov. Susana Martinez of New Mexico.
Arturo Vargas, NALEO executive director, which works to get more Latinos in all levels into public office, said Hispanics are "poised to show their political power in traditional Latino states like Texas and California, as well as in the emerging Latino areas of the Deep South, Midwest and New England."
According to NALEO, an estimated 6,100 Latinos hold state, federal and local public office, either elected or appointed.
"There is a lot at stake in 2016. We are following this very closely, we want to make sure our community turns out and has the information it needs" to vote in November, Vargas said in a news conference Tuesday.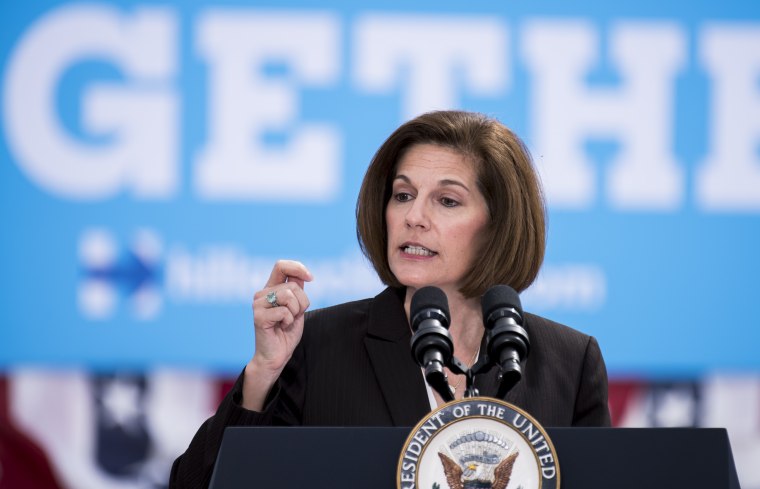 Cortez Masto, Nevada's former attorney general, is in a tough race to replace outgoing DemocraticSenate Minority Leader Harry Reid in Nevada. Recent polls have put her ahead in the race after several polls showing her behind or in a tight race.
Feeling Donald Trump could be dragging him down, her opponent, Republican congressman Joe Heck recently withdrew support for Trump, angering some of his conservative base. President Barack Obama plans to campaign for Cortez Masto and Hillary Clinton in Las Vegas on Sunday.
Darren Soto, a Democrat, is favored to win his Florida congressional race, as is Espaillat, a New York Democrat. Their victories would be gains for Latinos because their districts are not now represented by Hispanics.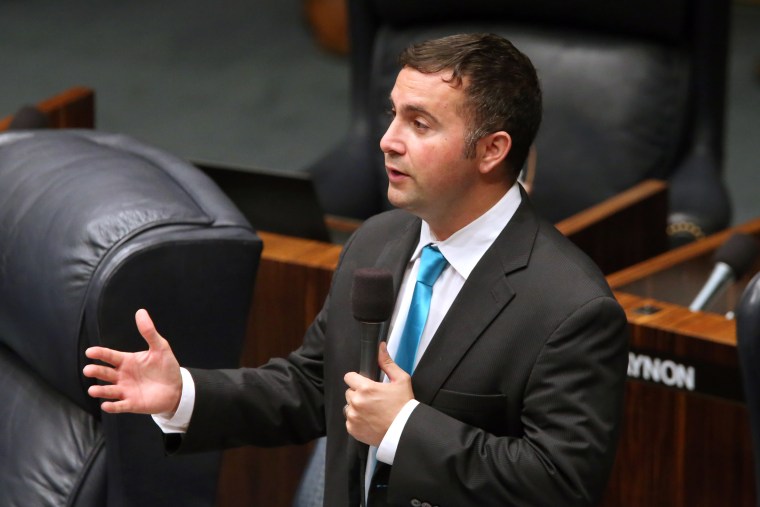 Ruben Kihuen, a Nevada state senator and Democrat, could become the first Latino to represent a Nevada district in the U.S. House. His opponent, Republican Rep. Cresent Hardy was ranked by Roll Call in October as the second most vulnerable House incumbent.
There are other potential gains for Latinos, but the candidates are facing far more competitive races.
One of the most competitive races nationally is in far West Texas, where Pete Gallego, a Democrat, faces incumbent Rep. Will Hurd, an African American Republican. Hurd unseated Gallego in 2012, bumping a Latino from a majority Latino district.
"If all the stars align, we may see as many as seven additional Latinos in the House of Representatives," Vargas said.
Latinos could see a loss in the Senate, however, if Republican Sen. Marco Rubio is not able to defeat Democrat Patrick Murphy in Florida. Rubio has continued to endorse Trump, despite their conflicts during the primaries in which Rubio lost Florida. But polls show Rubio has been leading in the race.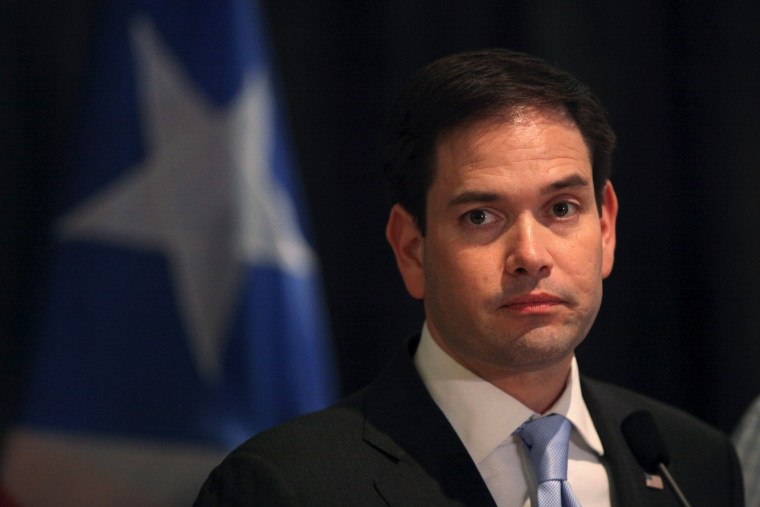 Also on the list is Rep. Carlos Curbelo, a Florida Republican, who is in a rematch with Democratic Rep. Joe Garcia, who lost to Curbelo in 2012. Regardless how this race goes, the 70 percent Latino district will remain represented by a Hispanic.
Emilio Huerta, son of civil rights and labor activist Dolores Huerta, is in a competitive race with incumbent Republican Rep. David Valadao, the son of Portuguese immigrants. Democrat Nanette Barragan is in a tight race with Isadore Hall III, a California state senator, to replace retiring Democrat incumbent Janice Hahn.
Several new members of Congress who are Latino are likely to come from California and one from Texas.
Related: Dolores Huerta, Son Emilio Talk Civil Rights, Proud Chicano Heritage
Also in California, Loretta Sanchez faces state Attorney General Kamala Harris in the California Senate race to replace Sen. Barbara Boxer and put another Latina in the Senate. But Sanchez is the underdog in the race.
In local and state races, five Latinos are running for statewide executive offices, including state Rep. Christina Hale, running mate to John Gregg, who is seeking to replace Indian Gov. Mike Pence, Trump's vice presidential running mate.
The number of Latinos in state Senates could increase from 73 to 80 with three more Latinos in Arizona's state Senate and one more each in Florida, Illinois and Wyoming. There are not expected to be any net losses of Latinos holding state legislative seats.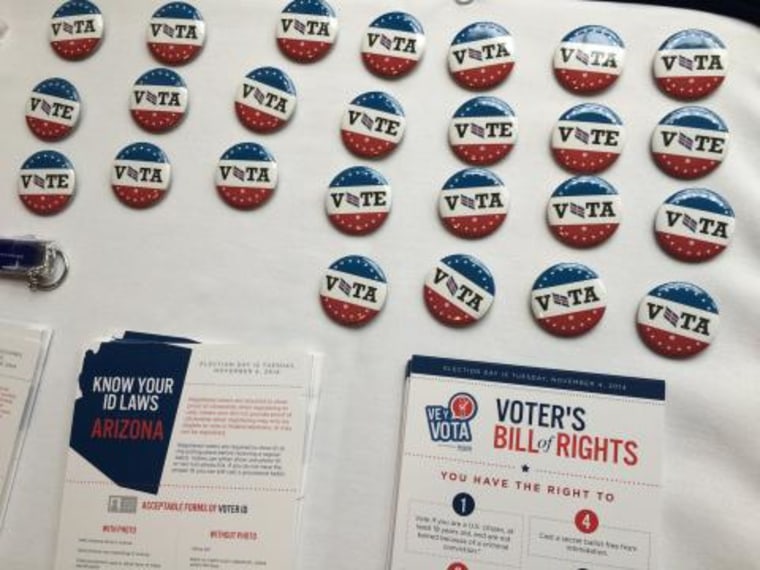 There also could be an increase of Latinos in state's lower chambers from 234 to 245, with a net gain of three in California, followed by Colorado and Florida, two each. One Latino seat could be added in Arizona, Arkansas, Connecticut, Georgia, Massachusetts, Oklahoma, Rhode Island, Texas, Utah, and West Virginia, which could see its first ever Latino in the state legislature.
But there also will be losses possibly in Illinois, Kansas, Michigan, New Hampshire, and New York. Those losses are primarily due to Latinos opting not to run for re-election and "there not being Latinos to replace them," Vargas said.
A new poll of the battleground states of Arizona, Florida, Nevada and North Carolina done by Latino Decisions pollsters for NALEO shows Clinton leading among Latinos in those states by wide margins, with her lowest share at 63 percent in Florida and her highest at 70 percent in Arizona.
The poll of 400 registered voters in each state showed that 78 percent are almost certain they will vote in this election, including 83 percent in Arizona, 78 percent in Florida, 76 percent in Nevada and 73 percent in North Carolina.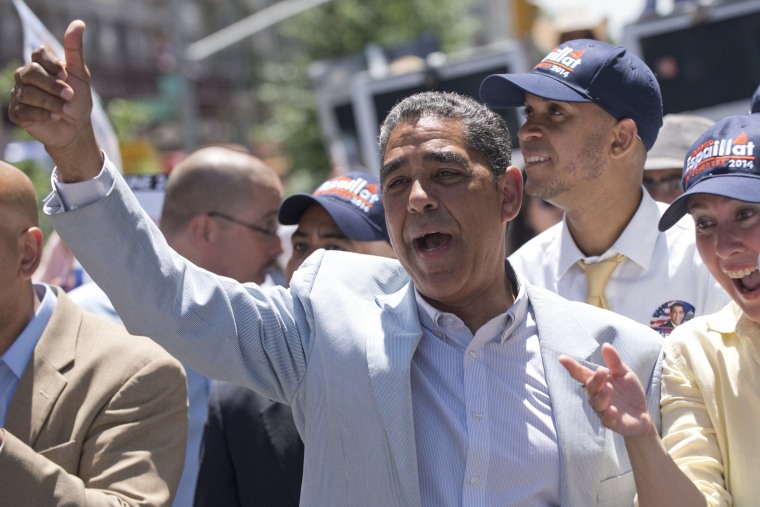 NALEO has projected 13.1 million will vote in this year's election, a 35 percent increase in the number who voted in 2008. Vargas said he sees that as a minimum considering the dynamics of the presidential race. But, some 16.3 million Latinos have registered to vote, meaning some three million who have registered won't show up at the polls. There are 27.3 million Latinos eligible to vote in the U.S.