MIAMI, Fla. — With no job, just 50 cents in his pocket and having run out of acquaintances with whom to stay, 26-year-old Carlos is facing the grim reality that he may have to sleep on the street.
Accustomed to working in an office at a telecommunications company in Venezuela, his fair skin is now sunburned around his forearms from walking under the blazing sun asking for a job at restaurants, car washes and other businesses he comes across. Since he arrived to Miami in late June he has only managed to find a couple of temporary jobs — one of them carrying heavy boxes at a supermarket and he was never paid.
"I have been eating one meal a day," Carlos said. He did not want his real name used because he does not want his family and friends back home to know the precarious situation he is in.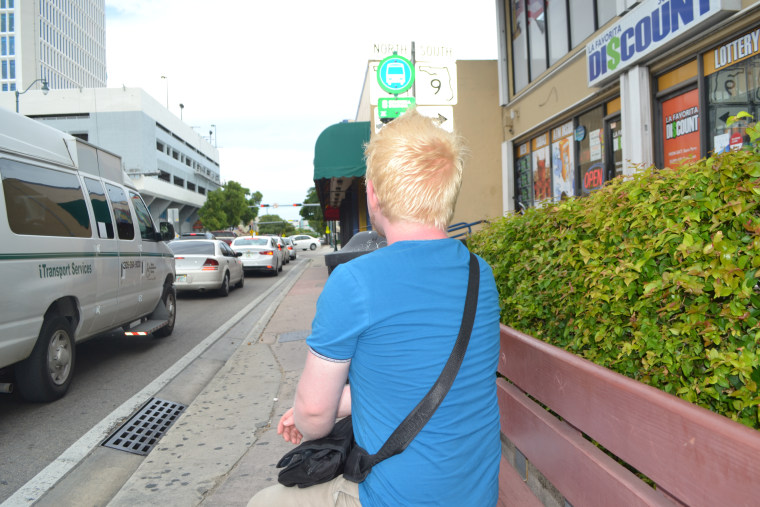 Like many Venezuelans, Carlos said he could no longer live in a country where the collapsed economy, soaring inflation, food shortages and rampant crime have erased the middle class life he and his family once had. In the past couple of years an increasing amount of desperate middle class Venezuelans have been fleeing to the U.S.
This is quite a different situation from that of the wealthy and business-savvy Venezuelans who immigrated to the U.S. starting in the early 2000s, after the late Hugo Chavez rose to power with his socialist ideology and government. At the time, many Venezuelans owned businesses with U.S. ties and had second homes in South Florida.
That earlier wave of Venezuelans had so much money to invest that for years they have accounted for the majority of Florida home buyers from Latin America. These wealthier Venezuelans who left the country as its government and economy shifted had enough of a financial cushion and contacts in the U.S. to make a smooth transition.
But in the last couple of years, the situation in Venezuela has gone into economic freefall under the government of Chávez successor Nicolás Maduro. The country is racked by severe shortages of basic goods and political unrest.
The wave of Venezuelans who have been coming recently are educated middle-class professionals who have the financial capability to obtain visas and travel to the U.S. But once here, they often lack contacts and the cash flow their predecessors had. Nonetheless, they are abandoning their jobs in Venezuela and at times leaving family behind in search of a more stable life in the U.S.
Patricia Andrade founded two non-profit organizations called Venezuela Awareness and Raíces Venezolanas where she gives donated household goods, like furniture, blankets, and plates to newly arrived Venezuelans in need.
She told NBC News she has seen the amount of Venezuelans arriving in the U.S. go up drastically since December 2015.
In 2013, there were an estimated 248,000 people of Venezuelan origin living in the U.S., according to a Pew Research Center analysis of the Census Bureau's American Community Survey. But that number has gone up with the country's deepening crisis. The asylum applications filed by Venezuelans so far during fiscal year 2016, has shot up by 168 percent.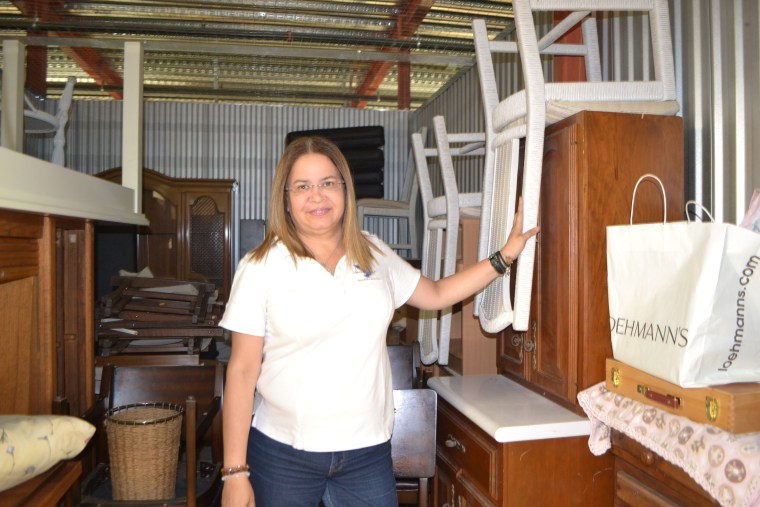 Andrade also receives a steady stream of phone calls from recently arrived Venezuelans who are in dire situations. Some have nowhere to sleep, others are in need of medication and cannot afford it.
"Sometimes I just want to cry," Andrade said, explaining there is little she can do to help some of them.
As it is, she pays $1200 each month with her own money for the six storage spaces she rents out. It's no longer enough to hold the amount of goods people give her for donation, so she is moving to a 3,500 sq. ft. warehouse. She will have to dish out $3500 out of her own pocket because she says she receives little monetary support.
RELATED: Latin American Countries Attempt to Help Venezuela Financial Crisis
"There are a few small donors who give me $50 here and there. But I have not received any help from the wealthy Venezuelan community in Miami, those who have millions," Andrade said.
Bryan, 24, arrived in Miami 3 months ago. Outside one of Andrade's storage spaces, he sits slouched in a folding chair exhausted from a 20-hour shift driving for a car service. He waits to be handed a pillow, sheets, and a comforter for the bare bed he has been sleeping on for the past 3 weeks. Bryan preferred to not use his real name because of his legal status.
A few years ago, his parents were able to afford to send him to Marymount California University to study English for a year. Now he's struggling to pay a room he rents for $600 a month. When Bryan returned to Venezuela in early 2014, he took part in the anti-government student protests that were raging at the time. He says he was detained and beaten by police. Not seeing a future for himself after he graduated from college with a degree in graphic design, he decided it was time to leave.
"Without consulting with my parents, I made the decision to leave," he said.
He arrived in Miami with $700 and stayed with a family acquaintance. The first job he held was as a cooking-assistant and dish washer in a Venezuelan restaurant. He worked for 2 weeks and never got paid.
RELATED: Hungry Venezuelans Take Desperate Measures in Worsening Crisis
Like Bryan, many Venezuelans are arriving with tourist visas, which means they cannot legally work in the U.S., making it difficult for them to find decent jobs. For those filing for political asylum, if their case has not been reviewed after six months, then they receive work permits.
Some Venezuelans are waiting two to three years before their cases are seen, said Randy McGrorty, an attorney and executive director of Catholic Legal Services of the Archdiocese of Miami. The agency provides services to low-income immigrants.
McGrorty said while earlier waves of Venezuelans were able to afford private attorneys, he now sees an uptick in Venezuelans seeking counseling from the non-profit.
"They are starting to come in and they are exploring asylum," McGrorty said.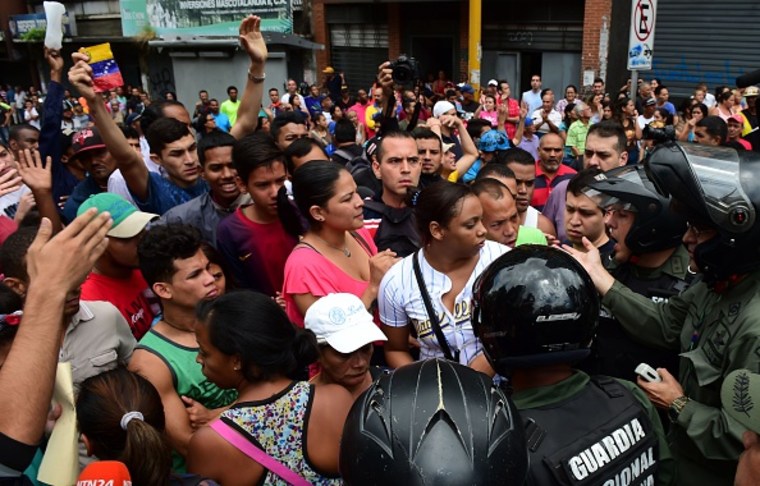 Sebastian and Mariela sought political asylum in the U.S. after their home was repeatedly vandalized and broken into for supporting an anti-government political party.
Sebastian worked at a bank in Venezuela and now earns about $40 to $60 a day in Miami making deliveries. His wife, Mariela, who was a university professor in Venezuela cleaned one house last week for $80 but hasn't had any job leads for this week. Like others, they did not want their real names used for fear it could affect their asylum case.
Their two sons, ages 3 and 5, missed their first day of school on Monday because they did not have enough money to pay for the physical and vaccinations required for school registration.
Mariela said the few relatives she has in Miami turned their backs on them when they arrived in May. At one point, if a local pastor had not allowed the family to stay in his apartment she says they would have slept in their car.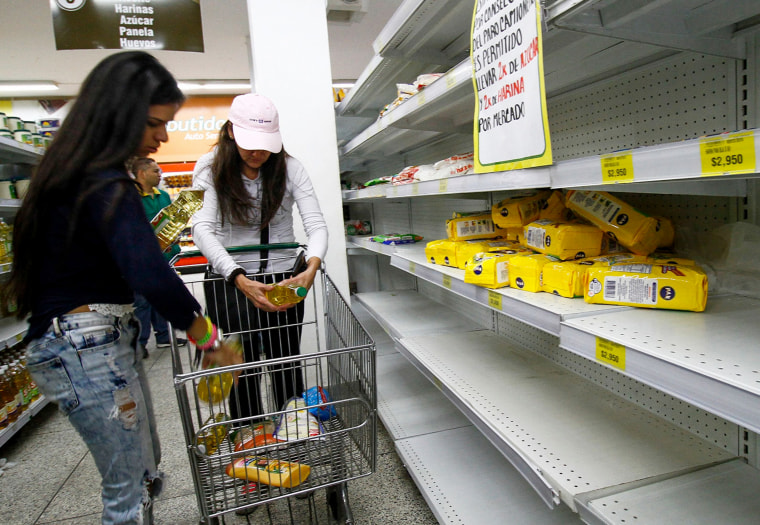 Still, they prefer the hardships they are facing to what they left behind in Venezuela.
"Do you know what it's like to study all your life, become a professor, and then all of a sudden you open the refrigerator and you have nothing to feed your children?" she asked, crying.
A few weeks ago, Andrade received a call from a young man who was sleeping on the street and had been psychologically abused by an employer. Her advice to him was "return to Venezuela."
But for many, returning to Venezuela is not an option. "The impact of returning to Venezuela would be worse than the impact of staying here," said Carlos, when asked if he would consider going back home.
In the U.S., his problems will disappear once he finds a job, said Carlos. But in Venezuela the problems aren't going away anytime soon.
"It kills me when I hear my relatives get excited because they found shampoo in one of the local stores," he said.