TIJUANA, Mexico — Organizers of the caravan of migrants seeking asylum in the United States said Tuesday that the Department of Justice's announcement that it had charged "suspected members" of the group was "an attempt to criminalize" the caravan.
"With regards to the people that the Department of Justice has said are crossing illegally, that's clearly an attempt to criminalize the refugee caravan," said Alex Mensing, project coordinator of Pueblo Sin Fronteras, an aid group that helped organize the caravan.
The group of about 120 migrants continued waiting Tuesday at a border crossing between Tijuana, Mexico, and California to plead their cases for asylum after a grueling journey to the border. By Tuesday evening, 28 of the asylum seekers had been allowed inside the San Ysidro port of entry, a Customs and Border Protection spokesperson said. The caravan of migrants has camped out in front of the port of entry, sleeping on concrete and in small tents.
Mensing reiterated that "in no way, shape or form has this caravan encouraged anyone to cross illegally."
"Nobody on the organizing team or legal team of this caravan has ever encouraged anyone to cross illegally," said Mensing during a Tuesday morning news conference.
Mensing said attention should instead be focused on the group that was "trying to apply for asylum in the United States legally, and the U.S. government is not allowing them to do so."
The Justice Department announced Monday night that it had filed charges against 11 people who were "suspected members" of the caravan for allegedly entering the United States illegally. One was alleged to have been previously deported, according to a department statement.
Border patrol agents apprehended them in areas west of San Ysidro, according to the statement.
"When respect for the rule of law diminishes, so too does our ability to protect our great nation, its borders and its citizens," Attorney General Jeff Sessions said in the statement. The Trump administration has previously described the caravan as a threat.
A federal law enforcement official told NBC News on Tuesday: "Membership with the caravan was disclosed during routine immigration inspection and questioning done by federal immigration authorities."
Mensing said during the Tuesday news conference that some people claim to be part of the caravan but are not with the group.
He noted that one of the 11 people charged by the Justice Department was from Mexico and said there were no Mexican citizens with the caravan other than young children who had recently been born after their parents fled Central America.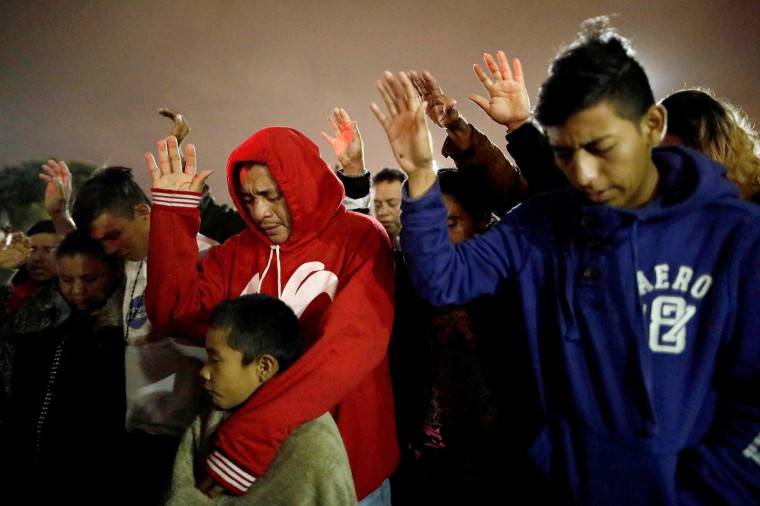 Late Tuesday morning, several migrants were allowed into the United States at the San Ysidro port of entry to have their asylum claims processed, according to Elena Alderman, a member of the aid group.
An initial group of eight was allowed into the United States late Monday, and migrants cheered and vowed to stay and wait their turn.
"We're excited to hear about the eight who made it in last night, but either way, we will stay. We will fight for asylum. I want a better life for Oscar," Wendi Garcia, who fled Honduras with her 2-year-old son, said Tuesday.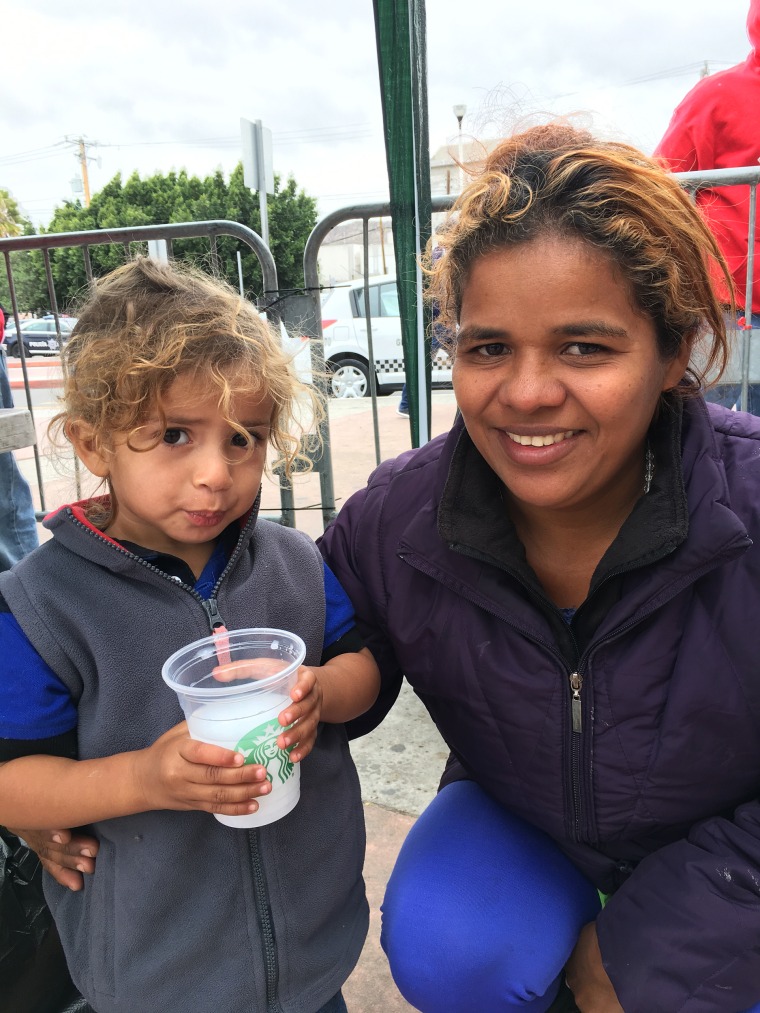 Garcia said she was fleeing violence from corrupt police in her home country. "Women I worked with at the factory disappeared at the hands of police," she said. "They were killed."
She said the hardest part of her journey with Oscar was fearing for his as they braved the infamous freight train known as La Bestia, which means "The Beast," to get part of the way through Mexico.
"I would tell him, hold on to me, son, hold on to me tight," she said. "I was so scared." Garcia feared she would fall asleep and accidentally let go of her son, making him fall off the train.
Alexandra Mejia, a transgender woman fleeing persecution in El Salvador, said she can't take staying and waiting at the camp much longer.
"I can't take it here anymore," she said. "The nights are too cold and sleeping on the floor is painful. We have to walk a mile to use the bathroom every day at a nearby shelter. I can't do it any longer."