Latinos in media, entertainment and business are being recognized on Thursday at the 36th Hispanic Heritage Awards.
The Hispanic Heritage Foundation was created by the White House in 1987 to promote Latino leadership and public awareness, and has since held the ceremony ahead of Hispanic Heritage Month, which begins on Sept. 15.
Cesar Conde, chairman of the NBCUniversal News Group, will receive the Hispanic Heritage Media Award. Conde made history in 2020 when he became the first Latino to lead a major English-language television news organization. (NBC News Digital is part of the NBCUniversal News Group.)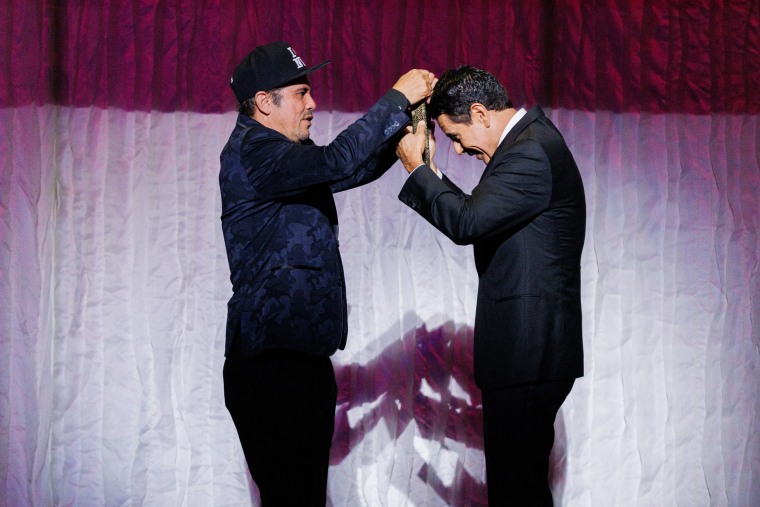 In announcing the award, the foundation noted the growth of NBCUniversal under Conde's leadership, including its broadcast, digital and streaming platforms and the creation of NBCU Academy, which partners with colleges across the country to provide free journalism training and resources.
"We are thrilled to recognize how Cesar's bold vision and meaningful actions have made an impact throughout the journalism profession and, more broadly, the media industry," Antonio Tijerino, president and chief executive of the Hispanic Heritage Foundation, said in a statement.
The Latin Rock band Café Tacvba will receive the Hispanic Heritage Arts Award and the Mexican American brand Siete Family Foods will be recognized with the Hispanic Heritage Entrepreneurship Award.
Café Tacvba, who have won a Grammy and several Latin Grammys, are being honored "as Mexico's leading alternative rock band and indeed one of the most influential alternative groups to come out of Latin America," the foundation said in a statement. "Café Tacvba has been inspiring audiences with their brilliant, eclectic sound for decades since they started in Mexico." 
Siete Family Foods is one of the fastest-growing Mexican American food brands after it debuted a grain-free and gluten-free tortilla in 2014. The foundation is honoring the family who created and spearhead the company: siblings Miguel and Veronica Garza, and their mother, Aida Garza.
The Mexican American singer Omar Apollo will be honored with the Inspira Award for his contributions as a Latino role model for American youth, according to the Hispanic Heritage Foundation. After releasing his "Ivory" album last year, Apollo was nominated for best new artist at the 2023 Grammy Awards and won the Future Icon award at Variety's 2022 Hitmakers event.
The Reggaeton singer and music producer Wisin will be honored with the Vision Award. After bursting onto the reggaeton scene as part of the Puerto Rican duo Wisin y Yandel more than 20 years ago, Wisin is revered as one of the main figures who helped catapult the once underground Latin urban music genre into the mainstream.
The awards ceremony will be held at the John F. Kennedy Center for the Performing Arts in Washington, D.C., on Thursday, and will air on PBS on Friday, Sept. 29.