WASHINGTON, D.C. -- Hillary Clinton and several of her surrogates will stream into this week's League of United Latin American Citizens convention shortly before the GOP's political convention and two weeks before Democrats meet to name her their presidential nominee.
Donald Trump and his representatives won't be coming to the convention, which organizers project will draw some 15,000 people to the Tuesday through Saturday event. Trump was invited, but his camp never responded.
Brent Wilkes, executive director of LULAC, an organization with a long history of political engagement, said the conference will underscore the difference between LULAC's and the Latino community's vision for the country versus what Trump has laid out.
"I hope people see ours as a much better vision," Wilkes said. "What we are talking about is this idea of unity, diversity and opportunity being important."
Although they are speaking on separate days at LULAC, her appearance will come Thursday, two days after her joint appearance at a New Hampshire rally with Bernie Sanders, who also sought the nomination.
Related: Bernie Sanders To Finally Endorse Hillary Clinton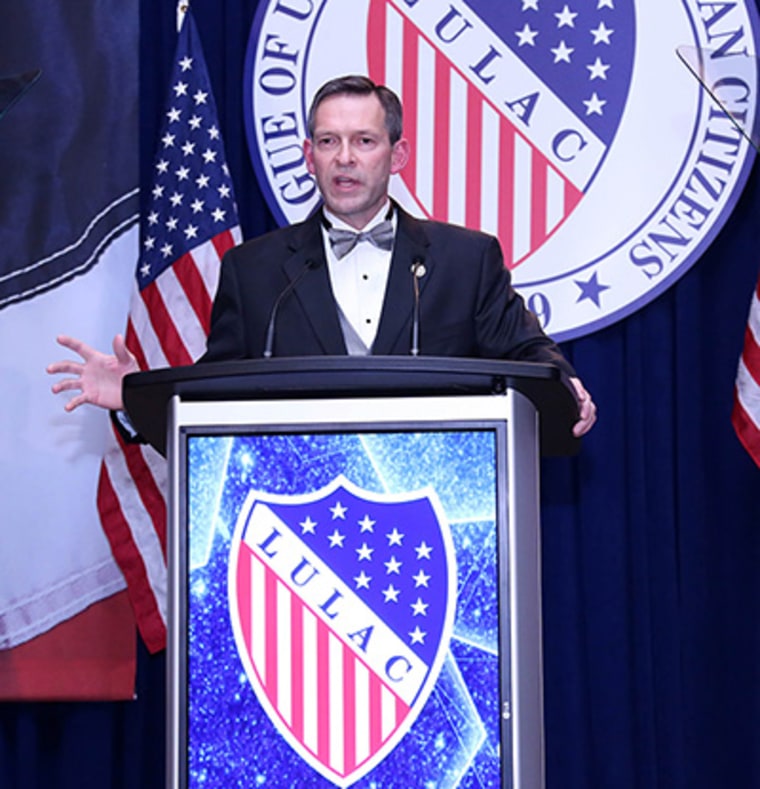 The group's convention is geared around its vision of opportunity, going beyond the policy and politics often the focus of Washington, D.C. conferences, Wilkes said. Many of attendees are LULAC members, but it also draws area residents, federal workers and young people. Most of the conference is open to the public, with the exception of events where meals are served (including Clinton's speech), which require tickets.
The convention includes training workshops for federal workers, a job fair and expo open to the public that runs Wednesday through Saturday and workshops and panels for young people.
On Monday, LULAC in partnership with Facebook opened an upgraded community technology center at GapBuster Inc., a non-profit that assists Maryland youth with education enrichment. The center was equipped with new computers, laptops, a printer, smart TV, high speed internet and software.
The technology center is one of three – the others are in San Francisco and Pueblo, Colorado – opened by LULAC with funding from Facebook.
The centers are part of a LULAC effort to help Latinos close the gap in their access to and use of digital tools.
"LULAC remains at the forefront of community efforts to create broadband access for the Latino community," LULAC President Roger C. Rocha Jr. said in a statement. "With Facebook as a partner we will continue ensuring that the Hispanic community has access to dependable and useful technology that provides Latinos with access to education and skills training in order to pursue educational opportunities.
Related: Antonio Tijerino Wants Hispanics Heritage to Include Shrunken Digital Divide
The conference follows one held here last month by the National Association of Latino Elected and Appointed Officials. The National Council of La Raza will hold its conference July 23-26 in Orlando.
But among those three, LULAC scored the big get: an appearance by at least one of the party's presumptive nominees.
Clinton's speech to LULAC's largely Latino attendees will come two weeks before the day she is scheduled to accept her party's nomination for presidential nominee and make history as the first woman to do so for either party.
Clinton had been criticized by NALEO for skipping that group's convention, but three days after the group's public criticism, Clinton's plan to speak at LULAC was announced.
Related: Clinton, Trump Skipping Latino Conference Seen As "Lost Opportunity"
Wilkes said LULAC, which is non-partisan and does not endorse candidates, believes the two Democratic candidates more than any other candidates have catered to the Latino community in this campaign and developed progressive platforms on immigration, health care and education.
"We think they are really engaging the Latino community," he said.
There remains anticipation in the Latino community over Clinton's vice presidential pick and whether it will be a Latino. Housing Secretary Julián Castro and Labor Secretary Tom Perez, who are considered potential picks, will be at the conference as well. Castro is speaking at the same lunch as Clinton.
Related: At a Latino Gathering, Whiffs Of Hope for A Latino Vice President
In addition to the presidential candidates, the conference includes appearances by several Cabinet members, including Attorney General Loretta Lynch.
Although no programs at the conference are focused on gun violence or police shootings, the past weekend's shootings in Dallas of 12 police officers, including five who were killed, means it's sure to be woven into the the gathering, Wilkes said.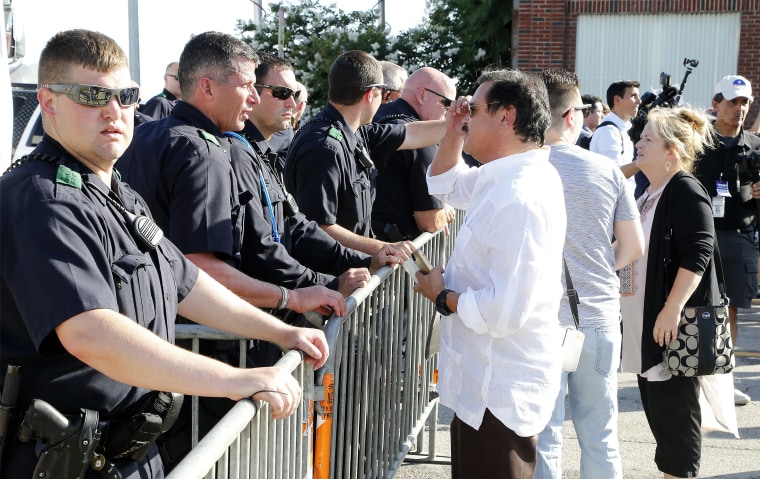 Wilkes said the organization's members have participated and are active in immigration marches, including a protest last month while Trump held a rally in Dallas. But LULAC councils are less likely to be involved in the mass protests against use of force by police.
LULAC council members do more work at the neighborhood and community level to train members on how to engage with police and build trust between communities and law enforcement, said Wilkes.
"Perhaps that's why the Latino community hasn't erupted, why you haven't seen as much protest," he said.
Related: 'Too Young': Devastated Family Mourns Dallas Officer Patrick Zamarripa
That isn't to say there aren't a list of shootings by police that have involved Latinos. Wilkes said LULAC has been arguing with the Justice Department to get it to investigate shootings by police of Latinos, including the 2013 shooting death of Ricardo Diaz Zeferino in Gardena, Calif., for example, which received far less publicity. The city paid $4.7 million in a settlement with families of the shooting victims last year. No charges were filed against police.
"DOJ seems to lurch from one shooting to the next as they get attention, but without protests or riots around shootings it's tough to get attention around them, he said.
"We do worry we are taking the wrong approach," Wilkes said. "We do have that dialogue in LULAC. We do worry the strategy we've deployed doesn't seem to be enough. When we want federal prosecution, they say, 'No. We can't do it. The facts don't support the case. We don't have jurisdiction. It takes months, sometimes years (for DOJ) to respond," he said.
Related: Knocking on Doors, Getting Latinos to Caucus in Iowa, Impact Primaries
On another front, LULAC also plans this week to launch a newly created app it calls an opportunity app.
The app will have multiple functions, such as using GPS technology to help users to look up pro bono atttorneys near them to help with immigration matters, assist with voter registration and provide information on education and health opportunities. Users can also find their local LULAC council to get help.
Wilkes said it's an electronic version of something the organization has been doing: LULAC council members have a book that they often carry around called the Civil Rights handbook that they use to look up agencies and groups that can help people who might need it.
"We are trying to create a similar thing in an app," Wilkes said. "Eventually the thing is to have a way to find a quick answer for folks."
The week's events also include the unveiling on Wednesday of the U.S. Postal stamp honoring Jaime Esclante, the Los Angeles math teacher who led several students considered "troubled" to master advanced math and who was portrayed in the movie "Stand and Deliver." Edward James Olmos, who portrayed him, and Escalante's son are to be at the conference.
The conference has a packed entertainment lineup with appearances by Tejano legends Little Joe y La Familia; A.B. Quintanilla and the Kumbia All Starz, the band led by Selena's brother, salsa and bolero singer Gilberto Santa Rosa; "Orange is the New Black" actor Diane Guerrero, actor and entertainer Rosie Perez and actor Edward James Olmos.