Before Carolina Panthers Coach Ron Rivera guided his team to Super Bowl 50, there was Tom Flores, the first Latino quarterback and first Latino coach of Super Bowl champions, achievements some say deserve greater recognition.
In 1960, while playing for the American Football League's Oakland Raiders in their inaugural year, Flores became the first-ever Latino starting quarterback in professional football. He holds a passing record for the AFL.
Although he was not a top player, during 11 years coaching the Raiders in Oakland and in Los Angeles, Flores became the first Latino – and first person of color – to guide a team to the Super Bowl title. Under his direction, his team won Super Bowl XV and XVIII.
Flores and former Chicago Bears Coach Mike Ditka are the only two people in NFL history to win the Super Bowl as a player (backup quarterback for the 1970 Kansas City Chiefs), assistant coach (1976 Oakland Raiders) and as coach (Oakland Raiders, 1981 and Los Angeles Raiders, 1984). He also went on to be a general manager of the Seattle Seahawks.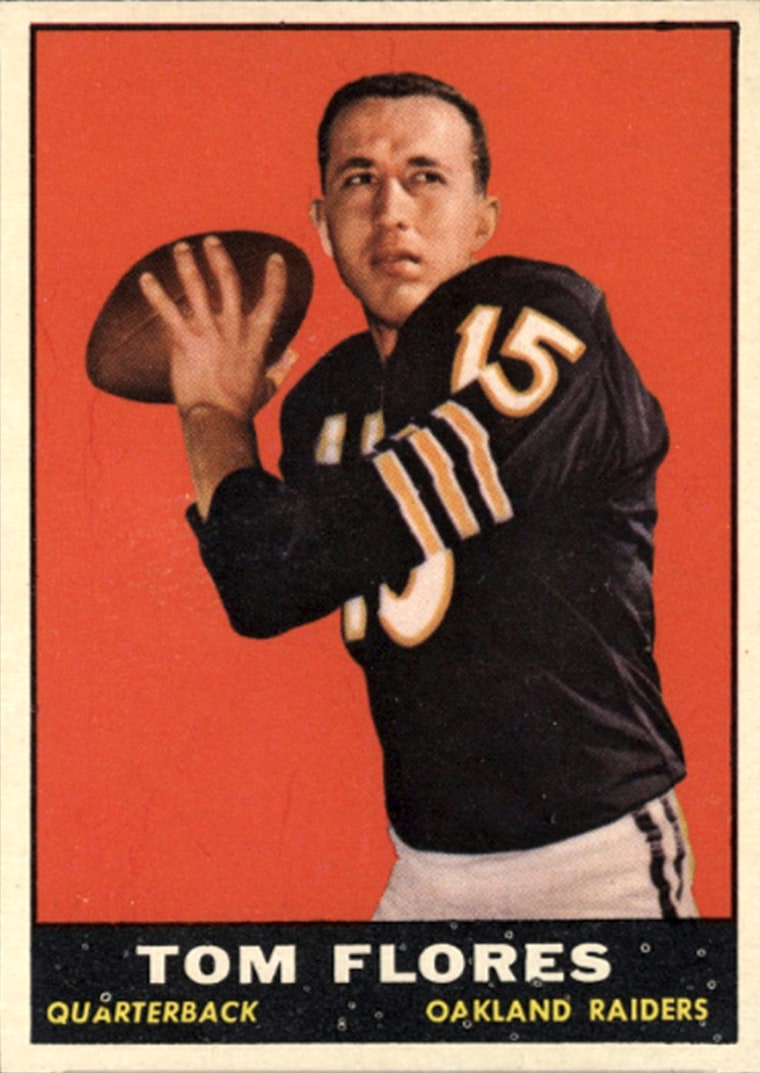 Flores' multiple Super Bowl wins and "stand-out" statistics make him a worthy candidate for the Pro Football Hall of Fame, said sports historian Mario Longoria who has researched Flores' career and advocates for the larger honor for him in pro football.
"But he gets ignored," said Longoria, author of Athletes Remembered: Mexicano/Latino Professional Football Players, 1929-1970. "He created a space for Latinos in American football, and the history of football is incomplete without his story."
Now with Rivera in the spotlight, there's hope that the Latino who preceded him in coaching a team in the Super Bowl and blazed a trail for Latinos on the field will perhaps finally join the NFL elite in the Canton, Ohio museum.
Now 78, Flores has been nominated seven times for the Pro Football Hall of Fame, but his name has not made it through the semi-final deliberations.
"Since the Great Depression, Mexican Americans have always had this stigma attached," said Longoria, a retired professor documenting sports history at the University of Texas at San Antonio. "I followed the voting and nominations for the (Pro Football) Hall of Fame and I am now convinced the selection process is flawed."
"He created a space for Latinos in American football, and the history of football is incomplete without his story."
Pro Football Hall of Fame Executive Vice President Joe Horrigan asked Longoria to write the Hispanic history on the Hall of Fame's website to emphasize diversity. Longoria hoped sharing these stories would inspire the Hall of Fame to induct Flores.
"Selectors" for the Pro Football Hall of Fame are all members of the media and come from each of the geographical regions in football. According to Longoria, out of the 46 people who decide the inductees to the Hall of Fame, just one is Hispanic.
The selectors have known about Flores' accomplishments, Horrigan said. The Hall of Fame rewards players, coaches and contributors (administrators) independently. Flores can only be inducted for one of his achievements, Horrigan said.
"As a coach he is enormously qualified and remains a candidate," Horrigan said. "People have suggested before that he has been overlooked by our selectors. If there was a category for 'all of the above,' he would be in already,"
Brent Wilkes, the executive director of the League of United Latin American Citizens, said his organization has pushed the Pro Football Hall of Fame to induct Flores. Latinos in the NFL, compared to Major League Baseball, do not get the same recognition for their contributions, Wilkes said. This is partly because there are many more Hispanics and Latinos in professional baseball.
RELATED: Latino Football Fans Are Nothing New
"You would think (the) NFL would be eager to lift up and promote the fact that there has been someone groundbreaking like Flores," Wilkes said. "There are so few Latino standouts in the NFL to begin with, and I think contributions by people like Tom Flores are undervalued."
Meanwhile, there is excitement to see that another Latino traveling the path paved by Flores with a chance at a Super Bowl ring. Like Flores, Rivera also has a ring as a player. He subbed in at linebacker with the 1985 Chicago Bears Super Bowl team, according to ESPN.
Longoria said he is "overjoyed" that another Mexican American is heading to the Super Bowl. Rivera also is Puerto Rican.
"The fact that he is at the point where he is going to be a world champion already shows he has a sterling career," Longoria said. "There are so few Mexican Americans who get recognized for what they accomplish in this country, whether it is in sports, the military or in politics."
Similarly, Rivera's success may inspire a new generation of football coaches.
RELATED: Latino Father-Daughter Coaches Are Winning Combo on Football Field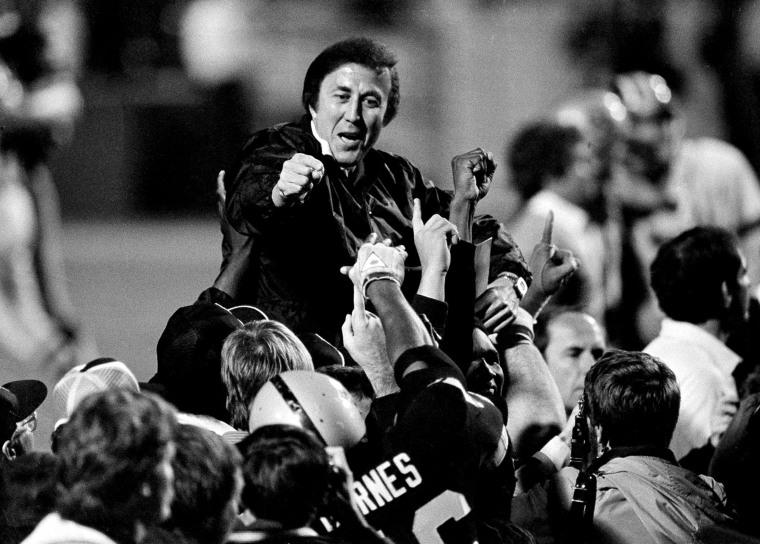 Ragan Montero, a youth football coach in North Texas and who aspires to be a high school football coach, has been impressed with how Rivera worked with the Panthers. The young woman who has made her own history in the male-dominated profession, said sports should be focused on skill and legacy, but breaking barriers for Latinos is necessary.
"He really turned around a football program that people were doubting," said Montero, who is Mexican American. "He has a true coaching mentality that I really like. You can tell with his players, like Cam Newton, that they seem to love and play for their coach. They have a 'we' and not a 'me' attitude, which shows he is a good coach."