QUITO, Ecuador — On the eve of Pope Francis' arrival, Ecuador's President Rafael Correa lamented on Saturday "cowardly" anti-government protests which he said were intended to spoil the first leg of the pontiff's tour of his home region.
Thousands of protesters have for several weeks taken to the streets over tax rises and alleged autocracy in government. They turned rowdy on Thursday outside the presidential palace, with several policemen injured.
Related: Pope Francis Visits the U.S.: Itinerary Includes 9/11 Memorial and Philadelphia Prison
"Enough of so much violence, so much cowardice!" Correa, a charismatic 52-year-old leftist leader in charge of the Andean nation since 2007, said in his four-hour address.
Correa says the tax changes are targeted only at the super-wealthy, and alleges political foes are trying to overthrow his socialist government in the nation of 15 million people. On his show, he played footage of protesters beating police shields.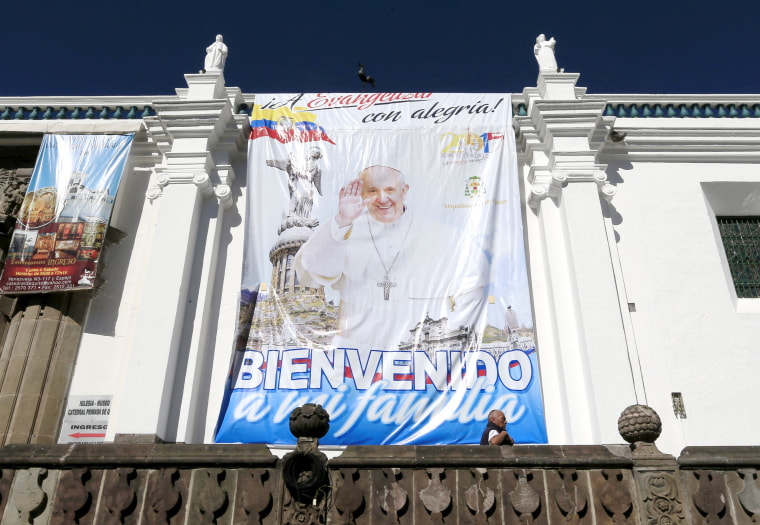 "How sad we have to talk about this before the Pope's arrival," added the president, whose weekly TV program included a special jingle to celebrate Francis' arrival.
The Argentine-born pontiff's July 5-13 trip to Ecuador, Bolivia and Paraguay is his first trip as Pope to Spanish-speaking South America and also his first time abroad since a landmark encyclical exhorting defense of the environment.
Related: Comedian John Oliver Rattles Ecuador's President Rafael Correa
Posters and billboards, some featuring Papal quotes, have appeared all over Quito — a highland capital mixing colonial cobbled streets with modern high rises — to celebrate Francis' arrival. Some Ecuadoreans plan to camp at the main plaza to welcome him.
A million extra people are expected to flood into Quito and the coastal city of Guayaquil to see the Pope at large open-air masses there.