WASHINGTON — After almost a year of working to pull itself from what was considered a fiscal death spiral, Puerto Rico finds itself in a vortex of a humanitarian crisis wrought by Hurricane Maria.
The island is grappling with massive destruction and near total loss of power, flooded towns and reports of fatalities. And though the storm had long departed, the tragedy and hardship continued Friday when the National Weather Service warned that a key dam northwest of San Juan was in danger of failing.
The National Weather Service in San Juan said the northwestern communities of Isabela, Quebradillas and the surrounding areas were in danger. The approximately 70,000 people who live in the area were warned to seek higher ground immediately, as the failure of the 345-yard dam threatened to create flash flooding downstream on the Rio Guajataca. A flash flood emergency warning remained in place for eastern Isabela and western Quebradillas and surrounding areas early Saturday.
In the town of Toa Baja alone, eight people have drowned, the town's mayor Benardo "Betito" Marzquez told NBC News. The mayor confirmed that some 4,000 people have been rescued from flood waters, but the town 30 miles west of San Juan remains without power and cell phone communication and had yet to receive adequate amounts of relief supplies of food or potable water.
Residents appear to be in a state of shock, even as waters have begun to recede. The National Guard is in the town, along with search and rescue teams from Virginia and Florida.
On Friday the island's main newspaper, El Nuevo Día was reporting bridge collapses, overflowing rivers, evacuations and some landslides in parts of the island.
Before Maria hit, Puerto Rico already was considered in crisis, hanging on by the fingertips to a cliff, but getting some gripping. Now some fear the hurricane has sent the island into free fall and they are wondering if there's an adequate safety net to stop it.
"This is a particularly devastating hurricane at a particularly weak moment," Rep. Luis Gutiérrez said Thursday in a Chicago meeting with the city's Puerto Rican community, organized to help.
Health and safety are always concerns after such a disaster, but Puerto Rico must try to address those with the island largely devoid of electrical power and with a severely damaged communication system.
RELATED: Mainland Families Desperately Await Word from Puerto Rico
"The infrastructure of Puerto Rico is so weak that it's going to take a really long time (to recover). This is not like the electricity going out in the city of Chicago. The infrastructure has already been so debilitated and there have been so many years of lack of continuing support for that infrastructure," Gutiérrez said.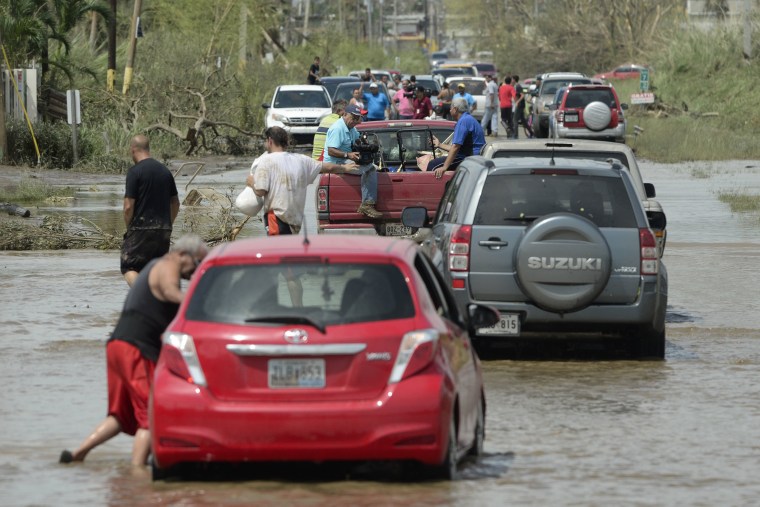 There are immediate needs of making sure hospitals can continue to run on generators, which require fuel that is in demand. It's unknown how many people are trapped in homes that can't get to a hospital or need some kind of health aid, such as a nebulizer, medication or assistance with getting around.
"My mother-in-law is being taken care of at home. She needs care 24/7, including air conditioning. She's bed-ridden and on oxygen. How long can you support gasoline generators? They have one, but they have to fill it every day," said Edwin Melendez, the director of Center for Puerto Rican Studies, Hunter College, City University of New York. "It's not like these things are gas free. How do you get the gas?"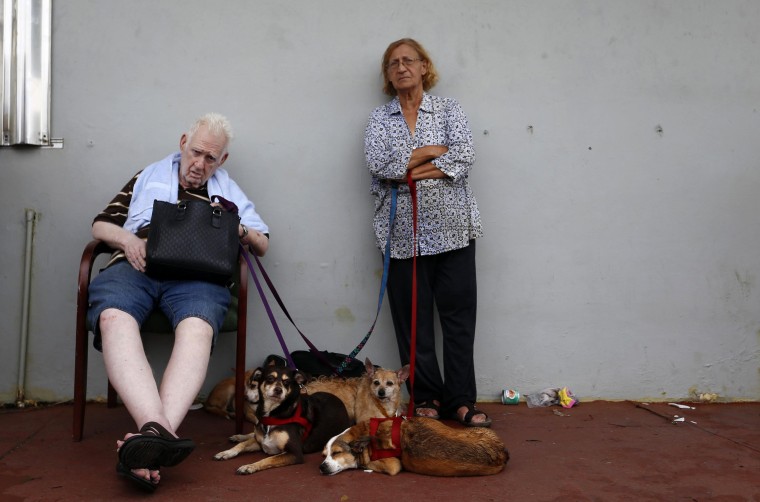 Jaime Pla, president of the Puerto Rico Hospital Association, told NBC News that hospitals have been able to operate normally for the past 48 hours because they have been on generator power.
"The issue we're going to have is accessibility to diesel," said Pla, adding that most generators operate on diesel tanks that last between three to five days.
Pla said that islanders who use medical equipment on a daily basis, but have no power, should first try to go to a nearby shelter that has electricity, noting that hospitals have been at capacity since before the storm. He added however that anyone who has a medical emergency should not hesitate to go to a hospital.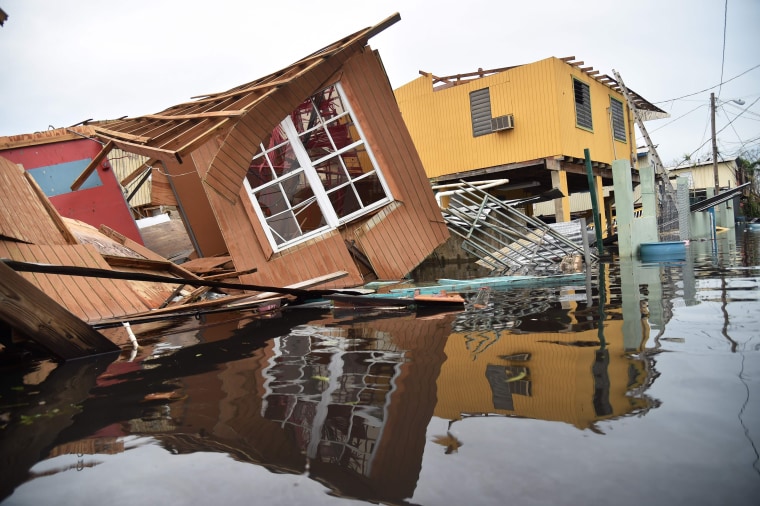 Pla said he was still concerned about islanders who were having trouble getting around. Downed trees and power lines have made roads impassable in places and there are concerns about rural regions and what effect the relentless rains had on dirt roads.
"The hurricane has been nothing short of a major disaster," Puerto Rico Gov. Ricardo Rosselló told MSNBC Friday.
All of this comes after Puerto Rico's medical system already was strained as doctors have been leaving the island because of the economic crisis, as NBC News reported last month.
RELATED: Puerto Ricans Venture Out to Face Hurricane Maria's Devastation
Gutiérrez also noted that the island has a largely older population because many of its young people have left find work on the mainland.
Caribbean News reported that the Federal Emergency Management Agency, FEMA, is flying in cargo planes loaded with water, food, generators and temporary shelters.
Mike Hyland, senior vice president of engineering services at the American Public Power Association based in Arlington, Va. said his organization was preparing to send a team into Puerto Rico when New York Gov. Andrew Cuomo offered to bring them in on the plane he'd chartered in New York.
They accepted the offer, which allowed them to get the team in sooner than they thought they would.
The team includes helicopters and drone pilots. The drones will be used to scan the countryside to help assess the damage. Hyland spoke more optimistically about prospects for restoring Puerto Rico's electricity.
"I would point to (Hurricane) Irma, how well Puerto Rico did … they were serving 96 percent in five or six days. To me that seems okay," he said. But nothing will be certain until a damage assessment is complete. As soon as the team arrives, their task will be similar to surveying every electric system structure in the state of Connecticut, Hyland said.
"Our job is to get the lights back on," he said.