CORPUS CHRISTI, Texas — This coastal city in South Texas is ground zero for Selena fandom. People come from around the world to pay their respects to the late singer at places like her memorial, her favorite restaurant, and the museum operated by her family.
Those who make the pilgrimage to the hometown of "The Queen of Tejano Music" are just a fraction of the millions of fans who cherish Selena Quintanilla Perez. Twenty-three years after her untimely death on March 31, 1995, Selena — as she was known to her fans — remains an iconic and beloved figure to many Latinos.
On a recent Tuesday morning, the Selena Museum was packed with visitors of all ages. Selena's music played softly in the background as families, couples and young children moved between the exhibits of her gold records, costumes and her dolls.
A young girl tugged on her mother's arm, pulling her towards a row of plexiglass cases. "Oh, mira, look at her dresses!"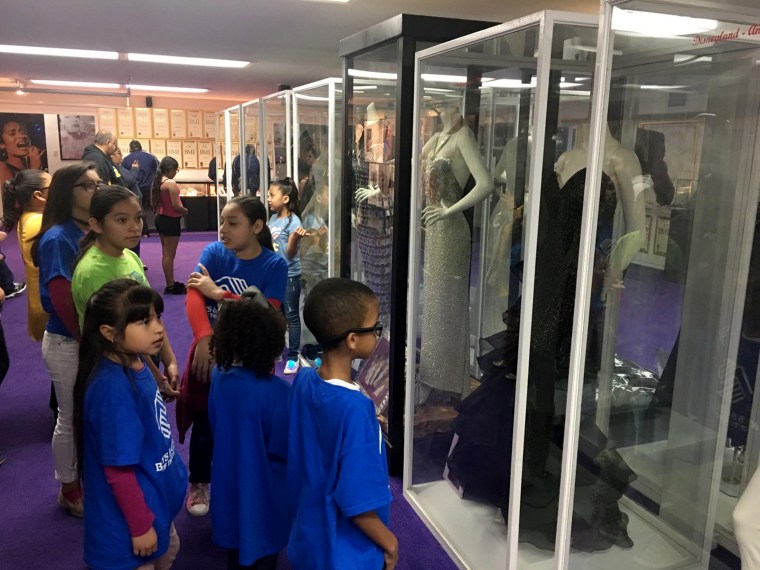 A group from a local Boys and Girls Club took a photo in front of Selena's red Porsche, and then moved on to examine her Grammy Award.
Though many of these visitors are clearly too young to have been alive during Selena's lifetime, their enthusiasm is palpable. "Guys, over here!" another girl exclaimed breathlessly to her friends. "Her guitar!"
It has been fans' fascination and devotion that has kept Selena's memory alive. Her legacy is impressive: Selena's posthumously released album, "Dreaming of You," ranks No. 1 on Billboard's list of best-selling Latin albums of the last 25 years.
In 1996, Warner Brothers conducted the largest movie open casting call since "Gone With the Wind" for the movie version of Selena's life, the 1997 film that made Jennifer Lopez a star. Less than two years after Selena's passing, The New York Times was already comparing her status to that of Marilyn Monroe and Elvis Presley.
According to a Hollywood Chamber of Commerce spokeswoman, the 2017 ceremony honoring Selena with a star on the Hollywood Walk of Fame drew the largest crowd ever for such an event.
Through the last two decades, there have been Selena tribute concerts, stage musicals, and innumerable books, documentaries and even scholarship.
The relatable girl next door
"There is great appeal in the fact that she was not only Latina, but discernibly so," said José Limón, professor emeritus at the University of Notre Dame. "Selena pushed the boundaries of gender with her provocative outfits, yet she managed to do so while staying well within the bounds of respectability."
Beyond her music, she presented an attractive image of a successful Hispanic woman. Her emergence as a national figure, Limón believes, provided a kind of symbolic leadership for Latinos at a time of changing demographics and anti-immigrant sentiment.
"I think she still represents the possibility of being a complete American, of having success, fame, being in the public realm — all while still being 'Mexican enough' and not losing touch with her family or her roots," Limón said. "This is the sort of contradiction that all Latinos live with, and she embodied it and navigated both worlds successfully."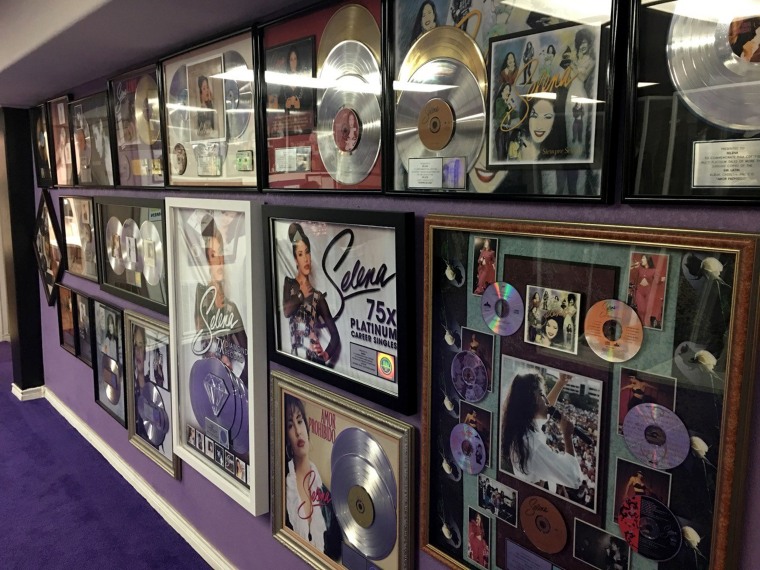 Quintanilla was born in Lake Jackson, Texas, in 1971. After growing up performing with her family, her popularity soared in the Latin music market as she blended a variety of Latin music genres, like conjunto andcumbia with pop. She married her first and only boyfriend, Chris Perez, in 1992. Then, just as she was about to release her first album in English, she was shot and killed by the president of her fan club in 1995. She was only 23 years old.
Like many Mexican-Americans, she grew up speaking English and had to study Spanish as her Latin music career took off. She had the ability to place a "sob" or "teardrop" in her vocals for maximum emotional impact. She had a keen interest in fashion and had opened two boutiques at the time of her death.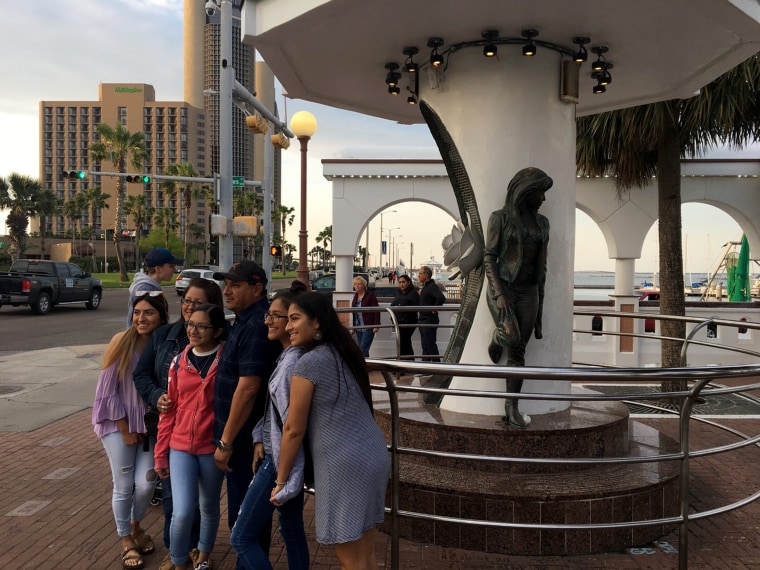 "I would describe Selena as a loving, caring person who was a good role model for people to look up to," Christina Allen, visiting the museum from Houston, said. Her eldest daughter, named Selena in honor of the singer, nodded shyly.
"I'd say she was probably the greatest Hispanic artist ever to walk this earth," said another museum visitor, Alexander Roman Romano.
Beside him, Maria Pineda declared that she was "almost too overwhelmed" by their visit. "It was emotional, seeing those costumes. Selena was my idol, even when I was little," she said. "I grew up listening to her. To this day, when I watch videos of her, I can almost believe she is here."
From Beyoncé to Kardashians, her enduring influence
Celebrities from Beyoncé to Drake to the Kardashians have cited her as a style influence, and she has been referenced on everything from NBC's Superstore to RuPaul's Drag Race.
This year, social media lit up when a brief clip from the Selena movie was shown as part of a montage at the Oscars. A new children's book about Selena has soared to the top of the best-seller charts, while a $2 reusable grocery bag honoring her crashed the website of the Texas supermarket chain H-E-B, then sold out within hours.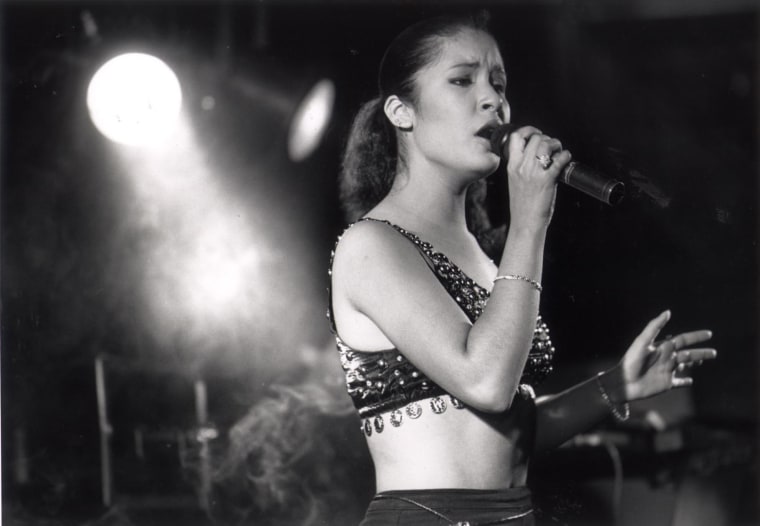 In the coming weeks leading up to Selena's birthday on April 16, there will be commemorations across the country, especially in Texas. The annual Fiesta de la Flor, a two-day musical celebration of Selena's legacy, is scheduled to take place on April 13 and 14 in Corpus Christi. The 2017 event drew 55,000 visitors and pumped $15 million into the local economy.
It's this ongoing memorialization of Selena that prompted Columbia University professor Deborah Paredez to write her 2009 book, "Selenidad: Selena, Latinos, and the Performance of Memory."
"Everyone seems to have a stake in remembering her, whether it was young girls who were Latina and from other communities who were dressing like her and singing her songs, or whether it was corporate sponsors who were tapping into Latino-based marketing," she said.
Paredez calls it "Selenidad."
"She meant a lot to different people and constituencies," she said. "People en Español launched as a result of the success of the sales from the magazine announcing her passing; gay Latino and trans communities still honor and remember her."
Now, Selena is a generational touchstone. "She has now become something that, especially in Mexican-American families, people like to share with their children, nephews or nieces, like teaching them about Tejano music while listening to Selena, or girls learning how to put on makeup while listening to Selena. She has become something that is part of our cultural inheritance, and is passed down," said Paredez.
Mario Gomez is a volunteer at the Mirador de la Flor Memorial in Corpus Christi. "I've been doing this for the last 13 years, and I feel like I've met a family from every country in the world," he said.
Gazing about at the throngs at the Selena Museum, Christina Allen, the mother from Houston, said, "We just keep her memory going. That's what we do. We just keep her in our hearts."
Raul A. Reyes is an NBC Latino contributor. Follow him on Twitter at @RaulAReyes, and on Instagram at @raulareyes1