Those waiting for the second season of Starz's critically acclaimed show "Vida" got a little taste of it Thursday night at its world premiere at the 2019 Tribeca Film Festival in New York City.
The show, created by Tanya Saracho, is a contemporary portrayal of a multi-generational Latino neighborhood in Los Angeles.
It uses growing conflicts around gentrification as a framework to explore nuanced narratives on the intersection of gender, cultural and spiritual identity, as well as class, race and sexual orientation.
Season Two shows the Hernandez sisters, Emma (Mishel Prada) and Lyn (Melissa Barrera), as they grapple with the fallout from a family tragedy.
As they move back into the historically Mexican-American neighborhood where they grew up to face what comes next, the sisters are forced to wrestle with childhood traumas and hard truths while dealing with grief, loss, complicated relationships, old friends from the "barrio" and the mismanagement of the family business.
"This is a story about two American girls, right. They're Mexican Americans, we can't forget they're second, third generation," Saracho told NBC News. "One might be a acculturated, one might be assimilated. ... They present in different ways, and it's worked while they were away from the neighborhood. Coming back clashes with the organic nature of the neighborhood."
Chelsea Rendon plays Mari, a character who embodies the "woke" youth spirit interested in preserving their East Los Angeles neighborhood.
"When I get fan-girled at, it's weird because I'm used to fan-girling," cast member Chelsea Rendon, 26, told NBC News after a fan yelled at her, "I love you so much and I love the show!" during the Tribeca Film Festival red carpet.
At the premiere at the SVA Theater in Manhattan, it was clear how the show resonates among young Latinos. A young man fan-boyed one of the actresses during the red carpet and fans giggled and reacted to scenes showcasing authentic experiences as they appeared on the big screen — especially when one of the characters says, "I'm operating on 'chingona' level," using a popular Mexican-American term that loosely translates to "badass."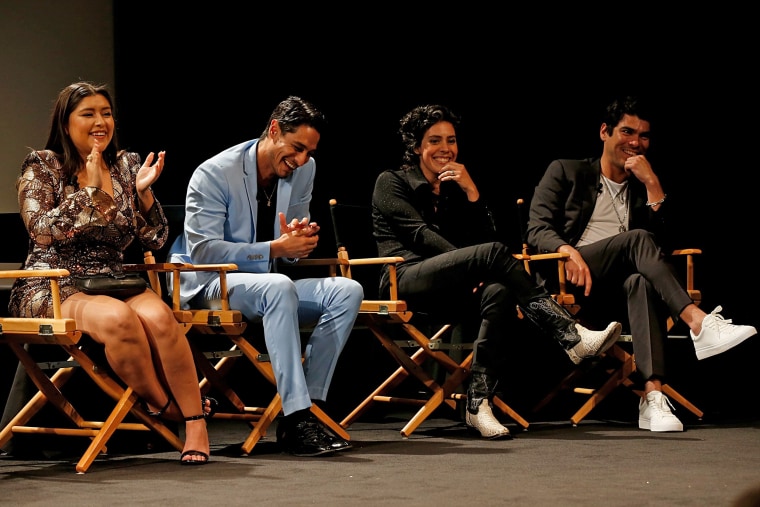 "These stories are universal," Prada told NBC. "These stories of love, belonging and family, identity and sexuality, they're just universal. They are human stories."
Many have praised Saracho and Starz, the prime cable network that airs the TV series, for humanizing the experiences of queer Latinos and LGBTQ people of color. This accurate representation recently earned the show a GLAAD Media Award for best comedy series. "Vida" is also "certified fresh" on Rotten Tomatoes with a perfect score of 100 percent.
One of the most beloved Latinx queer characters in the show is Eddy, a sensitive, generous and trustworthy soul who essentially reflects the heart and soul of her East L.A. community.
Eddy is played by actor Ser Anzoategui, who identifies as nonbinary, a catch-all term that acknowledges for gender identities that are not strictly masculine or feminine‍, and uses gender pronouns "they/them/theirs."
For Anzoategui, accurate representation on TV can help change policies that affect the lives of queer people of color and other communities.
"This show and us doing what we are doing really directly impacts people. We're in people's living rooms that normally wouldn't have met somebody that looks like me," Anzoategui told NBC. "As proved by other TV shows, it does change policy years down the line ... so we're here breaking things to make it a different 'ritmo' so we can make changes in the industry too."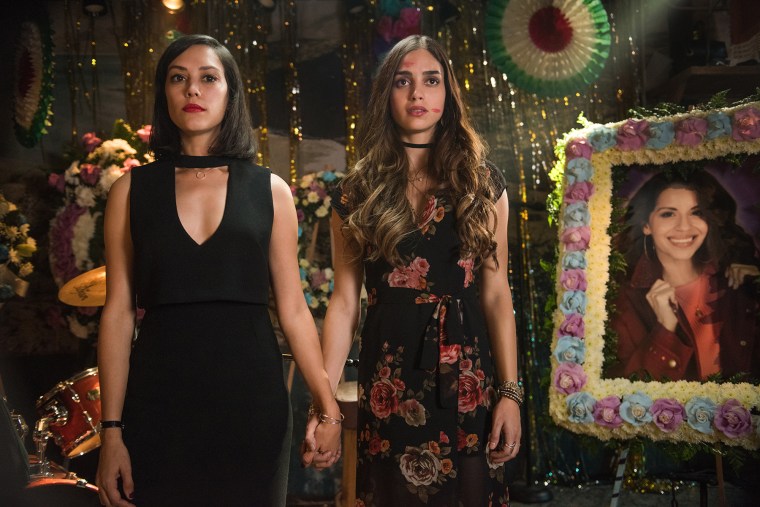 Rendon said she has never seen or been able to work in a project like "Vida" in her 20-year acting career. This year's crew counts with "all-female and Latina directors, and our writer's room being all brown."
"So to be able to be a part of this, which is helping the rest of the Hollywood see that Latinos work and Latinos don't have to be stereotyped for it to work," Rendon added.
The second season of "Vida" starts on Starz May 26. Both seasons of the show are set to drop on the Starz app May 23 for a friendlier binge-watching experience.
FOLLOW NBC LATINO ON FACEBOOK, TWITTER AND INSTAGRAM.