WASHINGTON — The U.S. has sanctioned 13 Venezuelan officials hoping to pressure President Nicolas Maduro to drop plans for a July 30 election that could lead to a rewrite of the Latin American country's constitution.
The sanctions announced Wednesday were against current and former government officials and business leaders that the U.S. identified as being involved in staging for Maduro the election of new members of a national constituent assembly. The assembly would be given orders to make changes to the constitution and potentially allow Maduro to expand his power.
Maduro has said he wants the changes to restore peace and order to Venezuela. But opponents held a non-binding referendum against the plan. Some 7 million Venezuelans in the country and around the globe turned out to reject Maduro's plan.
The Treasury action freezes the assets in the U.S. of the Venezuelan officials and prohibits anyone in the U.S. from dealing with them.
"Our sanctions demonstrate the United States is standing by the Venezuelan people in their quest to restore their country to a full and prosperous democracy," Treasury Secretary Steven Mnuchin said in a statement. "Anyone elected to the National Constituent Assembly should know that their role in undermining democratic processes and institutions in Venezuela could expose them to potential U.S. sanctions."
Other Venezuelan officials have been sanctioned by the U.S., including Venezuela Vice President Tareck El Aissami, whose assets were frozen under the Kingpin Act.
Opponents of Maduro have been staging months of protests and held two national worker and business strikes to prevent the constituent assembly vote from going forward. Numerous people have died and hundreds have been injured or jailed in some of the protests.
Anger at the government has grown as food and basic necessities have become scarce and inflation has soared, although Maduro, the handpicked successor of Hugo Chavez, still has support in the country.
"The Venezuelan opposition estimates up to 15,000 civilians have been wounded in recent protests, with over 3,000 arrested and 431 political prisoners in detention," the Treasury office said. "Arbitrary arrests are rampant, as is physical abuse against detainees; alleged instances of torture and other violations and abuses are perpetrated by the Bolivarian National Guard, the Bolivarian National Police and other security forces."
Venezuela has been defiant in the face of other threats from the U.S., dismissing Trump's promise last week to take "strong and swift" economic sanctions. He also declared Maduro a "a bad leader who dreams of becoming a dictator."
Related: Venezuela Could Go The Way of Cuba, Members of Congress Say
Those sanctioned are: Tibisay Lucena Ramirez, president of the Maduro-controlled National Electoral Council and president of his board of elections; Elias José Jaua Milano, head of the Presidential Commission for the National Constituent Assembly and also minister of education and former executive vice president of Venezuela; Tarek William Saab Halabi, Venezuela's ombudsman, whose job is to defend human rights in the country and Maria Iris Varela Rangel, member of the Presidential Commission for the National Assembly.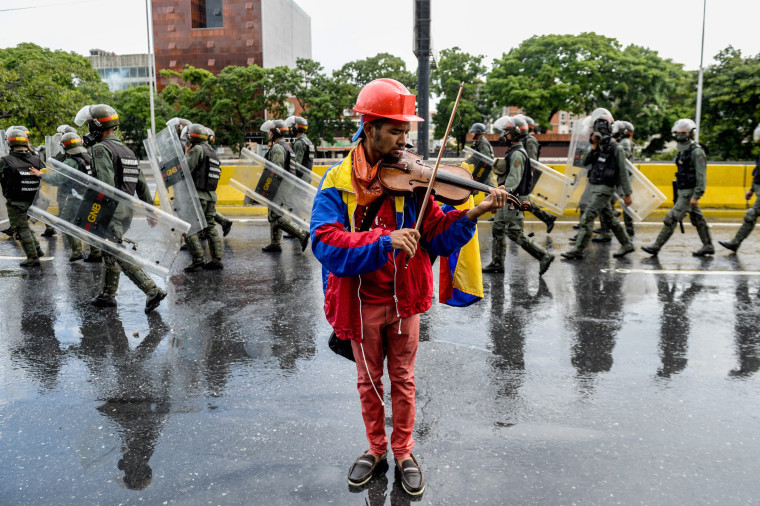 Also sanctioned are the country's minister of Interior, Justice and Peace and leaders and former leaders of Venezuela's security forces.
The Treasury Department said Venezuelan government corruption is "associated heavily" with its state-owned oil company, Petroleos de Venezuela and the official exchange rate regime set by the National Center for Foreign Commerce. Officials from those entities also were sanctioned.
Rep. Ileana Ros-Lehtinen, R-Fla., said in a statement she welcomed the sanctions particularly against the military and security officials. She said only with such sanctions "can we send a clear message that we will not tolerate abuse happening in Venezuela."
Related: Venezuela Crisis Enters Pivotal Week
Members of Congress of Cuban descent, like Ros-Lehtinen, have been some of the loudest voices against Venezuela. Several have made comparisons of the Maduro government to Cuba under the Fidel and Raul Castro regime.
Democrat Sen. Bob Menendez, from New Jersey and also Cuban-American, said the targeted sanctions were necessary. But he called on other countries in Latin America and the Caribbean to bolster the U.S. action with their own.
"The world is watching and our hemisphere must not stand by as Venezuela burns and millions clamor for help," Menendez said.