Almost four out of ten Texas residents is Latino, and Hispanics are an integral part of the region's demographic, cultural and political heritage. Yet Mexican American and Latino studies has not been an academic major offered at one the state's flagship universities - until now.
The University of Texas at Austin is unveiling changes to its Mexican American Studies program. The existing Center for Mexican American Studies (CMAS) will split into an academic department and a center for programming and outreach activities. The new Department of Mexican American and Latina/o Studies will offer Bachelor's and Master's degree programs this fall followed by doctoral degrees in the near future.
Previously, a student could take Mexican American studies courses at CMAS as part of another major, such as history. Gabriel Solis, 28, who graduated from UT-Austin several years ago, said he was one of those students who would have wanted to major in this field of study.
"My experience as an undergrad and as a grad student was frustrating at times," he said. "There seemed to be such battles for funding for the Center for Mexican American Studies, and that was disillusioning… I almost felt pushed out of studying my culture and history, because the outside climate was so hostile," said Solis.
University officials said CMAS has been at the forefront of Mexican American studies, and the changes should make the programs even stronger.
"Establishing an academic Department of Mexican American and Latino Studies will ensure that UT is the best place for Latino studies in the United States," said Bill Powers, president of the UT-Austin, in a statement.
Founded in 1883, the University of Texas at Austin has about 24,000 faculty and staff, serving over 50,000 students. In Fall 2012 its student body was 18.4 percent Hispanic.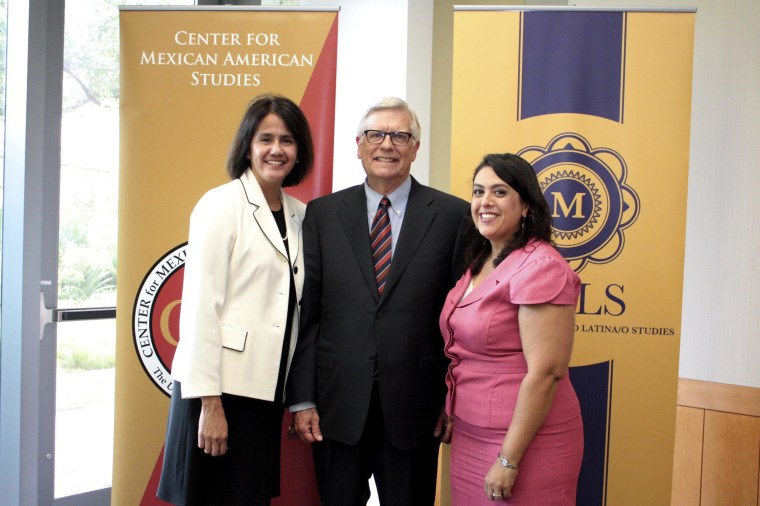 Mexican-Americans have a rich heritage at the University of Texas. Despite suffering discrimination, under state law Mexican-Americans were historically considered white and were thereby eligible to attend the university since it was founded. (By contrast, in 1946 an African-American student had to sue to force the university to desegregate).
Mexican-American graduates of the University of Texas law school were the lawyers behind a 1954 Supreme Court case, Hernandez v. Texas, which paved the way for the landmark Brown v. Board of Education. And several of these lawyers were among the founders of the Mexican American Legal Defense and Educational Fund (MALDEF) in 1968.
More recently, the University of Texas at Austin has been a focal point for issues of race and ethnicity at both the local and national levels. In 2013 the University was the defendant in a closely-watched affirmative action case at the Supreme Court. The high court sent it back down to the U.S. Circuit Court of Appeals for the 5th Circuit, which then ruled that the University could continue to use affirmative action in its admissions policies.
Nicole Guidotti-Hernández, chair of the new department, said that a strong Mexican American Latina/o studies program can produce future leaders in areas as varied as energy, transportation, politics, and education.
"It is important to teach students that there is indeed Latino diversity, not just in terms of ethnicity and national origin, but also in terms of race and class," said Guidotti-Hernandez.
Guidotti-Hernandez added the aim was not to "train people to be Latino," but rather to teach critical thinking and methodology, all of which matters more than ever now that for the first time, a majority of students in Texas public schools are Latino.
As for the Center for Mexican Studies, its director Domino R. Perez thinks it can be a place for important dialogue.
"Obviously there is a longstanding racial and cultural history in Texas," said Perez. "It is not going to go away overnight. The fact that I am the first women director of the Center for Mexican American Studies in 44 years, and that our inaugural department chair is a woman, sends a message as well."
Ingrid Vasquez, 21, a member of the Class of 2015, said that her experiences with the Center for Mexican American Studies have been rewarding. "When I was first taking these (MAS) classes, my parents were against it. 'Why do you need to know that?' they said."
Yet for Vasquez, connecting with fellow Latino students lessened her initial feelings of homesickness and isolation at the university. "It was a way of adjusting to the culture shock of being away from home. It ended up helping me connect better with my parents too, who speak only Spanish, because I was studying Spanish literature in Spanish. And by the way, the (MAS) classes were mixed, it is not just Latinos in those courses."
As for the new academic department, its chair Guidotti-Hernández believes it is significant - and also makes sense - to have both Mexican American and Latina/o Studies together.
"This is a really important moment for us in the curriculum," she said. "This is a recognition of the Mexican-American population in Texas, as well as the immigrant community from Central and Latin America. Having the two disciplines together, for the first time in the nation, is a move to create a more inclusive, rigorous intellectual community."