MIAMI — Venezuelans began voting Sunday on President Nicolás Maduro's controversial plans for a powerful new Constituent Assembly that critics call a plan to consolidate power and create a dictatorship, as clashes with security forces turned deadly and officials confirmed the killing of a candidate over the weekend.
Maduro says the 545-member assembly, which will have the power to rewrite the constitution and dissolve state institutions, will bring peace to the struggling country.
However, many fear the move will deepen Venezuela's crisis and prompt more violence. And despite a government ban on protests until Tuesday, there were clashes between the opposition and the authorities in the nation's capital, Caracas.
Authorities told Reuters that seven people were killed during the unrest, but the opposition said it was about a dozen people.
Protesters blocked roads and clashed with security forces on Sunday, Reuters reported, as opposition-party sympathizers erected barricades across roads. One witness told Reuters that an explosion injured a group of police officers during a protest.
By Sunday afternoon, it appeared many Venezuelans had broadly boycotted the election, with opposition parties leaving streets deserted and polling stations largely empty, according to Reuters. The opposition said participation was a mere 7 percent by mid-afternoon, Reuters reported.
Authorities had previously confirmed there were three deaths over the weekend, including the killing of a candidate for the assembly during a robbery, while the opposition party put the total death toll in Saturday's protests at much higher, according to Reuters.
Maduro cast his vote around 6 a.m. Sunday with little fanfare.
The U.S. State Department condemned the election, which it said Sunday night was "imposed ... to replace the legitimately elected National Assembly and undermine the Venezuelan people's right to self-determination."
"We will continue to take strong and swift actions against the architects of authoritarianism in Venezuela, including those who participate in the National Constituent Assembly as a result of today's flawed election," it said.
The U.S. ambassador to the United Nations, Nikki Haley, tweeted Sunday afternoon that the "sham election" was "another step toward dictatorship."
"We won't accept an illegit govt. The Venezuelan ppl & democracy will prevail," she said in the tweet.
Caracas resident Gabriel Viloria said by telephone he is planning to protest Sunday like he has since the demonstrations began in April. "I am not scared. I'm more afraid of losing my country," the civil engineer said. "There is no money and the cost of living gets more expensive by the day."
Sunday's election has been broadly condemned by countries around the world who say it will weaken democracy. The Constituent Assembly would have the power to shut down the existing opposition-led legislature.
Related: U.S. Slaps Sanctions On Venezuela to Stop Constitution Rewrite
Some point out that Venezuelan law and institutions have been profoundly weakened. Frank Mora is a former Pentagon official in the Obama administration who heads Florida International University's Latin American and Caribbean Center. He said the assembly "does not really constitutionally or politically mark a point of no return, because I believe that happened a long time ago."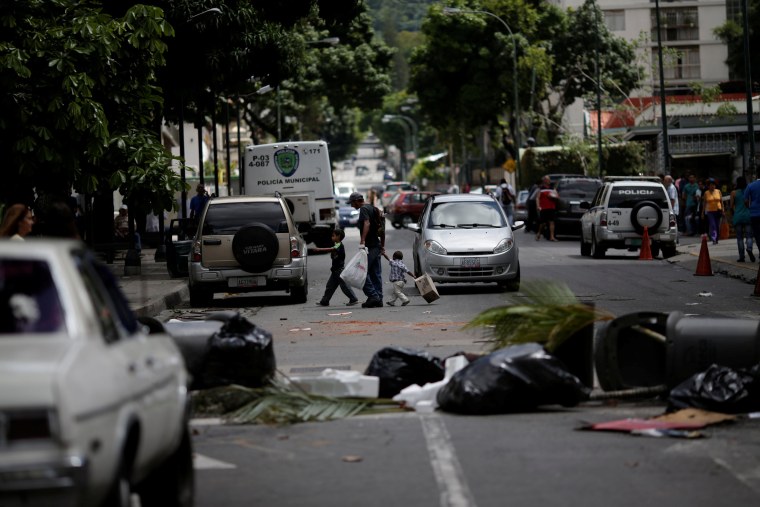 But for many Venezuelans in the country and abroad, rewriting the current constitution would be a big turning point in Maduro's consolidation of power. A few weeks ago Venezuelans at home and around the world cast thousands of "no" votes in a non-binding referendum organized by the opposition, to clearly say no to a constitutional rewrite.
The OPEC nation is struggling with a steep recession and triple-digit inflation. Extreme shortages of food and medicine have fueled malnutrition and health problems. Near daily anti-government protests have been raging with Venezuelans demanding an end to nearly two decades of socialist rule. Over 100 people have died since the protests began in April.
Related: U.S. Orders Diplomats' Families to Leave Venezuelan Capital
On Friday, Vice President Mike Pence spoke to opposition leader Leopoldo Lopez, who is under house arrest in Venezuela. According to a statement released by the vice president's office, Pence reiterated the administration's pledge that if Maduro imposes its Constituent Assembly, the United States "will respond with strong and swift economic sanctions."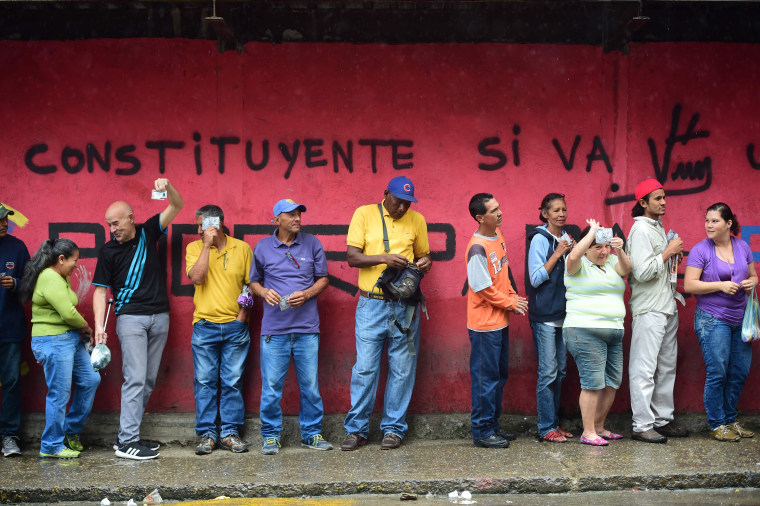 However, Mora feels sanctions of this nature are only about expressing frustration, discontent, or opposition to the state. "I don't want to underestimate the power of that symbolism but we should not expect that that's somehow going to change the behavior of the regime, or individuals of the regime, who now feel they have no other option than to hunker down," he cautioned.
The United States has already sanctioned a group of Socialist Party officials. The family members of employees at the U.S. Embassy in Venezuela were ordered to leave the country on Thursday.
Federica Davila, a member of the student volunteer group Cruz Verde or Green Cross, that provide first aid to wounded protesters on the street, is gearing up for Sunday's protests despite the ban.
She said she is not afraid of a potential escalation in violence. "El miedo ha pasado a segundo plano," she said. Fear for her safety, she said, is now a secondary issue.