Laurie Hernandez, who just turned 16, is the first U.S.-born Latina since 1984 to go to the Olympics with the U.S. gymnastic team, and she is also one of the youngest U.S. athlete to go to Rio.
She proudly told the world of her achievement on Twitter:
The New Jersey gymnast of Puerto Rican heritage has won the hearts of many for her vibrant routines. As NBC reports, "International Gymnast Magazine called Hernandez the "Human emoji" and gymnastics podcast Gymcastic nicknamed her "baby Shakira." With her early dance training and inimitable style, Hernandez always puts on a show when she performs." On Twitter, she had fun posting her reaction to making the Olympics team.
Hernandez is a gymnast to watch; in 2015: she went undefeated in the four competitions she participated in, two domestic and two international.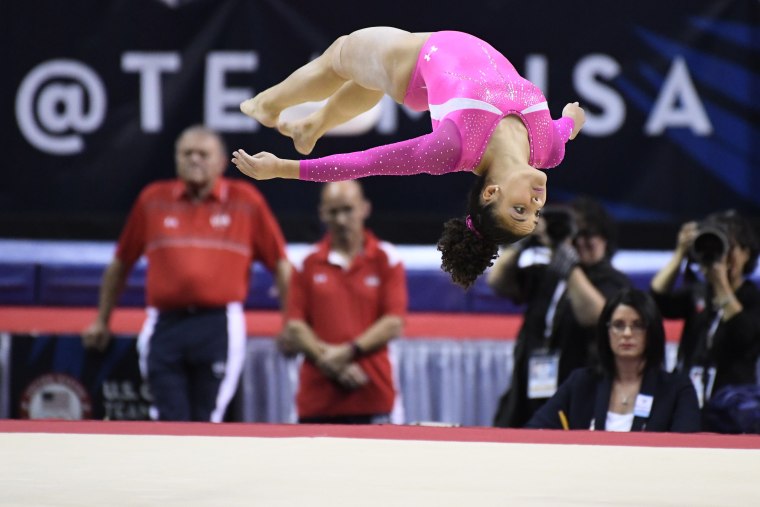 At the national championships, she won all-around gold and also medals on all four events, including gold on uneven bars, as well as silver on floor exercise, and bronzes on vault and balance beam.
Hernandez enjoys learning dances off YouTube, as well as doing her nails and reading; her favorite book is The Maze Runner, according to a recent NBC profile.
RELATED: NBC Olympic Profiles: Who Is...Laurie Hernandez?
Her parents originally put her in dance classes, but what held her attention the moment she was exposed to it was gymnastics. Hernandez is from Old Bridge, New Jersey.