Lil Tay's life has always been shocking: She was a viral sensation who gained traction during the peak influencer period, waving fistfuls of cash around luxury cars and publishing profanity-laced rap videos that included racial slurs. This is when she was supposedly 9 years old.
Then there was drama around who was managing her. Then she all but vanished from social media for about five years — her most recent Instagram post was in 2018.
Then, this week, she supposedly died. Twenty-four hours later, she was alive.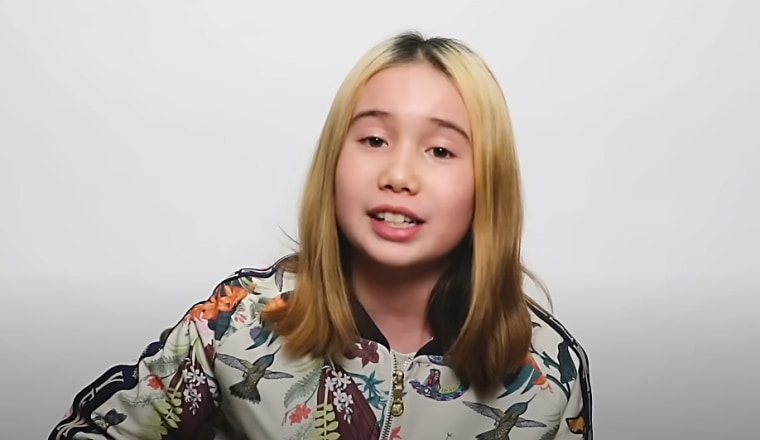 The confusion between those two days — a story that could really rapidly develop only during this moment in internet history — engulfed the news and social media spheres in a saga that was just as bizarre and conspiracy-laden as Lil Tay's first viral videos were.
Major media outlets published, and then walked back, stories about the teenager's death. (Her exact age is unclear, as reports have varied over the years.) But longtime followers, knowing her online persona, were wary from the get-go. 
It all originated with a post on Lil Tay's Instagram account declaring she and her brother, Jason Tian, had died. That was Wednesday.
"We have no words to express the unbearable loss and indescribable pain," read the statement, which has since been removed. "This outcome was entirely unexpected, and has left us all in shock."
But her followers were skeptical of the sudden, unsigned statement. Prominent social media stars such as YouTuber Keemstar and Twitch streamer Caroline Kwan were among those who expressed doubts.
Lil Tay's father, Christopher Hope, on Wednesday wouldn't confirm news of her reported death and declined to comment on the record. Attempts to reach Lil Tay's mom, Angela Tian, by phone were unsuccessful. Police officials in Los Angeles and Vancouver, British Columbia, two locations where Lil Tay had been known to live, also said they had no records of any such deaths.
TMZ, after it removed its initial article Wednesday evening, was the first to publish a new headline by midday Thursday claiming Lil Tay isn't dead. The publication reportedly received a statement from her via her family. 
By that time, it was too late. Some platforms doubled down on the conspiracy theories — Barstool Sports suggested in a TikTok video, without evidence, that the death was a lie concocted by her parents. Some, like the Los Angeles Times and Insider, changed their stories to reflect the lack of confirmation surrounding the deaths.
Representatives for Barstool Sports, TMZ and Insider didn't immediately respond to requests for comment. A spokesperson for the Los Angeles Times said the paper issued an editors' note on its original story and referred NBC News to its story Thursday about the reported hoax. 
It wasn't until Thursday that NBC News received a statement from someone who didn't want to be named claiming to be a representative of the family. It said that Lil Tay and her brother are alive and that her Instagram account was "compromised by a 3rd party and used to spread jarring misinformation and rumors regarding me."
"I want to make it clear that my brother and I are safe and alive, but I'm completely heartbroken, and struggling to even find the right words to say. It's been a very traumatizing 24 hours," the statement said, adding that her real legal name isn't Claire Hope, as some outlets reported, but Tay Tian. 
Influencer WoahVicky, who had been known as one of Lil Tay's friends online, expressed shock at the announcement of her death. "May they rest in peace in heaven and God bless them," she said in a TikTok. She didn't respond to a request for comment.
Later Wednesday, she posted an older video of her and Lil Tay, writing "RIP" in the caption. On Thursday, she posted a response expressing disbelief about the news that Lil Tay is alive.
A spokesperson for Meta, which owns Instagram, didn't respond to requests for comment about the alleged hack.
Harry Tsang, who has been linked to Lil Tay in some of her past videos and has described himself as her former manager, was among those who couldn't confirm whether the latest Instagram statement was legitimate. He shared his skepticism Wednesday on TikTok. 
Tsang is also the CEO of Liltay Token, a yet-to-be-launched cryptocurrency project in Lil Tay's name. Rolling Stone reported that the Instagram statement on her profile appeared to coincide with its launch, which caused some online to suspect he could be involved in a publicity stunt relating to the announcement of her death.
He said in a phone call that the two events are unrelated and that the cryptocurrency has been in development for months now.
"It's a mess at this point," Tsang said. "So, I mean, I'm going toward giving up the project at this point."
Lil Tay, who has called herself the "youngest flexer of the century," has amassed 3.3 million followers on Instagram.
Many of her fans have expressed concern for her in the past. At one point, a "free Lil Tay" movement emerged online, with fans using the hashtag to speculate on her wellbeing.
In an interview with ABC's "Good Morning America" in May 2018, Lil Tay denied an online rumor that she was being coached on how to perform in her videos.
In the interview, Lil Tay also responded to a question about what she would say to "critics who would say you are going to profit off your daughter now" in reference to her mom, who was interviewed with her. 
"They're saying that, like, someone's forcing me to do this, but this is just who I am," she said. "This is my personality."