Good morning, NBC News readers.
We're learning about revealing House testimony by the Trump administration's former top Russia and Europe expert, the president has announced new economic sanctions against Turkey, and a former Texas cop has been charged with murder.
Here's what we're watching today.
---
Bolton called Ukrainian investigation effort a 'drug deal,' witness tells Congress
Former national security adviser John Bolton was so disturbed by the efforts to get the Ukrainians to investigate President Donald Trump's political opponents that he called it a "drug deal," former White House official Fiona Hill reportedly told Congress on Monday.
Hill, the former top Russia and Europe expert in Trump's White House, testified under subpoena Monday.
She said that Bolton told her he wanted no part in the Ukraine effort that involved acting White House chief of staff Mick Mulvaney, a person in the room during Hill's testimony told NBC News.
Bolton was also said to have referred to the president's personal lawyer Rudy Giuliani as a "hand grenade."
Before she testified, the White House tried to limit what Hill could say to Congress, citing executive privilege.
Letters between her lawyers and a White House deputy counsel, obtained by NBC News, illustrate that while the White House did not try to block Hill from testifying, it did tell her lawyers about four areas that could potentially fall under executive privilege.
Several other former and current administration officials are expected to testify behind closed doors this week as part of the House impeachment inquiry.
U.S. Ambassador to the European Union Gordon Sondland is expected to tell Congress on Thursday that he thought former U.S. Ambassador to Ukraine Marie Yovanovitch was an able and professional diplomat, despite her ouster by President Donald Trump.
See our Live Blog for the latest updates on the Trump impeachment inquiry.
---
Trump imposes sanctions on Turkey amid GOP blowback
President Trump ordered new sanctions on Turkey on Monday amid sustained criticism from Republican lawmakers over his decision to withdraw U.S. forces from Syria to make way for a Turkish operation.
Vice President Mike Pence said Monday that Trump had spoken with Turkish President Recep Tayyip Erdogan by phone and urged him to end the invasion and agree to an immediate ceasefire.
"The United States of America did not give a green light for Turkey to invade Syria," Pence told reporters outside the White House Monday.
Trump's move to withdraw American troops from northern Syria has received bipartisan condemnation and sparked fears of a renewed humanitarian crisis in the region and a resurgent ISIS threat.
The Turkish offensive has been a major blow to the Kurdish-led Syrian Democratic Forces, or SDF, a key partner to the U.S. in its fight against the Islamic State.
A former top Marine officer who led special operations troops in the fight against ISIS alongside the Kurds blasted the move as a betrayal.
And the military incursion is compounding an already dire humanitarian situation in northern Syria — forcing tens of thousands of people from their homes, human rights monitors say.
At least 160,000 civilians have been displaced since the Turkish offensive began on Oct. 9, according to the U.N. Office for the Coordination of Humanitarian Affairs.
---
Fort Worth officer who fatally shot woman in her own home is charged with murder
The Fort Worth, Texas, police officer who fatally shot a woman while she was babysitting her nephew over the weekend has been charged with murder.
The former police officer, Aaron Dean, resigned Monday, hours before the police department was going to fire him.
"To the citizens and residents of our city, we feel and understand your anger and your disappointment and we stand by you as we work together to make Fort Worth a better place for us all," Fort Worth Police Sgt. Chris Daniels said Monday.
---
Democratic debate in Ohio: 5 things to watch
A dozen Democratic presidential contenders will be lining up on the debate stage in Ohio on Tuesday night, as struggling candidates try to revive their campaigns and the two front-runners look to cement their primacy.
NBC News' Jonathan Allen lays out five things to watch for tonight.
And here's everything you need to know about tonight's debate from who's standing where to how watch it.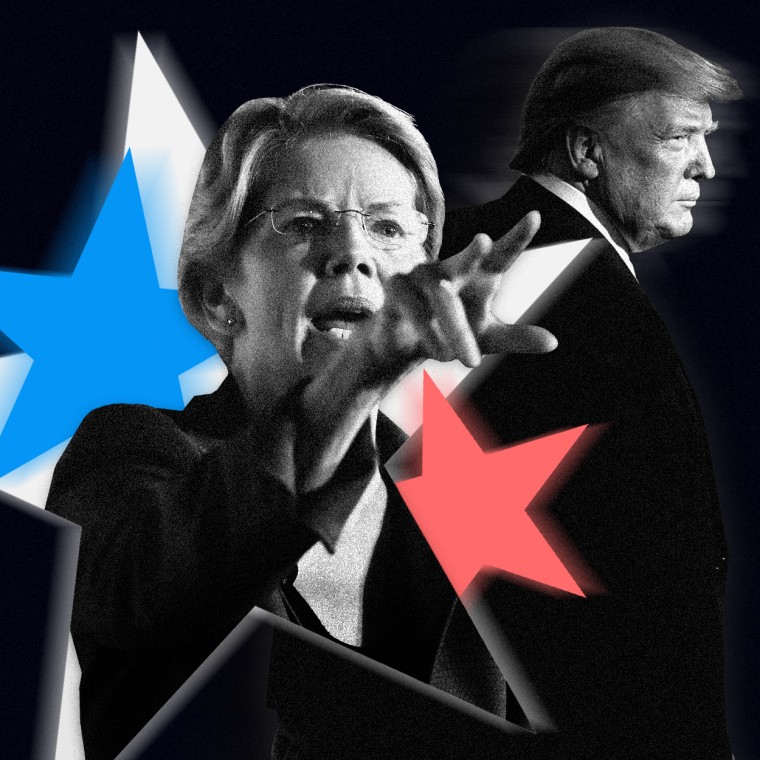 ---
Fake Trump massacre video traces back to a prolific meme creator and a fervent community
Long before a video of a digital Trump avatar going on a rampage in "The Church of Fake News" burst into public view Sunday, TheGeekzTeam had already amassed a sizable following in pro-Trump parts of the internet.
And as those communities have grown, they've found traction with people close to Trump and even the president himself.
---
Want to receive the Morning Rundown in your inbox? Sign up here.
---
Plus
---
THINK about it
The GOP is right to investigate powerful political children. They could start with Ivanka Trump, lawyer and columnist Dean Obeidallah writes in an opinion piece.
---
Live BETTER
"Peter Pan Syndrome": When adults won't grow up.
---
Quote of the day
"As a guy who has fought [alongside] the Kurds, on an emotional level this is gut-wrenching."
— Andrew Milburn, a Marine colonel who retired in March as the deputy commander of U.S. special operations forces in the Middle East, on Trump's decision to pull U.S. troops out of Syria.
---
One inspiring thing
Last week, 18-year-old Caleb Freeman finished his first cross-country race after suffering a traumatic brain injury in a car accident 2 years ago.
Now he's been crowned his Oklahoma high school's homecoming king.
---
Thanks for reading the Morning Rundown.
If you have any comments — likes, dislikes — drop me an email at: petra@nbcuni.com
If you'd like to receive this newsletter in your inbox Monday to Friday, please sign up here.
Thanks, Petra