Good morning, NBC News readers.
Democratic presidential hopefuls faced off in the first debate of the two-night event. Who nailed it, who got lost in the crowd and who spoke español? We've got full coverage.
---
Democrats spar over health care, immigration at first debate
On a crowded stage in Miami, the 10 candidates debated policy and took aim at one another — hoping to score points during the prime-time event. They laid out differences of opinion over health care and immigration, but agreed that the Trump economy is "rigged."
Here's a breakdown of the big night:
Who won? Former Housing Secretary Julián Castro emerged from the pack with his sharp critique of former Texas Rep. Beto O'Rourke's knowledge of immigration policy. We take a look at who else struck a chord and who can hope for better luck next time.
Dig deeper: Want to see where Sen. Elizabeth Warren stands on gun control? Check out a full transcript of the debate that is searchable by key topics.
Fact check: As they jostled to make their views heard, NBC News fact checked the candidates' various claims on everything from the number of daily gun deaths to Americans' support for Roe v. Wade.
Top moments: From Sen. Cory Booker's side-eye glance at O'Rourke when he began speaking Spanish to how many times each candidate mentioned President Donald Trump, we broke down some of the most meme-able moments of the night as they happened.
I speak español: Spanish rolled off the tongues of some candidates in what was clearly an attempt by candidates to reach out to the Latino electorate. How'd that go?
Analysis: Who really came out on top from the debate? President Donald J. Trump, NBC News' Jonathan Allen writes.
Debate Night 2: There's more! The debate continues tonight on NBC News, MSNBC, and Telemundo when 10 more candidates take the stage, including former Vice President Joe Biden, Sen. Bernie Sanders, I-Vt., and Mayor Pete Buttigieg of South Bend, Indiana. Here's a look at how those folks are preparing.
Check out our Live Blog from 6 p.m. ET tonight for full coverage.
---
Trump spoiling for a deal as leaders gather in Japan
While all eyes were on the debates in Miami, President Trump was heading to Japan for the Group of 20 summit.
He's ready to talk to Iran with "no preconditions." He said there's a "possibility" of finishing a trade deal with China. And now he is even showing openness to a third summit with North Korea after the last one collapsed.
With his re-election approaching, the president is looking to notch a win or two to show he has reasserted America's interests overseas.
---
They were searching for the 'American dream'
Óscar Alberto Martínez Ramírez and his daughter Valeria died while trying to cross the Rio Grande on Sunday, their deaths captured by a haunting image that has sparked widespread outrage.
Ramírez was just like many Central American migrants — he and his wife left El Salvador for the U.S. in search of a better life for their daughter, said his mother, Rosa Ramírez.
"Neither one of them let each other go. That's how they died, both of them hugging," Rosa Ramírez told Telemundo through tears from Alta Vista, El Salvador. "He loved his daughter so much. He loved her and that's why he took her."
"You do not wish this on anyone, that for going in search of the American dream you would lose your life," she said.
---
A 23-year-old died from a blood transfusion at the nation's top cancer hospital. Why?
Deaths from blood transfusions are so rare and so preventable that experts say they should never happen.
So the death of a 23-year-old leukemia patient who received a contaminated blood transfusion at MD Anderson Cancer Center in Houston raises a question that has confounded patient safety advocates: Given all the advancements in technology and safety protocols, how can such mistakes still happen at even the most prestigious hospitals?
---
Want to receive the Morning Rundown in your inbox? Sign up here.
---
Plus
The FAA has found a potential flaw in the Boeing 737 Max software update that was supposed to improve safety after the jets were grounded worldwide following two deadly crashes.
---
Live BETTER
Want to get more done today? Use this SMART goal tracking system.
---
Quote of the day
"We are on a mission to find the America that's been lost. Lost through infighting, lost through inaction. We're so much better than this. We're a country that used to do things."
— Former Rep. John Delaney of Maryland during the first Democratic debate
---
One fun thing
Skywatchers the world over are gearing up for Tuesday's total solar eclipse — the first since the "Great American Eclipse" of 2017.
It won't be visible from North America — but if you are in Chile or Argentina, you'll be in for a treat. And the Chilean government is expecting at least 400,000 visitors hoping to catch a glimpse of the event.
"I got into the eclipse fever after seeing how Americans got all crazy about their total eclipse," Ivan Gonzalez, a civil engineer from Valparaiso, Chile, said in an email. "I want to see for myself all the weird things that happen under the shadow of the moon."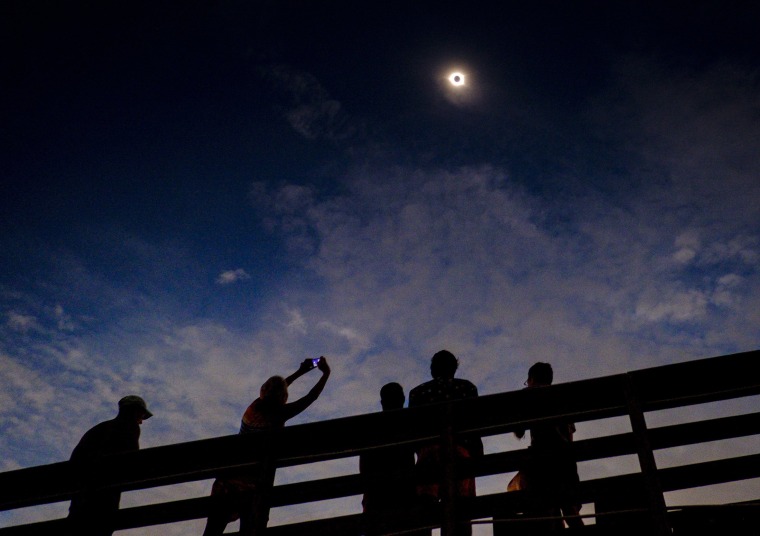 ---
Thanks for reading the Morning Rundown.
If you have any comments — likes, dislikes — drop me an email at: petra@nbcuni.com
If you'd like to receive the Morning Rundown in your inbox Monday to Friday, please sign up here.
Thanks, Petra