Good morning, NBC News readers.
Students and parents in California are reeling today after yet another school shooting tragedy, the former ambassador to Ukraine takes the impeachment hearing hot seat and an NFL game erupted in a melee with seconds on the clock.
Here's what we're watching this morning.
---
California school shooter killed 2 and wounded 3 in just 16 seconds
A 16-year-old opened fire at a Southern California high school Thursday morning, killing two fellow students and wounding three others, before shooting himself in the head, law enforcement officials said.
"Within approximately 16 seconds, it was over," sheriff's Capt. Kent Wegener said of the shooting in Santa Clarita, California.
This was the 366th mass shooting in the country so far this year, according to the Gun Violence Archive, an independent data collection and research group.
Katie Holt, a choir teacher at Saugus High School, nursed two gunshot wounds on one of her students.
"I don't think I should have had to process this. I don't think my kids, especially, should have to process this," said Holt.
"A really big change needs to happen," she said. "I held a bleeding child today in my classroom, in my music classroom."
---
Ousted Ukraine ambassador to testify at public impeachment hearing
The first public presidential impeachment hearings in over 20 years will continue on Friday with testimony from the former U.S. Ambassador to Ukraine Marie Yovanovitch.
Other witnesses have testified that she was the victim of an unfair smear campaign and run out of her job by Trump's personal lawyer Rudy Giuliani.
Trump called her "bad news" and said "she's going to go through some things" during his phone call with Ukraine's President Volodymyr Zelenskiy that's at the center of the impeachment probe.
So who is Yovanovitch? Read more about the career diplomat who has been a foreign service officer for 33 years and served in six presidential administrations.
Meantime, Trump said the impeachment probe has been "very hard on my family," at a campaign rally in Louisiana on Thursday evening.
Today's hearing is expected to start at 9 a.m. ET. Read about the schedule, the format, and more here. You can watch the testimony live on NBC, MSNBC and NBCNews.com
Check out our live blog for the latest news and analysis throughout the hearing.
---
Browns star attacks Steelers QB with his own helmet
An otherwise unremarkable game between the Cleveland Browns and the Pittsburgh Steelers descended into chaos Thursday night when the Browns' Myles Garrett ripped the helmet off Steelers quarterback Mason Rudolph and hit him in the head with it.
"It's inexcusable," Browns quarterback Baker Mayfield — Garrett's own teammate — told Fox Sports after the game, which the Browns won 21-7. "I don't care, rivalry or not. We can't do that."
Fox Sports analyst Troy Aikman had another word for the attack that happened with just eight seconds left on the clock in Cleveland: "barbaric."
NFL.com, the National Football League's official website, reported that Garrett and the other participants in the fight would be under review for possibly lengthy suspensions.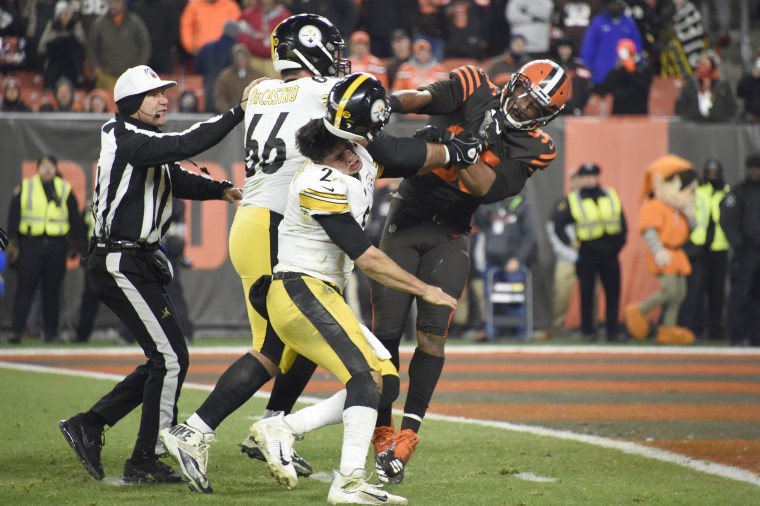 ---
The Week in Pictures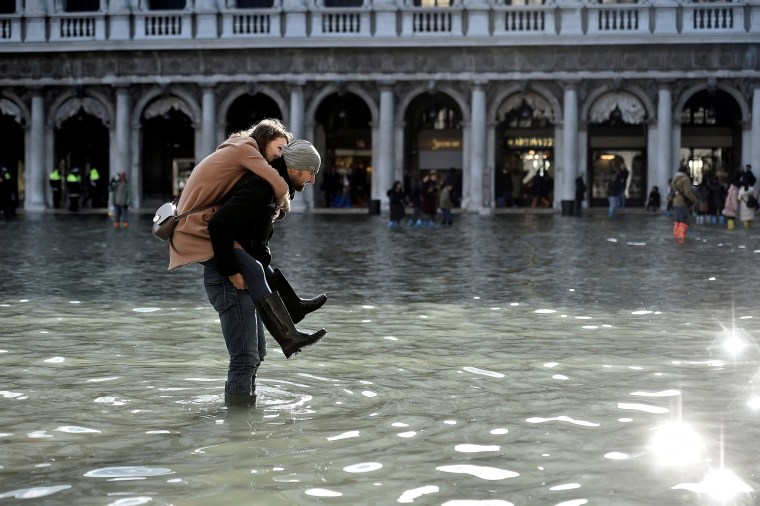 A man carries a woman on his back through the flooded St. Mark's Square in Venice, Italy, on Thursday. Floodwaters engulfed the historic canal city again on Friday.
See more of more of the most compelling images from the last week here.
---
Want to receive the Morning Rundown in your inbox? Sign up here.
---
Plus
---
THINK about it
Here's a playbook for defeating the NRA in the wake of the Saugus shooting, Dr. Vin Gupta writes in an opinion piece.
---
Live BETTER
What chefs cook for dinner when they're pressed for time.
---
Quote of the day
"The sea is rising, this is not in ten or fifteen years. This is now."
— Venice gondolier Roberto Nardin
---
One fun thing
Staff Sergeant Joshua Griffin walked off the battlefield and on to the football field at Colorado State University — at 33.
That makes him the oldest player on any major college team this year.
His teammates call him "Pops." But he takes his senior status in stride.
"I hope that someone sitting on their couch can you know see what I'm doing and realize that as long as you have air in your lungs you have opportunity."
---
Thanks for reading the Morning Rundown.
If you have any comments — likes, dislikes — drop me an email at: petra@nbcuni.com
If you'd like to receive this newsletter in your inbox Monday to Friday, please sign up here.
Thanks, Petra