Good morning, NBC News readers.
A tornado in Dallas has plunged thousands into darkness, U.S. troops are leaving Syria, via Iraq, and having kids is tough — even for royals.
Here's what we're watching this morning.
---
'The roof blew off': Tornado leaves trail of destruction in Dallas
Tens of thousands of Dallas residents were set to wake up to no power Monday after a tornado plowed a long path through the north of the city, and left outages and scenes of destruction in its wake.
No serious injuries were reported by city officials as they tried to assess the extent of the damage throughout the night.
NBC Dallas-Fort Worth and other news organizations published images and video of downed power lines, debris and scores of emergency personnel on the streets in northwestern parts of the city. Social media photos showed numerous homes with their roofs ripped off and debris on the ground.
---
U.S. troops cross into Iraq from Syria as part of American withdrawal
Defense Secretary Mark Esper said Monday that the Pentagon was discussing keeping some U.S. troops in parts of northeastern Syria.
His comments came on the heels of video from Reuters showing armored vehicles carrying troops into Iraq as part of the U.S. withdrawal from Syria. A Reuters cameraman said he saw more than 100 vehicles crossing.
Speaking with reporters during a trip to Afghanistan, Esper said that while the withdrawal from northeastern Syria was under way, some troops were remaining in the country to ensure oil fields do not fall into the hands of the Islamic State group or other militants.
Esper said he had not presented that option yet to President Trump but that the Pentagon's job was to look at different options.
The president has bragged about the five-day cease-fire the U.S. negotiated, claiming it saved thousands of lives.
But Gen. Mazloum Kobani, commander of the Kurdish militia, known as the Syrian Democratic Forces, told NBC News he fears the Turkish campaign in Syria will result in "ethnic cleansing." (Video)
"We trusted them for five years and the continuing war against ISIS, but now [there is] ethnic cleansing against the Kurdish people under their eyes," Kobani said. "If they wanted, they would have interfered to stop it."
---
Lawyer? Lobbyist? Fixer? Rudy Giuliani's overseas activities leave a trail of questions
Rudy Giuliani has a very full passport.
Over the past 18 months, he's done consulting work and delivered paid speeches for an array of foreign clients while also representing the president as his personal lawyer, an arrangement that has sparked criticism from government ethics experts and sent mixed messages to foreign governments, experts say.
"We don't know what role Giuliani is playing," said Scott Amey, general counsel for the non-partisan Project on Government Oversight.
Meantime, acting White House chief of staff Mick Mulvaney insisted Sunday that he did not say that Trump held up military aid for Ukraine for political purposes — even though that's precisely what he said during a televised press conference on Thursday.
And following widespread bipartisan criticism, Trump announced on Saturday that his Doral resort in Florida will not host next year's G-7 summit of leaders after all.
The president's choice had come under fire because it could be a violation of the Constitution's emoluments clause, which forbids gifts of any kind to a president from foreign leaders.
---
Brexit: Now what?
Prime Minister Boris Johnson's attempts to force a Brexit plan through Parliament this week could be foiled by the outspoken House of Commons Speaker John Bercow on Monday.
With Johnson facing another crunch week in Britain's ongoing Brexit saga, and after the prime minister hammered out a deal with the European Union, Bercow could refuse to allow the vote because rules generally bar considering the same measure for a second time during the same session of Parliament unless something has changed.
Tune in at 9:30 a.m. ET when Bercow is scheduled to make a statement shortly before Parliament opens.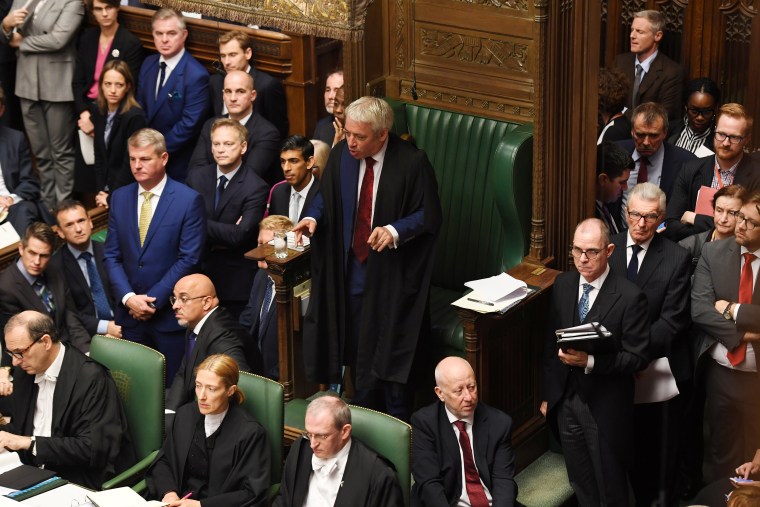 ---
Want to receive the Morning Rundown in your inbox? Sign up here.
---
Plus
---
THINK about it
Keeping the impeachment inquiry secret undermines the Democrats' case, Kelly Jane Torrence writes in an opinion piece.
---
Live BETTER
Fall is the perfect time to get cozy and cook. Here are some great new cookbooks to help you do it.
---
One fun thing
It's not clear how Jimmy the dog became trapped more than 60 feet down a steep cliff on Australia's south coast.
But luckily for Jimmy, someone spotted him and alerted Australia's intrepid emergency services.
---
Thanks for reading the Morning Rundown.
If you have any comments — likes, dislikes — drop me an email at: petra@nbcuni.com
If you'd like to receive this newsletter in your inbox Monday to Friday, please sign up here.
Thanks, Petra Cahill