Idalia strengthens to a hurricane as Florida braces for a potentially life-threatening storm surge. A defendant in the Georgia election interference case enters a plea and waives his arraignment. And how a Marine veteran and mother of three won $40 million of a $377 million settlement.
Here's what to know today.
Tropical Storm Idalia takes aim at Florida
Idalia strengthened to a hurricane early Tuesday morning, with maximum sustained winds of 75 mph. The system is expected to "rapidly intensify" and could become a powerful Category 3 hurricane before it makes landfall on Wednesday in Florida, the National Hurricane Center said.
Hurricane warnings and watches are in effect for parts of the Gulf Coast of Florida, with evacuation orders issued in some areas.
Idalia threatens to bring "life-threatening storm surge inundation" along parts of the Florida Gulf Coast, with flash and urban flooding also likely, the NHC said.
Florida Gov. Ron DeSantis has activated members of the National Guard and President Joe Biden has also approved an emergency declaration, FEMA said.
Follow our live blog for the latest information. And follow Idalia's path with our storm tracker.
This is Morning Rundown, a weekday newsletter to start your morning. Sign up here to get it in your inbox.
Fatal shooting at UNC-Chapel Hill
Classes at the University of North Carolina-Chapel Hill are canceled today and the campus is mourning a "tragic" start to the new school year after a shooting left a faculty member dead. The shooting yesterday afternoon sent the campus into lockdown for about two hours as police searched for and captured a suspect. As of last night, neither the faculty member nor the suspect had been named. Here's what else we know so far.
First not guilty plea entered in Georgia election case
Attorney Ray Smith became the first defendant to plead not guilty in Georgia's election interference case. Smith, who represented former President Donald Trump in Georgia cases related to the 2020 election, is charged with 12 counts.
Hours before Smith's plea, a Fulton County Superior Court judge announced that Trump and the 17 remaining co-defendants in the case are scheduled to be arraigned in Fulton County next Wednesday, starting with the former president at 9:30 a.m. Eastern. 
Meanwhile, former White House chief of staff Mark Meadows took the witness stand for five hours in his bid to move the case to federal court. As the White House chief of staff at the time, Meadows testified that his actions in 2020 related to his responsibilities as a federal official. U.S. District Judge Steve C. Jones has not yet issued a ruling.
What we know about the Jacksonville shooting victims
Anolt Joseph "A.J." Laguerre Jr. was a 19-year-old recent high school graduate who took a job at a Dollar General store to have some "change in his pocket," his father told NBC News. But his life was cut short when a gunman opened fire over the weekend at the Jacksonville store where he worked. "I should not have to bury my son," Anolt Laguerre Sr. said. "He's too young for that."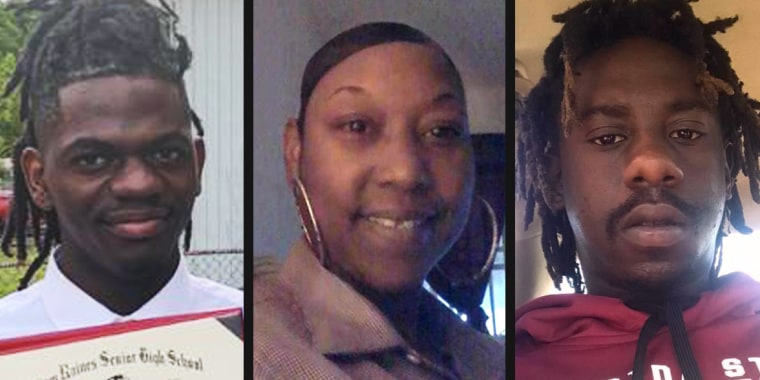 The two other victims in the shooting included 56-year-old Angela Michelle Carr, who was dropping off an Uber passenger at the store when the incident unfolded, and 29-year-old Jerrald De'Shaun Gallion. Carr's daughter sobbed as she remembered her mother as a "hard-working" and dedicated woman. And Gallion's loved ones called him "the best daddy ever" to his daughter. Read more about the victims of the shooting. 
More on the Jacksonville shooting:
Today's Talker: An ethnic studies professor accused of claiming false Cherokee heritage…
…resigned from her position at the University of California Riverside — but she can keep claiming to be Cherokee if she's asked. That's according to the terms of professor Andrea Smith's deal with the school, which also states that she can keep teaching classes through next August and will get to keep her retirement benefits, among other things. The agreement comes after years of Smith's heritage being called into question off and on, starting in 2008.
Politics in Brief
2024 election: After his attention-grabbing performance in the first GOP presidential debate, Vivek Ramaswamy faces a challenge that has bedeviled previous presidential candidates.
Trial date set: U.S. District Judge Tanya Chutkan set a March 4, 2024, trial date in Donald Trump's election interference case in federal court. The schedule could have a crucial impact on the 2024 race for the White House. 
Funding deadline: With a Sept. 30 funding deadline looming over Congress, Republicans are looking for ways to insert provisions into legislation that would hinder federal and state cases against Donald Trump. A shutdown alone won't halt criminal proceedings.   
'Joe the Plumber': Samuel Joseph Wurzelbacher, whose question to then-presidential candidate Barack Obama in 2008 pushed him into the national spotlight, has died at the age of 49.
Staff Pick: Given $40 million for 'doing the right thing'
When Marine veteran Sarah Feinberg worked at Booz Allen Hamilton, a prestigious firm that holds numerous government contracts, she was tasked with looking at how to better track and analyze financial data. That's when she made a discovery that would change her life. Our investigations team spoke to Feinberg about the challenges she faced to get someone to listen to her.
This story is a reminder that, sometimes, standing up for what you believe in can pay off. — Elizabeth Robinson, newsletter editor
In Case You Missed It
Select: Online Shopping, Simplified
Backpacks are a key back-to-school item that every student needs. If you're worried about how your kid is carrying rolling backpacks can quite literally take the weight off their shoulders. Here is how heavy backpacks can affect children, as well as nine great options for rolling backpacks to consider.
Sign up to The Selection newsletter for exclusive reviews and shopping content from NBC Select.
Thanks for reading today's Morning Rundown. Today's newsletter was curated for you by Elizabeth Robinson. If you're a fan, please send a link to your family and friends. They can sign-up here.