BET is hoping to get the final word on the 20th anniversary of the verdict in the O.J. Simpson trial, which fell on October 3.
The network's documentary "Who Got the Juice? The O.J. Simpson Trial 20 Years Later" debuts on Wednesday night, distinguished by incisive commentary on the cultural impact of the case from Michael Eric Dyson, Michaela Angela Davis, Marc Lamont Hill and BET's own Ed Gordon, among others.
"Twenty years later folks still feel equally passionate about the O.J. Simpson case," director Sacha Jenkins told NBCBLK. "Seemingly now more than ever race is at the forefront of what's on everyone's minds in America and that to me is what makes what went on with OJ even more relevant."
The documentary places the trial in historical context, underscoring that it came less than three years after verdicts in another sensational, racially charged case.
"I think it's really important to understand the importance of where Rodney King fits in this whole story," said Jenkins, "Coming off those [white] police officers being acquitted for senselessly beating Rodney King on camera and the way African-Americans and I think many Americans in general felt about seeing what they saw and then seeing what the outcome was."
The Simpson trial would expose even more clearly the deep rift between black and white Americans over how they perceived the trustworthiness of law enforcement.
"I think to a great degree the racial tension that surrounded that case never left it," Ed Gordon told NBCBLK.
The film also touches on a subject often neglected in discussions of the Simpson trial—what it was like for African-American journalists to cover it.
Gordon found himself under the microscope when he landed the "big get," the first post-acquittal interview with Simpson. He told NBCBLK that as the live broadcast approached, "There was the thought that it was going to be kind of an easy interview for Simpson… this sense that, well, an African-American reporter or anchor couldn't be fair, wouldn't be unbiased in doing that interview."
That perception shifted—marginally, Gordon said—after he got good marks for his performance. "It didn't lift the sense that all black reporters could be fair. It was somehow that, 'This guy Ed, you know, he's okay. He can be fair and unbiased, and wasn't he good.'"
Gordon said he tried at the time to point out the double standard. "Why didn't anybody raise the same question, for instance, to Barbara Walters if she sat and talked with [LAPD detective] Mark Fuhrman. If you're going to say that African-American reporters would find it hard to be unbiased with a black man, wouldn't the same be true of a white reporter with a white person?"
KNBC breaking news reporter Beverly White, who covered the Simpson case from the very beginning, said it was not difficult for her to approach the story fairly.
"Everybody talks about the race and class component but we always compartmentalize," White said. "The O.J. case was no different in that regard."
She said the suspicion faced by journalists who covered the trial had more to do with the public's feelings about the news media in general than race.
"The skepticism was there. But I think the skepticism was directed at our industry," she said. "This one we really dotted our 'i's' and crossed our 't's because there was that perception of bias… that you're taking sides."
DeWayne Wickham, now Dean of the Journalism school at Morgan State University, was covering the trial for USA Today.
"The Simpson trial was a case that played out in black and white. I was a black journalist who reported a story that raised serious questions about the prosecution's conduct of that trial, and most white folks ignored my reporting," said Wickham via email.
Wickham recalled his utter frustration at getting his reporting picked up by his own paper and his peers—a detail that in "any other murder case" would have been a huge story.
"I reported that the prosecutor's chief witness had been caught tampering with evidence in another murder case and and that fact had been covered up. Despite my irrefutable evidence, no major media (aside from USA Today) touched my story."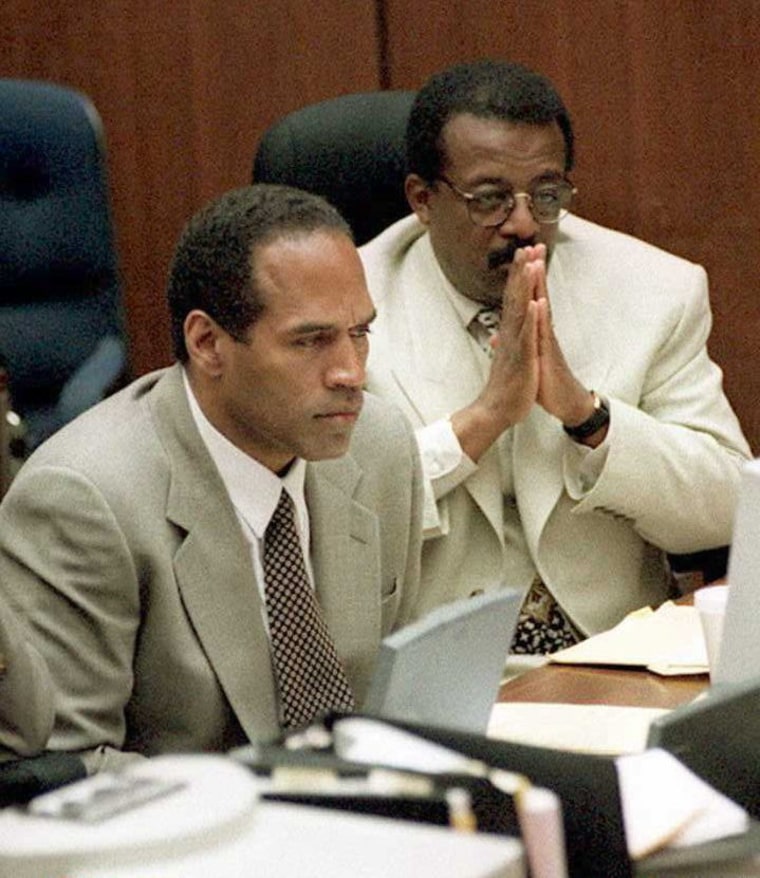 "When I asked questions people knew that I had no agenda for all practical purposes," Star Jones recalled. Now the president of Professional Diversity Network, in 1995 she covered the Simpson trial for "Inside Edition." She told NBCBLK that her legal credentials shielded her from suspicions of bias.
"Because of my experience as a former prosecutor and [formerly] NBC's legal correspondent I literally walked in with instant credibility," she said. "Because I had covered all kinds of criminal matters I never felt that my race played any part of me gaining access" to the defense and prosecution teams.
Jones said the question of whether she possessed any inherent bias has only come up more recently.
"I have received that in the subsequent years because more stories have been done on the racial element of the case," Jones said. "At the time no one would ever obviously say that to my face… The thought that somebody would think that I would color my interpretation of the law based on race is just ludicrous to me."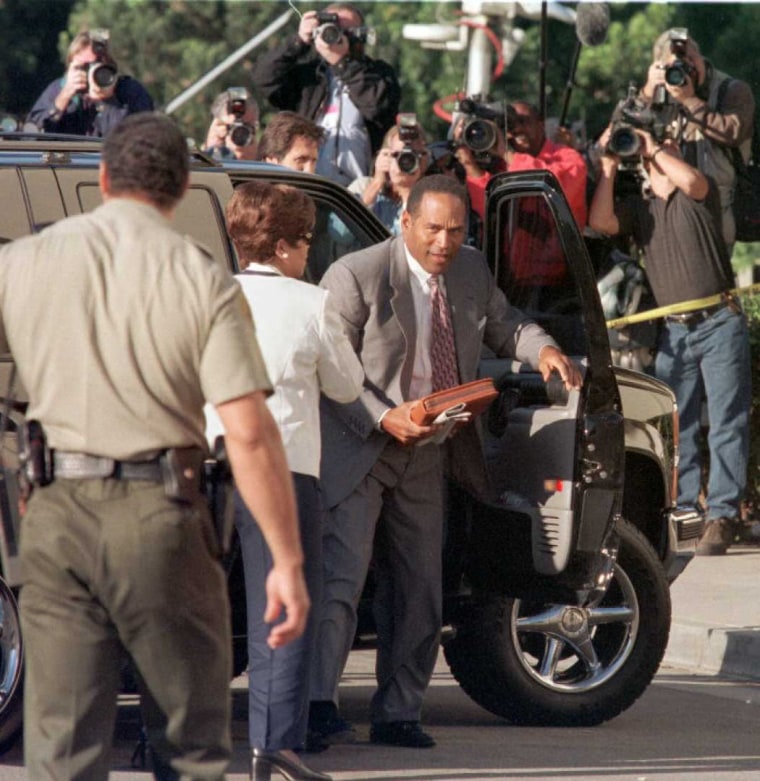 However, her experience as an African-American attorney may have given her special insight into how Simpson jurors were hearing the case, a perspective some other legal experts lacked.
"I look back 20 years and I do think that some of my colleagues were naïve to what they could expect a predominantly black jury to do," she said. "They looked at the emotion of the case and just the heinousness of the killing and did not look at what the presentation of the evidence was looking like to lay people."
Jones said her reading of the jury and the evidence presented convinced her, "I never thought that it would be a conviction."
To this day, Ed Gordon will only say of the trial, "I don't think anything was proved definitively." As to Simpson's guilt or innocence, Gordon keeps his opinion to himself, in keeping with his belief in the importance of appearing unbiased as a journalist.
"That is kind of my old school way of saying I have my personal thoughts. I haven't really shared them in public for the record."
Matthew Carey is editor-in-chief of nonfictionfilm.com. During the Simpson trial he worked for CNN's LA bureau, writing on media coverage of the case.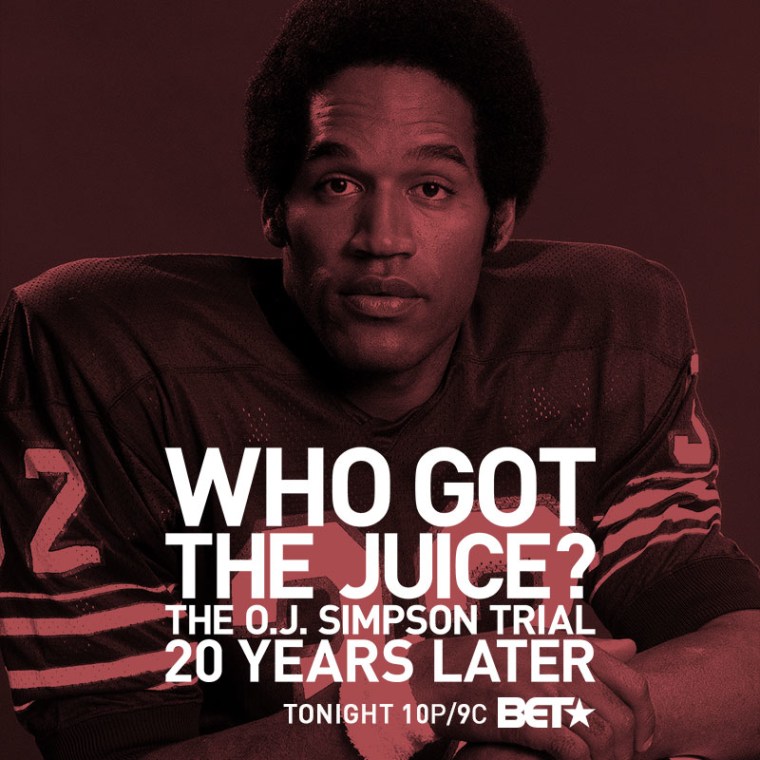 "Who Got the Juice? The O.J. Simpson Trial 20 Years Later" debuts on Wednesday night, on BET.