On the heels of her controversial "Formation" music video and Super Bowl performance, pop star Beyoncé released yet another provocation this weekend in the form of a full-length visual album, "Lemonade."
It was perhaps fitting that "Lemonade" should arrive so soon after the death of Prince, an artist who, like Beyoncé, seemed more comfortable making personal statements through their music than traditional sit-down interviews.
For hardcore Beyoncé fans, "Lemonade" is the culmination of what has become an evolving narrative that has spanned just over a decade worth of solo albums. And while there are plenty of lyrical red flags that will have rumor mills buzzing – are the album's frequent allusions to infidelity about her husband, rapper Jay-Z, or her father and former manager Mathew Knowles? – it may be the album's politically charged content that has the most staying power.
RELATED: Beyoncé's Politically Charged Super Bowl Halftime Performance
With "Lemonade," Beyoncé has cemented her status as an artist who requires our attention and must be taken seriously. Even if one is not a fan or her music or persona, she has the influence and reach to start national conversations and establish trends. When she stood boldly before the word feminist on stage two years ago at the MTV Video Music Awards, or in this new project when she pointedly appears in a black hoodie, her actions have consequences and speak to broader constituencies than anyone else in music – for better or worse.
The "worse" could be accusations of cultural appropriation and anti-police bias, both of which have been levied at the "Single Ladies" singer in the past year. And yet, viewers of "Lemonade" saw no contrition from the star. If anything they saw defiance.
"I like that she doesn't feel compelled to defend herself from typically stupid speculation," Ebony magazine columnist Michael Arceneaux told MSNBC on Monday. "I think Beyoncé does a very good at understanding how media and social media work now, but not caving to it."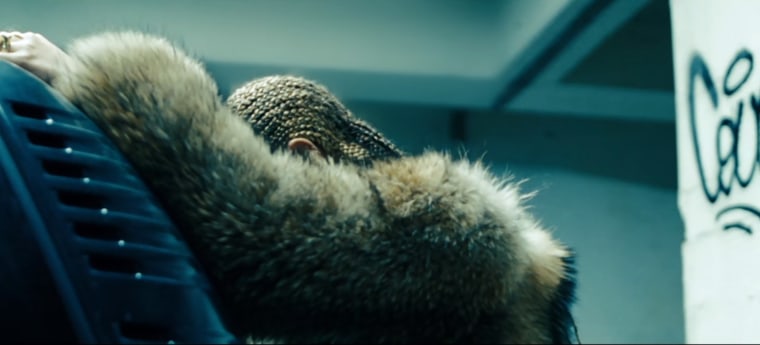 The visually astounding vignettes in "Lemonade" – broken up with spoken word poetry performed by Beyoncé but penned by Warsan Shire – continue the unapologetically black and at times rural tableau of "Formation." The singer also appears with the mothers of Trayvon Martin, Eric Garner and Michael Brown in a poignant reverie.
There were also more subtle nods to the singer's growing consciousness. Besides the hoodie, Beyoncé samples alegendary Malcolm X speech from 1962 in which he laments the fact that "the most disrespected person in America is the black woman;" she features black female celebrities who have either been publicly shamed for their curvaceous bodies (Serena Williams) or their natural hair (Zendaya, Quvenzhane Wallis and her own daughter Blue Ivy); includes shots of gay and lesbian couples in a song about love; and, in keeping with her pro-women message, she refers to God as "herself" in song.
In one of the album's most striking visuals – during the rousing, gospel-tinged song "Freedom," Beyoncé delivers what feels like a sermon to an audience of African-American mothers whose sons have been slain. "Freedom! Freedom! I can't move/Freedom, cut me loose!/Singin', freedom! Freedom! Where are you?/Cause I need freedom too!" she sings.

" 'Lemonade' was about being a black woman in America and reflecting on our lineage as a collective and our experience as a whole," Taj Rani, a content producer for Essence.com, told MSNBC on Monday. "It's not just about romance, it's about the relationship that black women have with society, the men in our lives."
" 'Lemonade' was a gift from Beyoncé to us, wrapped in shiny wrapping paper with a red bow," she added. "To incorporate black women throughout top to bottom so that we can see ourselves was priceless."
The liberation theme has run through much of Beyoncé's work – from "Run the World (Girls)" to "Pretty Hurts" – and it's grown more pronounced in her recent output. In her music video for "Formation," she included a hoodie-clad young black boy furiously dancing in front of armed police, who throw up their hands with exasperation in the face of the child's grace. In her striking Super Bowl performance this February, she appeared flanked by black women in berets, a direct homage to the Black Panthers.
It was that choice in particular that led some to suggest that the singer could be inciting violence with her performances and visual aesthetic. "Saturday Night Live" even recently parodied the hysteria over her new tone with an uproarious sketch titled, "The Day Beyoncé Turned Black." Naturally, fans who have followed the singer since her days as the breakout star of Destiny's Child, would maintain that her sound and persona have always been deeply rooted in her black cultural heritage.
Meanwhile, Beyoncé herself appears to be undeterred by her haters and is making no apologies. In the video for "Hold Up," a track off her new album, she gleefully takes a baseball bat to the city streets, destroying property at will without reprisal (leading The Drudge Report to label her an "urban terrorist"), while onlookers can only watch in awe.
It's an image that perhaps speaks more effectively than any retort in print ever could.
This story first appeared on msnbc.com.