A Colorado woman says her 11-year-old daughter was kicked off a cheerleading team because a coach refused to let her compete with her natural hair. The coach contends that the girl was dismissed because her mother threatened the team's staff.
Tiyana Young, who is black, brought attention to her daughter's dismissal in a Facebook post Sunday.
Young told NBC News that her daughter, Niemah, would wear her hair naturally during practices — either in ponytails or in crochet braids — but that her coach, Stephanie Trujillo, required her to wear a $20 ponytail hairpiece during competitions to match her teammates.
Young said she and Trujillo, coach and owner of Diamond Elite Cheerleading in Denver, came to the agreement last season.
"My daughter being able to wear her natural hair was never an issue," she said. "This coach told Niemah and I almost the whole season she can wear her natural hair because my daughter would complain about how tight her hair was and the bobby pins were digging into her head."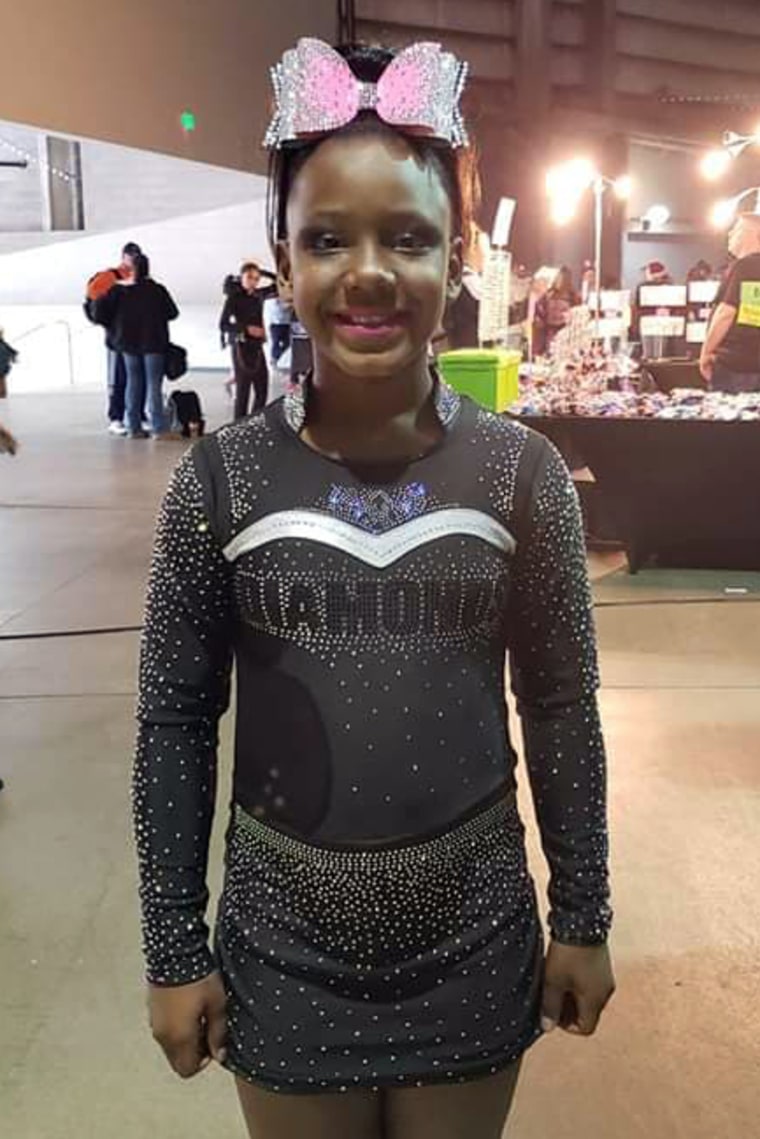 But Young said her daughter told her Trujillo singled her out at a practice on Nov. 2 for wearing her hair in crochet braids.
"While my daughter was at practice, coach Steph singled her out, asking the team how they felt about her hair being different," Young said.
Young believes her daughter was targeted because the other athletes and their parents were questioning why Niemah got to wear her hair differently. Two days after the practice, Young said, she received an email informing her that her daughter had been dismissed from the team.
"This coach and I never even had a conversation around the conversation she had with the girls at practice on Saturday, nor why we were being dismissed," Young said.
Trujillo told NBC News that the decision to dismiss Niemah "was never based on the athlete or her ethnic background," but on the alleged behavior of her mother.
"The decision was based on threats received that were directed at the staff, which brought forth major safety concerns for the program and its affiliates," Trujillo said, adding that this was explained in the dismissal letter.
She also said the team discussed the hair policy and put it to a vote at the Nov. 2 meeting.
"I apologized to the entire team for not giving the other athletes the same opportunity to choose their hairstyle," Trujillo said. "The team voted and decided they would all wear the team pony."
Download the NBC News app for breaking news
Trujillo said that after the vote, the team gathered around Niemah, hugged her and told her that they would support her choice to wear braids.
"Niemah's teammates assured her that, regardless of her choices, they didn't want her to feel bad," Trujillo said. "Young's statement is so far from the truth."
Young, who denies threatening anyone, said she got a cease-and-desist letter from Trujillo on Wednesday, a copy of which was provided to NBC News.
The letter, which Young said notified her "to cease and desist any and all further unlawful defamation, slander and/or libel," coincided with an interview in which she appeared on "CBS This Morning."
Young said she will not be silenced and hopes Trujillo will apologize.
"An apology is the least they can do, and apologize for the negative accusation of me making threats to the gym," Young said.