The clock is ticking.
After eight years of protection under DACA, President Donald Trump decided to rescind the program on Tuesday, putting some 800,000 young, undocumented immigrants in legal jeopardy and at risk of being deported.
One of them is 25-year-old Jonathan Jayes-Green.
An afro-Panamanian immigrant who came under DACA protection at age 13, Jayes-Green said the administration's announcement has triggered a palpable level of fear and anxiety among those protected by DACA and other undocumented Black immigrants, but it has also stiffened their resolve.
"They sent a very clear message that it's okay for them to use our bodies as property and nothing more. Our fear is that this is a set-up," he asserted. "They rescinded the program which means they want something else. The administration is pushing Congress to put this right legislatively, but they want to use us as bargaining chips, offer us as inducements for the border wall."
The DACA recipients, often called Dreamers – most of whom came to the US as children – have had the support of about 75 percent of Americans and a broad swathe of those in Congress.
Related: What Now? Here's What DACA Recipients Should Know
All too often, Latinos are portrayed in the media as the faces of the undocumented, but Jayes-Green and compatriots like Opal Tometi – who serves as executive director of Black Alliance for Just Immigration (BAJI) and is a co-founder of Black Lives Matter – have worked to spotlight the assortment of realities and challenges faced by Black DACA recipients and undocumented immigrants.
"By canceling the program President Trump is yet again pandering to white supremacists over immigrant, Black, and poor communities, as well as millions of organizations, businesses, and allies that support DACA recipients," Tometi said in a statement.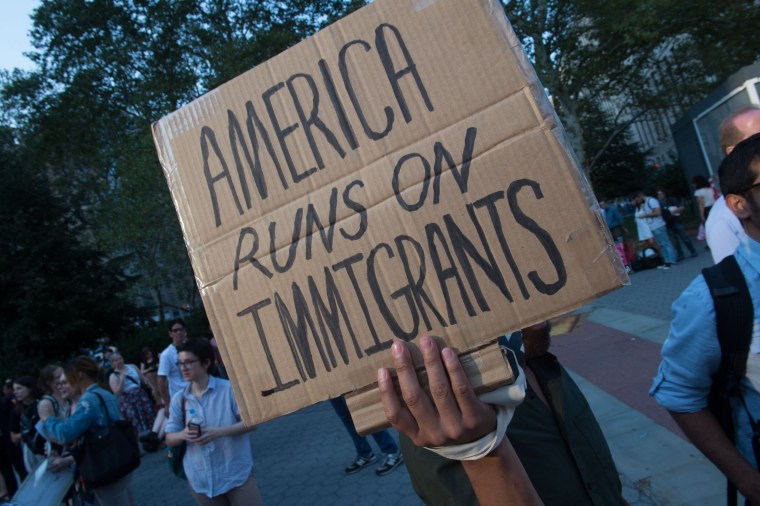 There are 3.8 million Black immigrants in the United States from the Caribbean, Latin America, Africa and Europe and they comprise about 10 percent of America's foreign-born population. In New York, Black immigrants make up almost 30 percent of the total Black population in the state, while Florida is second on the list with more than 20 percent of its Black population being foreign, according to BAJI.
Related: Asian-American Advocates Blast Trump Decision to End DACA Program
According to a recent report focusing on Black immigrants commissioned by BAJI and the New York University School of Law, there are 565,000 Black undocumented immigrants. They are less likely to be in the U.S. unlawfully. Among Black immigrants from the Caribbean, 16 percent are undocumented immigrants as are 13 percent of Black immigrants from Africa.
"We know that Black immigrants have traditionally borne the brunt of their circumstances," said Jayes-Green, co-founder of UndocuBlack. "They are three times more likely to be deported and much more likely to be caught up in the criminal justice system because of their color. But we have an inexplicable resilience and resistance. We have to hold onto our value and beliefs. We are freedom fighters and understand that our Ancestors are with us. Historically they overcame the odds and we will too."
Both BAJI and UndocuBlack are creating spaces for the Black undocumented immigrants "to heal organize and be empowered by each other." Jayes-Green has stated in other interviews that his organization seeks to "Blackify" the undocumented immigrant narratives and facilitate access to resources for those communities.
BAJI, an education and advocacy group made up of African-Americans and Black immigrants from the diaspora, was created in 2006 in response to the opposition of immigrants that manifested itself in repressive immigration bills then under consideration by the U.S. Congress.
BAJI has created a detainee support toolkit as well as collaborated on a series of "Know Your Rights" videos created by Immigrant Defense Project on how to prepare for an encounter with ICE.
After Attorney General Jeff Sessions' announcement, demonstrations and marches sprung up around the country. Denver students staged a walk-out. Throngs of demonstrators shouted "Shame on Trump" in front of the Trump International Hotel in Washington, D.C. Civil rights leaders were quick to condemn the declaration.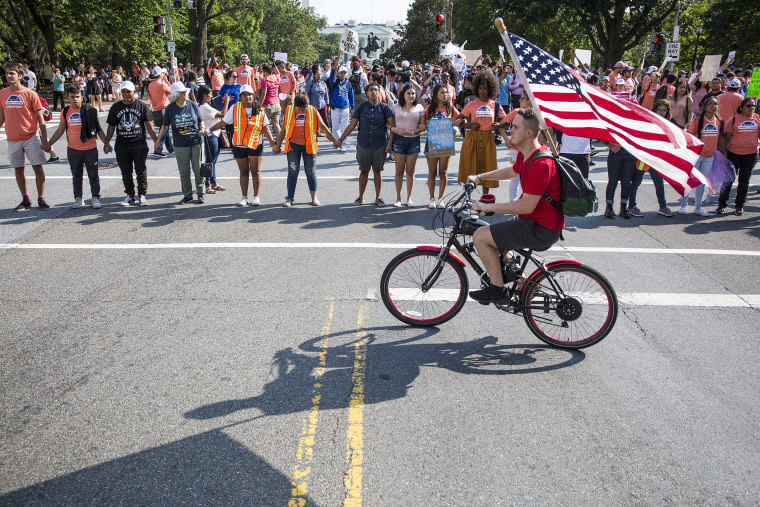 "Once again, President Trump has shown his ignorance of what makes America great in the first place and the very people who contribute to that greatness," Rep. Cedric Richmond, chairman of the Congressional Black Caucus said. "His morally bankrupt policy will tear young people, folks who were brought to this country as children through no fault of their own, away from their families and the only home they've ever known."
The Rev. Al Sharpton countered the right wing narrative that the Dreamers are a drain on the economy and taking Americans' jobs. "The Trump administration and Attorney General Sessions' decision today to 'rescind' DACA is but another example of an anti-equal opportunity, anti-civil rights agenda that has no basis in fact," said Sharpton, founder and president of the National Action Network. "There is evidence … that 91 percent of Dreamers are employed and contribute to the Americaneconomy."
Even former President Barack Obama broke his self-imposed silence to slam Trump.
"To target these young people is wrong ― because they have done nothing wrong," he said in a statement. "… And it is cruel. This is about whether we are a people who kick hopeful young strivers out of America, or whether we treat them the way we'd want our own kids to be treated. It's about who we are as a people ― and who we want to be."
It is now up to Congress to come up with a long-term solution.