The Boston arm of the Black Lives Matter movement has released video of its recent private meeting with Hillary Clinton.
In the exchange, a portion of which appeared exclusively on MSNBC Monday, Clinton was asked about mass incarceration, racial tensions and crime legislation passed under her husband's administration.
The former secretary of state defended her record, saying, "I've spent most of my adult life focused on kids, through the Children's Defense Fund and other efforts to try to give kids — particularly poor kids, particularly, you know, black kids and Hispanic kids — the same chance to live up to their own God-given potential as any other kid."
When pressed on what she would do to bolster the Black Lives Matter movement and change American hearts and minds, Clinton said, "I don't believe you change hearts. I believe you change laws, you change allocation of resources, you change the way systems operate. You're not going to change every heart. You're not."
The activists said they were grateful for last week's 15-minute meeting with Clinton in New Hampshire, but were hoping for something more.
"What we were looking for from Secretary Clinton was a personal reflection on her responsibility for being part of the cause of this problem that we have today in mass incarceration, and so her response really targeting on policy wasn't sufficient for us," Daunasia Yancey told MSNBC's Melissa Harris-Perry.
The campaign is quick to point out that Clinton has spoken out often on these issues in recent months and that her first major policy speech after announcing her candidacy focused on criminal justice reform.
The Black Lives Matter activists, who were hoping to disrupt Clinton's campaign event in Keene, New Hampshire, were not allowed into the venue because they arrived too late and the fire marshal had deemed the room at capacity. Instead, they were led into an overflow room where they watched the community forum on substance abuse through a video link.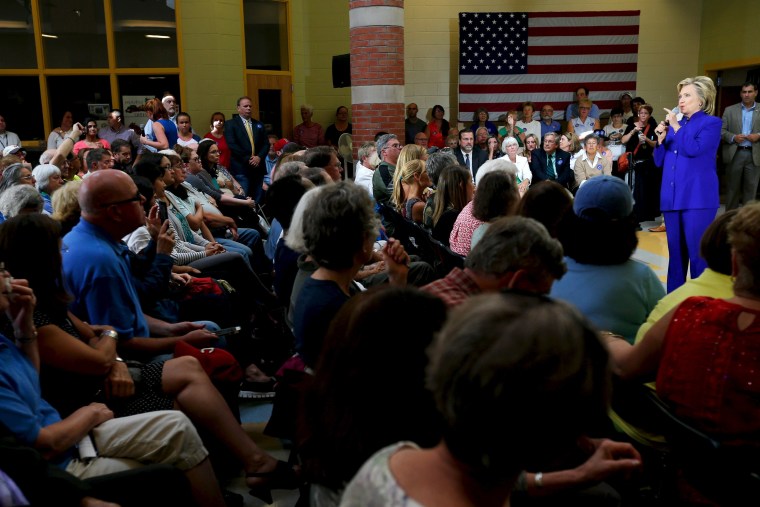 After the event, Clinton met with five members of the group behind closed doors. The press was initially told they would be allowed to observe the meeting, but the campaign told reporters the activists had requested no cameras (a point the group now disputes).
The Clinton campaign had been in touch with other branches of the Black Lives Matter movement before last week's meeting, according to a campaign aide, who also added that they would not be surprised if activists showed up on the trail again.
Earlier this summer, Clinton was criticized for saying "all lives matter" when sharing a personal anecdote about her mother in Ferguson, Missouri. Since then, she's made an effort to address the topic, saying last month in South Carolina that the movement is "not just a slogan" and that it "should be a guiding principle."
Clinton is not the only candidate to receive attention from the group. Black Lives Matter activists have disrupted two of Bernie Sanders' campaign events in recent weeks, and Sanders said Monday that he plans to meet with the organization as early as this week.