Last summer, Civil Rights veteran John Lewis and some fellow Democrats in Congress waged a `sit-in' on the House floor, demanding action on legislative bills aimed at tackling persistent gun violence in America.
Despite the 24-hour protest going viral on social media, the microphones and cameras were shut off. About a week after the sit-in, members left Capitol Hill and went home for the July 4th holiday. A Congressional insider said many are dismayed there have not been any votes on gun violence legislation in at least four years.
Today, Congresswoman Robin Kelly (D-IL) stood in the chamber to re-address the issue.
The Chicago lawmaker, who represents a city where at least 38 children under age 16 have been killed over the past year, accused House Republican leadership of inaction on gun legislation that could potentially save American lives.
"I've come here begging for common sense reforms that prevent children from being shot while playing at a playground. I've begged – I've pleaded – I've screamed – I've cried and I even ground the People's House to a halt with last year's historic sit-in," said Kelly, a vice chair of the Democratic Gun Violence Prevention Task Force.
"And what answer was I given? Was I given answers to take home to grieving mothers and police widows? Was I able to tell them that their loved one's death isn't in vain – that we were doing something to save the next life? No! I was met with silence and worse – an active effort to silence my voice and the voice of millions of Americans."
In June 2016, Kelly joined colleagues such as Reps. Lewis, Katherine Clark (D-MA), David Cicilline (D-RI) and John Larson (D-CT) to organize the sit-in; the goal was to urge House Speaker Paul Ryan to schedule votes on bipartisan gun legislation.
One bill involves background checks for gun sales; another would ban firearm sales to individuals on so-called 'no fly' watch lists, which supporters say could derail terrorist threats.
Related: Black Caucus Demands a Vote on Guns, Warns of 'Long Hot Summer' If Action Not Taken
In a nation where gun violence and mass shootings have become ubiquitous, Kelly said Congress can't afford to leave the matter unfinished.
"Why can't we get a vote on common sense, life-saving legislation that is supported by 90 percent of Americans. …?," she said on Thursday.
NBC News contacted Ryan's office for a comment, but has not received a response.
Experts say millions of guns are sold each year across the country via "no questions asked" transactions.
According to data from the U.S. Centers for Disease Control, there were 12,979 homicides in 2015, when figures were last available. That's reportedly the largest jump in the murder rate since the late 1960s.
The Brady Campaign to Prevent Gun Violence notes on its website that every day (on average), some 315 people in the U.S. are shot in murders, assaults, suicides accidental shootings, and police intervention.
Some figures estimate 93 people die daily from gun violence. Black men are 14 times more likely than whites to be shot and killed with guns.
Earlier this week—activist Tamika D. Mallory—co-president of the Women's March Inc. sent an open letter to the National Rifle Association (NRA), which champions the Second Amendment.
The organization has frequently backed Republican campaigns and leadership PACs – including millions that helped elect President Donald Trump.
Related: Journey of a Bullet
Addressing the organization's CEO, Wayne LaPierre, she wrote of its "repeated actions that have inflicted tremendous harm on America's most marginalized communities."
Mallory accused the NRA of backing video ads that encourage attacks on peaceful protestors, and "inaction" on behalf of Philando Castile, an African American man shot seven times in Minnesota in July 2016 during a traffic stop.
The licensed gun owner was reportedly reaching for his ID after telling the police officer he had a conceal-carry permit. The fatal exchange was live-streamed on Facebook by his girlfriend, as their four-year-old daughter watched.The officer involved recently stood trial and was acquitted.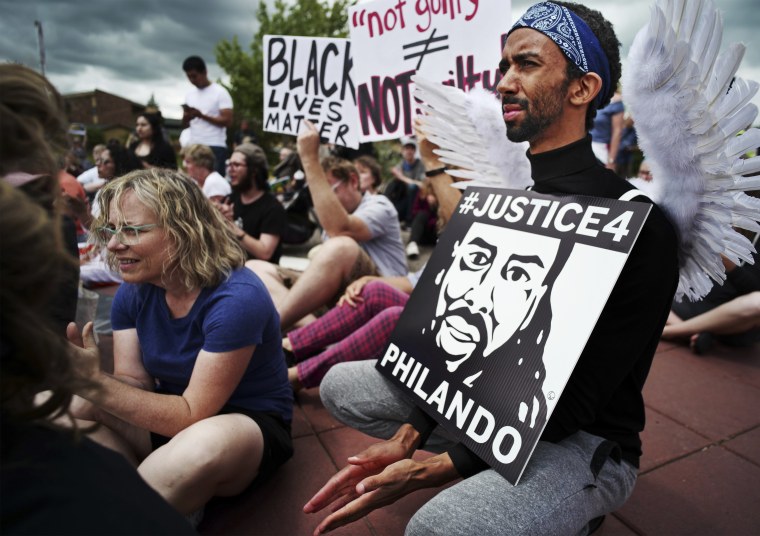 Mallory's letter urged the NRA to defend "Philando Castile's right as a gun owner and demand the Department of Justice indict the police officer who killed him for violating his Second Amendment rights.
"This call is clearly in line with the mission and purpose of the NRA as an organization that purports to be the lobby and defender of the right to bear arms," she wrote.
While the NRA did release a statement shortly after Castile's death, it did not name him. The group previously indicated it would address the incident more extensively after the investigation was completed, but critics point out there's been no public follow-up to date.
Related: The Age of Trump Is Producing More Black Gun Owners
Meanwhile, the White House and Justice Department officials say they're working to reduce violent crime in America.
Back in February, President Donald Trump signed an Executive Order charging the Justice Department with leading a national effort to combat violent crime.
Officials said it provides a framework for enhancing federal support of state, local and tribal law enforcement officials and prosecutors as they aggressively investigate and pursue violent criminals, specifically those involved in gun crime, drug trafficking and gang violence.
Earlier this month, Attorney General Jeff Sessions announced that 12 cities are joining the department's newly organized National Public Safety Partnership.
The announcement came during the opening session of a national summit organized by the Attorney General's Task Force on Crime Reduction and Public Safety. It convened federal, state and local law enforcement to discuss how to support and replicate successful local violent crime reduction efforts.
In a statement, Sessions said the program will "help these communities build up their own capacity to fight crime, by making use of data-driven, evidence-based strategies tailored to specific local concerns, and by drawing upon the expertise and resources of our department."
Twelve locales—including Birmingham, Memphis, Baton Rouge and Cincinnati—have been selected to receive assistance.
Jurisdictions like Chicago and Baltimore, which are grappling with spikes in gun violence, were not among those selected.
Justice Department officials indicated they will announce additional sites this calendar year.