Dick Gregory, comedian and civil rights activist, was presented with the 2,542nd star on the Hollywood Walk of Fame on Monday.
Born Richard Claxton Gregory in St. Louis, he began his career as a comedian while serving in the military after being drafted in 1954 while attending Southern Illinois University at Carbondale. He moved to Chicago to perform comedy professionally after being discharged in 1956. He attributes the launch of his career to famed Playboy Magazine founder Hugh Hefner, who hired Gregory to work at the Chicago Playboy Club. By 1963, Gregory was one of the highest paid entertainers in the world.
Among his countless career highlights include being honored with special tributes by Coretta Scott King, Stevie Wonder, Isaac Hayes and Cicely Tyson at the Kennedy Center in Washington D.C in 2000, appearing in numerous films, writing 14 books and completing 15 comedy albums featuring his stand up acts and political commentary. Gregory is listed as No. 82 on the Comedy Central network's list of "The 100 Greatest Stand-Ups of All Time."
Days before his star ceremony — which happens to fall on his 56th wedding anniversary with longtime wife Lillian Gregory, mother to their 10 children — the outspoken entertainer talked to NBC News about the honor, the movie "Selma," the Bill Cosby rape allegations and how the Civil Rights movement helped unattractive flight attendants.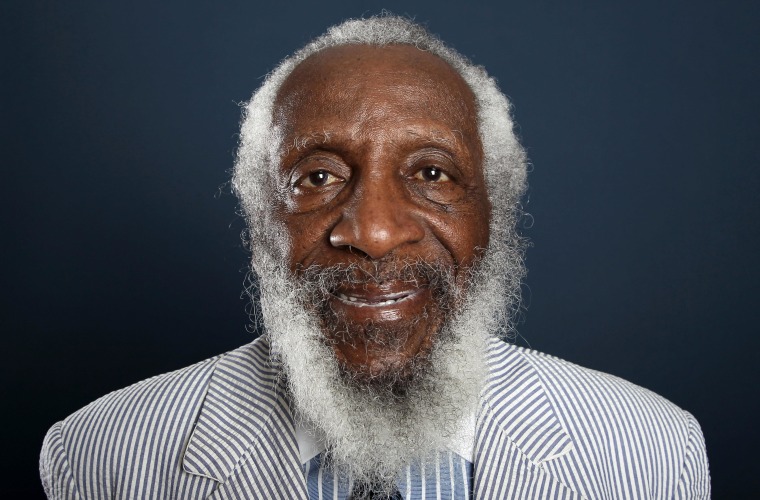 Wow, a star on the Hollywood Walk of Fame. How does that make you feel?
I feel real good [about it]. You always feel better about [an honor] when it comes from your peers because they know you.
You're not known for being, shall we say, politically correct. Were you surprised to receive this honor from Hollywood?
Surprised it took so long [laughs]. I've been a bad boy. In this field if you drink or smoke dope, you're not considered bad. But when you go against the grain, they say, 'wait a minute.' That's the price you pay for speaking your mind.
You're known as a civil rights activist, what did you think about the movie Selma?
I saw it at Oprah's [Winfrey] house when she had a screening. She asked me what I thought and I told her, as a person who'd been there [in the movement] I thought it was fabulous. I told her, 'they will be screening this movie 10,000 years from now.' She asked, 'why?' I said, 'because it was that powerful.'
Put it this way, the next day Martin [Luther King III] told me, 'I learned more about my mother and father from that movie than I ever knew.'
This was one of the first movies that you really see history – it was as much about [infamous former Birmingham Public Safety Commissioner] Bull Connor and [former Alabama Governor] George Wallace as it was about Dr. King and the protestors. It showed the humanity of the people. I told her thanks to this movie, other filmmakers will now know that they can get away with the truth, they don't have to cover it up. By the way, my Hollywood star is going to be located at the corner of Selma [Avenue in Hollywood]; that's universal order!
Speaking of truth, there's been a lot of controversy centered on the film's depiction of former president Lyndon B. Johnson as a somewhat reluctant supporter of the Civil Rights Act. What are your thoughts?
We lost the war in Vietnam — they ran us out of there — but you wouldn't think that if you saw all the movies we've made about it. If you want to know about history you don't just go to a movie. I'm 83 years old and when I was a boy we all went to the movies and saw Cleopatra. We all knew that she was a black queen, but that's not what was up on that screen. I didn't hear about nobody protesting that. Like I said, all movies and filmmakers [exercise some creative license]. If you want to know something about history, pick up a book.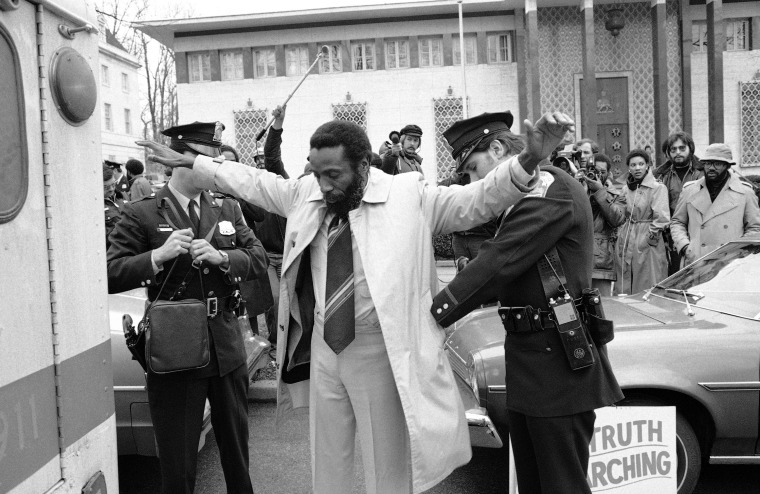 You speak so lovingly about the civil rights movement, why was that time so special for you?
The civil rights movement was the best thing that ever happened to me. When I was out there marching, I wasn't marching as a comedian or an actor; I was out there marching as a human being. That's what you do when you see things that need to be corrected. There was nothing like seeing black men and women out there marching together. There was no such thing as a child out there. They would kill you no matter what age you were. You'd see those ignorant rednecks out there and you'd see the hate in their eyes and you knew they'd do whatever it is that they wanted to do. The great thing about the movement is that it was real; it was about love. That's what I learned from it.
Do you think movies like Selma and a lot of the protests erupting around deadly police involved shootings will spark a new generation of activism among young people?
I saw the footage of some of the Ferguson riots. I saw one guy breaking into a liquor store and running out with a half pint; and didn't even get no chips! Black folks are the only folks concerned about the younger generation. Do you ever hear Jews talking about the younger generation? I think the older generation is always focused on what the younger generation is not doing because they're not doing anything themselves. We're the only [race of] people who've opted for education over liberation. That's why you got black folks out here walking around with five degrees and $10 million in the bank and they're still not liberated. You never see some white woman on the news crying about some black cop shot her husband in the back 40 times. Why? Because [white people] won't tolerate that. That's why I say, we're educated, but not liberated.
You've been quoted as saying that the success of the civil rights movement extended far beyond the black community. How so?
Before the movement, a white woman couldn't buy a house in her name even if she had the money to do so. She couldn't be a firefighter, a cop or a pilot. The only thing a white woman could be at the airport was a stewardess. And to be a stewardess you had to be young and attractive. We didn't know it at the time, but when we were fighting [for equality] we were fighting for everybody — folks in wheelchairs — everybody. So now when you go to the airport today and see that old, ugly, short, fat white stewardess, we got her that job.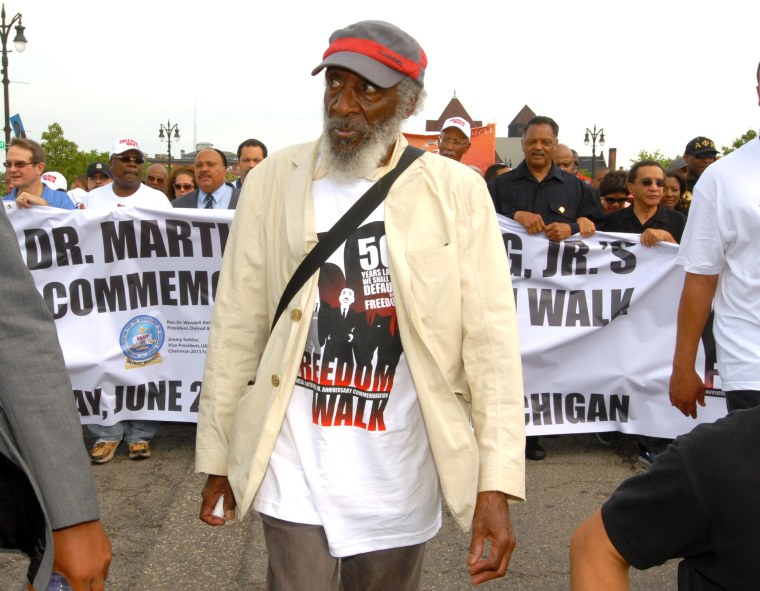 You are considered one of the comedians who laid the foundation for many famous black comedians like Bill Cosby. What do you think about the mounting list of sexual assault allegations being waged against him?
He was "America's dad," and now here are all these women all at once coming out and there's nothing to be gained? Something ain't right here. I'm a father of 10, including seven girls, but I have to say something just doesn't seem right about this. They waited this long to come out all at the same time? My question is, who got them all together? I can't speak to [his guilt or innocence], all I'm saying is that there's more to it than we're hearing about.
There's a lot of talk about the importance of leaving a legacy, how do you ultimately want to be remembered?
We all know that the dinosaurs were here a billion years ago — some were bigger than mountains. A lot people don't realize that the butterfly and turtle were also on the earth at the same time. Now over time, those big ole dinosaurs are all gone, but the tiny butterfly and slow turtles are still here today. That's how I want to be remembered, like a turtle — someone who was hard on the outside, soft on the inside and willing to stick his neck out [for others].
The star ceremony will be streamed live on www.walkoffame.com
[This interview has been edited and condensed]