Former NFL linebacker Aaron Maybin, 29, couldn't sit in silence earlier this month when Matthew A. Henson Elementary School in Baltimore, Maryland lost heat and electricity during the winter cold snap.
"We can't allow this to go on," said Maybin. "When it's your students that are sitting there, telling you how cold they are. A couple of them think they have hypothermia, even though they don't even know what that is yet. But, that's their reality. And I just felt like, we had failed them."
Maybin, a teacher at the school on a mission to help educate the next generation, posted a video of his shivering students in class that quickly went viral. Through Operation Heat, he helped organize volunteer opportunities for the community to donate items such as hand warmers and gloves. Amazon sent the school boxes of winter coats for the students at Matthew A. Henson Elementary School. To date, their GoFundMe page has raised over $82,000 — four times the original goal.
"[The heat] is fixed now," Maybin said. "They are still in need of replacement. To act like anything but a band-aid has been put on this shotgun wound of a problem, it would be doing them a disservice, because this situation will happen again and again and again until the systems themselves are updated."
Principal Travis Miller says infrastructure is a problem in many of the Baltimore city schools that are 50 years old or older. Schools have to respond quickly - which make educators like Maybin so important. "He's just a guy that cares about them, wants to make sure they have what they need and he goes above and beyond," Miller said.
Baltimore is one of the country's most dangerous cities and for many students, school is often a safe haven and space for them to achieve their dreams.
"We have to think about how we are equipping [students] to be able to deal with harsh realities," said Maybin. "[When the heat shuts down], it sends the message that they don't matter."
Maryland Governor Larry Hogan announced $2.5 million in emergency funding to get the heat back on in Baltimore City Public Schools after several schools closed because of flooded classrooms, busted pipes and broken boilers. Mayor Catherine Pugh explained that she was working with other officials to get the problems immediately fixed.
"I'm focused on getting the work done," Pugh told NBC-affiliate WBAL. "I thought it was important that we get this work done."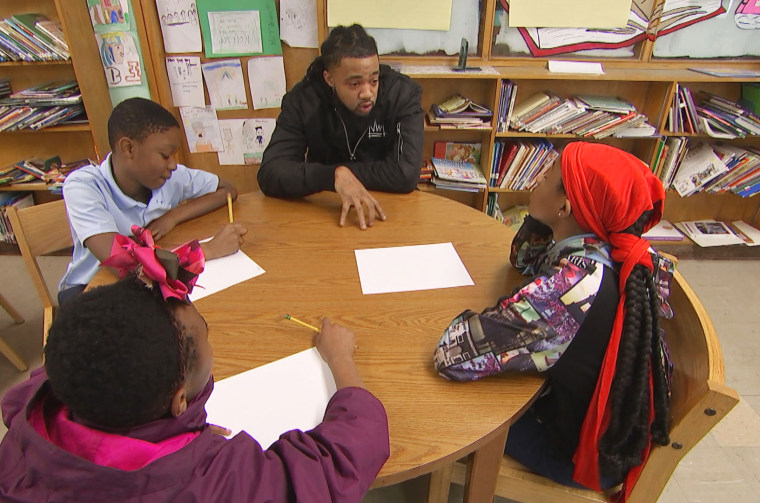 But Maybin said he plans to continue putting pressure on policymakers to update schools in Baltimore City.
"[The students] have to see everybody getting involved. They can see somebody that looks like them, a black man in the school that is working with them and is advocating on their behalf."