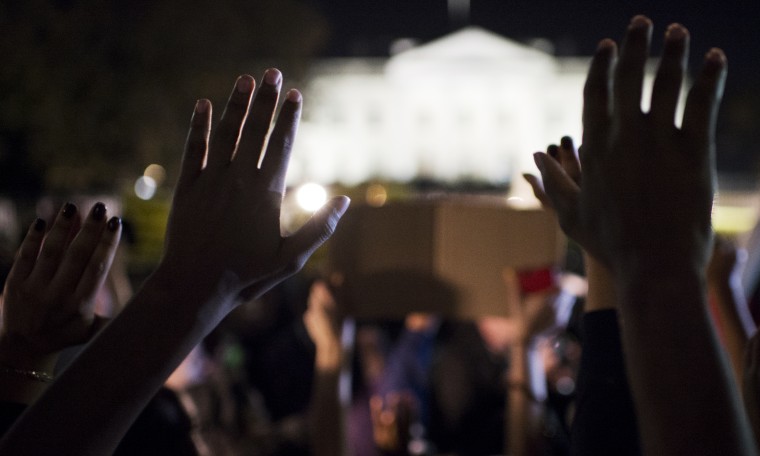 "Lord, please protect my young black son as he travels from Los Angeles in the wee hours of the morning to go up north to begin a new journey in his life. Keep him safe on the road from all evil and especially the evil in authority who only see the color of his skin. Keep them away, dear Lord. I pray that he obey all traffic signs and laws on his journey...and if he misses anything unknowingly, may he not be pulled over by anyone who would do him harm. In Jesus' Name!"
---
The post from a cousin, a fellow African American mother, who lives on the west coast, was among the many heartfelt messages that lit up my Facebook timeline yesterday.
Two hours later I stood in my own living room, with one of my two toddlers on my hip, watching yet another video of the imprudent killing of an African American man at the hands of law enforcement on the evening news.
"Mommy, who is that," my youngest boy, in all his childhood innocence, inquired, his chubby, brown finger, pointing toward the television screen.
"Alton Sterling," I responded, tears streaming down my face. I was grateful that he was way too young to understand the senseless slaughter unfolding before his eyes.
Just as the cases of Trayvon Martin, Eric Garner, Michael Brown and dozens of other black men killed at the hands of rogue law enforcement officers, the latest shooting deaths of Sterling in Baton Rouge, La., just a few miles from my hometown of New Orleans, and Philando Castile, of Falcon Heights, Minn., has once again reignited fears among parents of color about the very clear and present danger our black sons, fathers, uncles, husbands and cousins face daily in Anywhere, U.SA.
As I stare at my beautiful, brilliant and, precocious young sons—with their toy cars in hand and remnants of dinner smeared all over their faces—I know that one day, way too soon for me, I will have to shatter their God-given innocence and have "the talk" with them about how they will need to behave in the presence of law enforcement.
They could end up dead simply for being a male of color in America – presumed guilty without cause.
The other sad reality is that, as what appears to be the case with Castile, compliance may not make a difference. They could end up dead simply for being a male of color in America – presumed guilty without cause.
The shared fear is apparent among my diverse mix of Facebook friends and colleagues, most of whom are parents to black males.
"Add the black man to the endangered species list..." posted one friend.
"Sad because another black life has been taken. Disgusted because I know he'll be vilified by the end of the day. Angry because history has shown his executioners will probably never be punished. Heartbroken because a family is shedding tears and a son is crying out for his daddy," wrote another.
"Talk to your boys early and often about police," another advised.
I am still reviewing the details of both deadly incidents and I pray that the legal system will ultimately provide justice where it is warranted. But these recent cases remind me of the time, about 13 years ago, when I decided to take an informal poll among my closest black, male inner circle. A chemical engineer, a lawyer, a former Fulbright Fellow and a corporate executive were among those I questioned. These men were all quite different in look, background and demeanor, but not one could say that in their then 20-something years of life that they had not experienced at least one incident that, at least felt like, racial profiling at the hands of law enforcement.
In fact, one said a police car was dispatched to question him once while he stood in his own driveway at his Atlanta home, while waiting for a friend to arrive for an evening visit. The same person mentioned being harassed by police in New Orleans while walking to his car while leaving a political campaign event that he'd helped organize. Mind you, this poll took place during a time when "Facebook" was slang for the annual school yearbook and the term "hashtag" (let alone Black Lives Matter) didn't even exist.
The facts are clear that black skin matters in such incidences, especially when you consider that fact that white active shooters, such as Dylan Roof, who shot up a black church in South Carolina during Bible study and Robert Dear, who gunned down innocent people at a Colorado Springs Planned Parenthood, somehow managed to walk away alive, after unleashing their carnage (heck, Roof was even reportedly offered a hamburger after his assault).
As much as I hate the thought, I will have to have that talk with my boys sooner than I'd prefer to, because I love them so much and could not stand the thought of losing them for any reason.
Failing to educate my boys about how they may be perceived by some of the very people paid to protect them would, in fact, be a massive failure on my part as a parent.
Afterall, my job, too, is "to protect and serve."