When 23-year-old Timothy Coggins was found dead and disfigured beside a Georgia highway in 1983, the young black man's family and neighbors whispered that his killing may be linked to racism.
"It was always mentioned, and it was always suspected," said his niece, Heather Coggins, who still lives not far from where he was killed.
Now, more than three decades later, authorities say, it's been confirmed.
A Georgia district attorney says Timothy Coggins was killed for "socializing with a white female." Prosecutor Ben Coker told a judge Wednesday that Coggins was dragged behind a truck through the woods, news outlets reported. Arrest warrants say he was stabbed and sliced to death and suffered "severely disfiguring" wounds.
A break in the cold case came in mid-October, when local and state law enforcement officials announced the arrests of five longtime local residents on charges stemming from the slaying. All five are white; two worked in law enforcement.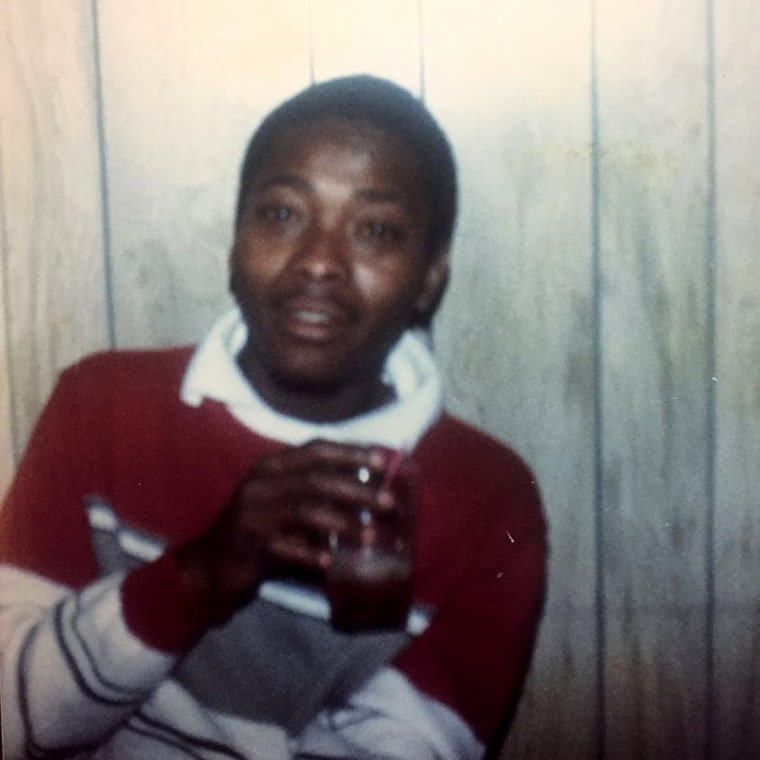 Spalding County Sheriff Darrell Dix was emphatic about the motive during an Oct. 13 news conference in Griffin, about 40 miles south of Atlanta.
"Based on the original evidence recovered in 1983 and new evidence and interviews, there is no doubt in the minds of all investigators involved that the crime was racially motivated, and that if the crime happened today it would be prosecuted as a hate crime," he said.
Two men are charged with murder: Frankie Gebhardt, 59, and Bill Moore Sr., 58. Arrest warrants accuse them of stabbing and slicing Coggins to death and giving him "seriously disfiguring" wounds.
Moore and Gebhardt were just a year or two older than the victim, and Heather Coggins says she believes her uncle was acquainted with them. But she said the rest of the family didn't know them.
"This is the first time we've heard their names and seen their faces," she said in a recent interview.
Three other suspects — Sandra Bunn, 58; her son Lamar Bunn; and 47-year-old Gregory Huffman — are charged with obstructing the investigation. Sandra Bunn worked as a Spalding County detention officer until her arrest, when the sheriff fired her. Huffman was also a detention officer and later a police officer in nearby Milner. He's charged with revealing the identity of a confidential informant who was being used against Gebhardt.
Officials haven't detailed the suspects' connections with each other, but court records show Sandra Bunn sued Gebhardt in 2003 to have him evicted from a property she owned. Gebhardt has been convicted in the past of aggravated assault and criminal damage, both felonies, along with multiple misdemeanors, records show.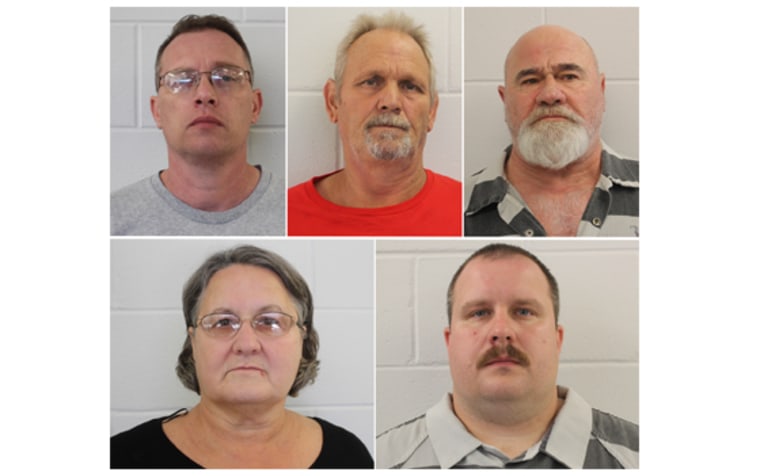 Coker said he will seek indictments in December but hasn't decided whether to seek the death penalty against Gebhardt and Moore.
Heather Coggins was just 6 years old when her uncle was killed, but she still tears up at how his slaying wracked her large extended family, longtime residents of the community, with "uncertainty, heartbreak, fear."
She remembers her uncle as "just a fun person. If anything, I remember just the joy, the playfulness of him." He didn't finish high school and had no regular job but worked for his stepfather, a plumber and carpenter in Griffin.
He loved the R&B music of Frankie Beverly and loved to dance.
But his life ended in horrific violence.
A 1983 article in the Griffin Daily News said his body was found by hunters in a field not far from a highway in the Sunny Side community a few miles north of Griffin. He wasn't immediately identified.
"He had been worked over with a knife pretty well," an investigator told the newspaper — stab wounds in the back, punctured lungs and defensive wounds on his arm.
Heather Coggins said that when investigators passed around the unknown victim's photo to the local community, Timothy Coggins' own mother didn't recognize her dead son, but Heather's mother, the victim's oldest sister, said: "No, that's Tim."
His mother was burdened by his slaying until she died in February 2016. She called out his name on her death bed, Heather Coggins said.
"I really don't think my grandmother ever recovered from losing her son ... not because of his death, but because of the uncertainty of who did it," she said. "She felt like justice wasn't done."
In July, authorities announced that the Georgia Bureau of Investigation had new information.
Seeking to bolster that new lead, the sheriff issued a July 24 news release, imploring witnesses to step up.
"We understand that over the years those suspected of being involved in the murder of Timothy Coggins have threatened and intimidated potential witnesses," he said. "We believe that there are people with pertinent information regarding this case that are still out there and we are asking them to come forward."
As witnesses did so, he said, they told investigators "they had been living with this information since Coggins' death but had been afraid to come forward or had not spoken of it until now."
Heather Coggins said the family won't rest easy until those responsible for killing him are convicted. But she said they are deeply grateful to the sheriff, the GBI and other officials who didn't give up on solving her uncle's killing.
"We're totally thankful that someone has been arrested," she said. "We're grateful because that didn't happen for 34 years."