A Georgia police department is under investigation after using an image of a Black man as a target during a firearms safety class for civilians, and posting photos of it on social media.
The police department in Villa Rica, about 33 miles west of Atlanta, held the event on Saturday and posted on its Facebook page photos of participants aiming their guns at targets that featured a life-sized photo of a Black man. The man on the targets is pointing a gun and wearing a beanie. 
The photos have since been taken down from the Facebook page but screenshots have been widely shared and criticized on social media. 
The Villa Rica Police Department responded to the backlash in a Facebook post on Wednesday, stating, "It was never our intention to be insensitive, inflammatory or offensive to anyone." The department also said it respects the "honest opinions of our fellow citizens" and apologized for "any offense we may have caused."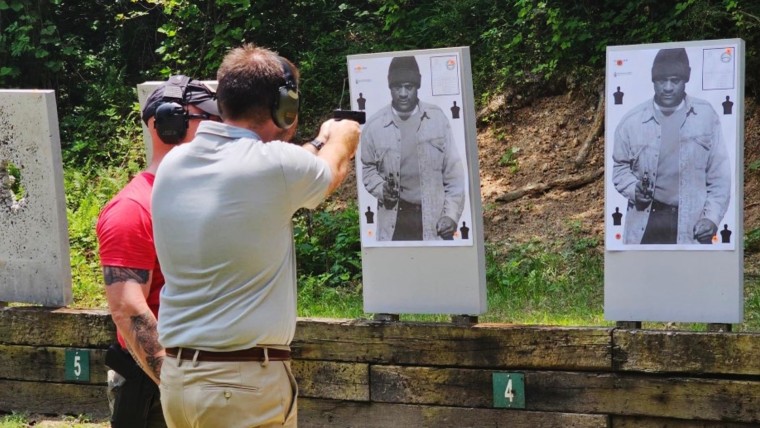 Villa Rica's chief of police, Michael Mansour, said the targets with Black men are used all over the state for training and that during the class the department also used other targets depicting individuals who were white and Asian. The officer who posted the photos, who Mansour declined to identify, mistakenly posted photos of only the Black targets that were used. 
"It's just an innocent mistake, but it was a mistake," Mansour told NBC News. "And I'm very transparent in saying that we messed up. But at no time will I accept people telling me I'm a racist, or our department is a racist because we made a mistake."
NBC News has reviewed photos of targets with images of white people that Mansour says were used during the class. 
Villa Rica Mayor Gil McDougal told The Telegraph on Wednesday that he was "personally embarrassed" by the photos and said that the "incident does not reflect the values of this community." McDougal has launched an investigation into the department.
The NAACP of Carroll County, where Villa Rica is located, issued an open letter to the department's chief officer on Wednesday, calling the target "extremely offensive." The group also requested a meeting with city leaders to discuss the incident. 
"These types of targets have been used by other police departments within the U.S. and have been deemed racially inappropriate and unacceptable," wrote NAACP Carroll County president Dominique Conteh. Mansour said he plans to meet with Conteh and McDougal next week to discuss the incident.
This is not the first time police departments have faced backlash over using targets with Black people. A Michigan police department conducted a legal review last year after photos surfaced showing photos of Black men being used as targets.