The Heisman Memorial Trophy is college football's most valuable player award. It's also the trophy that recognizes significant individual achievement, rewarded players who've won championships, produced NFL Draft picks, and has created legacies. It's also a symbol of athletic achievement for African-American players. Syracuse running back Ernie Davis was the first black player to win the award back in 1961. In the Heisman Trophy's 83-year history, 31 black players have gone on to win the award (including NFL running back Reggie Bush who forfeited the award). Eight of the last 13 recipients are black.
The finalists for this year's coveted Heisman Trophy were announced earlier this week and two of the most black dynamic players on the college gridiron are in the running for the famed award. Not only have these young men demonstrated outstanding athletic abilities, they also have the chance to make Heisman Trophy history for their respective schools or all of college football.
Here are two players who could walk away with a Heisman award and make college football history.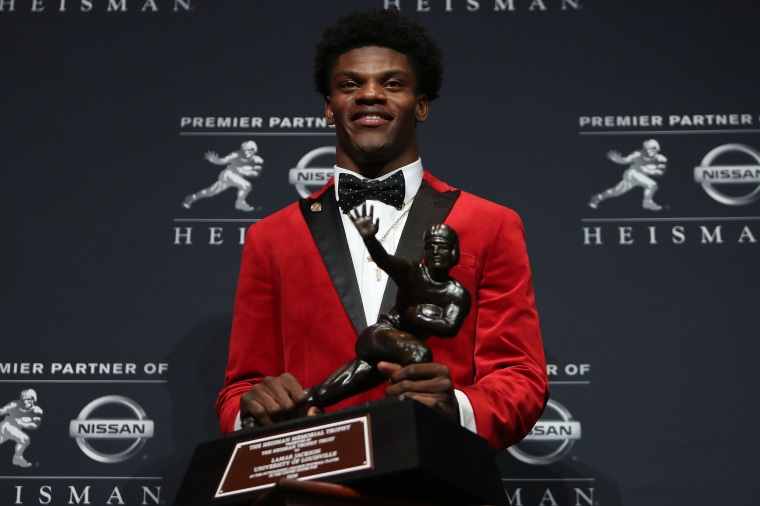 Lamar Jackson: Louisville Quarterback
Last year, this 20-year-old took everyone by surprise, as he became the Cardinals first-ever Heisman Trophy winner and he was only the fourth Sophomore receive the prestigious honor (received 79 percent of the vote). Jackson is hoping to be the first two-time winner since Ohio State's Archie Griffin did so in both 1974 and 1975. So far, he's right on track to reach that milestone as he ranks 10th in the nation in passing yards (3,489), 11th in rushing yards (2nd among quarterbacks with 1,443), and his 42 combined touchdowns leads all Football Bowl Subdivision quarterbacks.
Jackson has drawn comparisons to former Virginia Tech standout Michael Vick, Texas Longhorns legend Vince Young, and Oregon alumnus Dennis Dixon. All three men were Heisman Trophy finalists in their own right but never won the award. Jackson can surpass all three players in addition to making history if he's awarded his second trophy.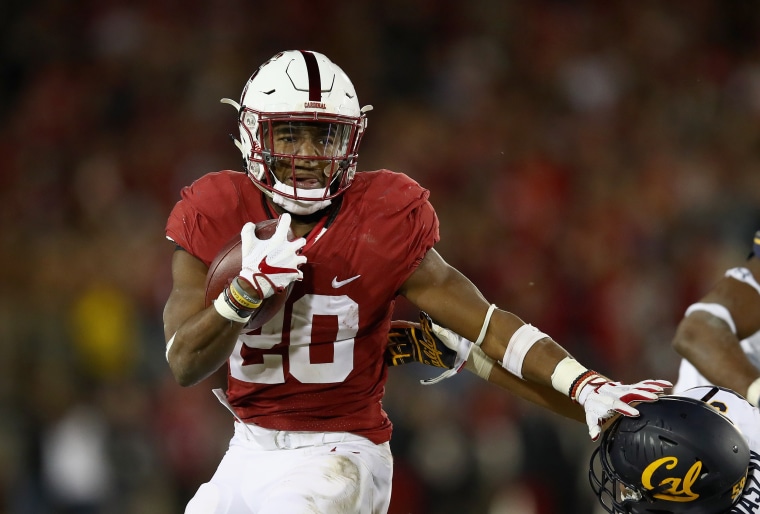 Bryce Love: Stanford Running Back
The Cardinal football program has only one Heisman Trophy winner in it's history (Jim Plunkett, 1970). Many other Stanford players have been finalists for this award, such as John Elway, Andrew Luck, and Christian McCaffrey to name a few, but none of them were able to take the trophy home. Love could change all of that in 2017 and he's made a very strong case. He's the nation's second leading rusher (1,973 yards) and he's tied for sixth in the country in rushing touchdowns (17). Earlier this year, he became the first Pac-12 running back since Southern California's Reggie Bush in 2005 to run for 250 or more yards in two straight games.
He also reached the 1,000 yard mark in just the first five games of this season, and Love officially stamped his position as a Heisman favorite after running for 125 yards and a touchdown on 22 carries against Southern Cal in the Pac-12 championship game last weekend. Aside from school history, Love can also make Pac-12 history if he wins the Heisman as the aforementioned Reggie Bush was the last Pac-12 running back to claim the award. He'll also be Stanford's first black Heisman winner.
Other African-American players who made strong cases for the Heisman this season but ultimately weren't picked as finalists include:
San Diego State running back Rashad Perry. He led the nation in both rushing yards, 2,027, and all-purpose yards, 2,698.
Clemson quarterback Kelly Bryant. He helped lead the Tigers to the Atlantic Coast Conference championship, the No. 1 seed in the College Football Playoff, and the No. 1 ranking in all major polls.
Penn State running back Saquon Barkley ranks 2nd in all-purpose yards behind Penny with 2,154.
Notre Dame running back Josh Adams. His 1,386 rushing yards helped the Fighting Irish rebound from a losing season in 2016.
Northwestern running back Justin Jackson is the Wildcats all-time leading rusher with 5,283 career yards and 39 touchdowns.
Ohio State quarterback J.T. Barrett won a national championship and three Big Ten Conference titles since 2014.
The Heisman Trophy winner will be announced on Dec. 9.